In this article, I will help you with finding the best electric can/jar/bottle opener for disabled/hadicaped, whether if you are looking for it to your own use or as a very useful gift for a disabled friend.
One of the biggest desires of people with disabilities is to be able to live their lives normally, without being permanently assisted by someone.
Any degree of freedom empowers these people and makes them feel better about themselves, regardless of what they are suffering from. The ability to open a can, jar, or bottle may seem normal for you, but for someone with a physical disability, such a task may be challenging.
We have a related article for you, you can read Best Electric Scooter for Disabled Adults – Top 5 Picks.
If you know a disabled person and would like to make his or her life more enjoyable, an electric opener that can handle cans, jars, and bottles is a great choice. It is a practical item that will give them the chance to a bit more independent.
Please note, my posts may contain affiliate links!, if you buy using one of them, you will pay nothing more, but I'll get a small commission, which keeps the lights on. Thanks!

Best electric can/jar/bottle opener for disabled
1. Deik Wine Opener, Electric Wine Opener with Foil Cutter, Bottle Opener for Wine, Corkscrew Electric Rechargeable and Quiet, 110V
Every person feels the need to enjoy a glass of wine at dinner or when meeting with friends. But, opening a bottle of wine requires a certain amount of physical strength, due to the corkscrew placed to seal the bottle. With this particular product, opening a wine bottle will never be an issue again.
Whether we are talking about weak wrists due to arthritis or any other kind of physical disability, this electric wine opener will get the job done without any kind of effort. It has a special button that allows the user to start and turn off the item.
It even comes with a special foil remover, so a wine bottle will be available in no time. The wine opener works with rechargeable batteries. Once recharged, it can open up to 40 bottles of wine.
2. Instecho Electric Jar Opener, Restaurant Automatic Jar Opener for Seniors with Arthritis, Weak Hands, Bottle Opener for Arthritic Hands (JAR OPENER-new)
Opening a jar can be a real challenge for healthy people, let alone for those suffering from a physical disability or injury. Thus, an electric jar opener like this one can be extremely helpful, as it requires absolutely no physical effort or maneuvering of the jar. The device just has to be positioned on the jar, more precisely on its lid, and have its button pressed. From that point on, it will take care entirely of the opening of the jar.
The device is operated by two AA batteries. But, it is energy-effective, consuming very little energy each time it operates, so the batteries don't have to be replaced too often. In other words, it can become a reliable helper in anyone's kitchen.
3. Hands-free Electric Bottle Opener, for seniors/kids/women
While everybody should be able to open his or her own bottle of water, there are situations when this is simply not possible. When there's a physical disability, the mere task of opening a bottle can be a real challenge. This is when this electric bottle opener comes into the scene. It just has to be positioned over the top of a PET bottle and push the button. That's all the effort involved in opening a bottle with this particular device.
The device is operated with the help of batteries. It is worth mentioning that the batteries are not included in the package, so they will have to be purchased separately. Two AA batteries will suffice to make this device work for a long period.
4. Electric Can Opener with Bottle Opener Pop Top Opener Knife Sharpener, Extra-Tall for All Standard Size, Smooth Edge Can Opener, Chrome Coating
This particular item will look great in a kitchen, as it can be easily placed on a countertop and used whenever it is necessary. In the top part, the device features a special head that helps with opening glass bottles. When required to open cans, you just have to mount the special can opener and turn the device on.
It is worth mentioning that the can opener must be plugged into a power source. In order to open a can, just place the can in the designed space and allow the opener to do its job, after pressing its button. Once you're done using the device, it will turn off on its own, so you don't have to worry about it or deposit any kind of effort.
This device also has a special section for sharpening kitchen knives, also without any effort from the user. Also, it is safe to wash this device in the dishwasher, when needed.
5.Electric Wine Opener with Charger Black Edition – Holiday Gift Set for Wine Lovers-Kit with Batteries and Foil Cutter Uncle Viner
If you are looking for the ideal gift for a person that has a certain physical disability or weakness in his or her hands, this particular set can be more than welcome. It is an electric wine bottle opener that arrives with all the accessories needed to perform the operation in a comfortable and elegant manner.
The recipient of such a gift will definitely appreciate it, considering it that it comes wrapped in a beautiful box, which can be later on used for safe storing. It works with the help of four AA batteries that can also be recharged.
Besides the electric bottle opener, the set will also contain a foil cutter, a special accessory for pouring the wine, and a vacuum stopper that will maintain the quality of the wine in an opened bottle for longer.
6.Instecho Electric Can Opener, Multi-Function Electric Can Opener, Auto Can Opener, Beer Bottle Opener, Pop-Top Can Opener, Manual Bottle Opener
With the help of this small electric device, no lid will come in between you and the content of a can, jar, or bottle. Yes, this is a device that can open a wide range of containers.
It can open cans of various sizes, glass bottles like beer or soda bottles, and jars as well. You just need to use the adequate tool for each task by positioning on whatever you want to open and press the device's button.
That's all you have to do. It is small and operated by batteries, so you can take it along no matter where you go. The devices can be easily used indoors, in the kitchen, or outdoors when enjoying a barbecue, camping, or picnic.
I realy hope that you enjoyed this article and more importantly, that it helped you with finding the best electric can/jar/bottle opener for disabled.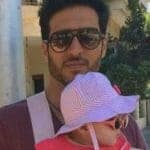 Hi, my name is Eddie, I am a professional trainer specializing in the elderly population and I'm also a website designer. I love training in the gym, going to the beach, traveling, and having good food.

I combined my love for sport and website designing to make "DisabilitEase" whose purpose is to help elderly and disabled people live a more full and active life, have more fun, and enjoy their unique journey despite any disability.