As people age, there comes a time why the functionality of the body starts to decline. Therefore, the elderly usually require assistance to help them move around with ease.
That's where an upright walker comes in and acts as a solution to offer support. It's a walking aid machine that assists people while they stand up. It allows them to gain stability and mobility with the correct walking posture. 
In This guide, I will introduce you to some of the best upright walkers and rollators for seniors including tall and heavy people.
Why Do The Elderly Need An Upright Walker? 
Support
Reduction of aches and pain
Comfort
Improvement of posture
How to Choose the Correct Upright Walker? 
You have to identify how you want to use your upright walker. If you are someone who goes outdoors frequently, you should get a walker that has wheels. 
Stability versus dexterity:
It's a general rule that with any machine, you have to sacrifice stability to get mobility. Thus, you should get one walker that offers both; mobility and balance. 
Width and height requirements:
Get an upright walker that appropriately fits your size. Otherwise, using it will become uncomfortable for you. 
Essential Features to Consider While Choosing an Upright Walker
Portability and weight of the walker:
Even though walkers are lighter than other wheelchairs, there is still a lot of variety in the market for the weight of the walkers. Generally, for senior people, we recommend that they choose a lightweight option. That's because it would support freedom and mobility instead of hindering it. You can also operate a heavy walker, but traveling with it will become cumbersome. You can store, fold and carry lightweight walkers. 
If you're purchasing a standard walker, it doesn't need any brakes. However, the one that has wheeled rollators would need them. Most of the models have loop brakes, and they work when the user squeezes the lever. Push-down brakes require less force and are easy to use. If you're someone who suffers from hand dexterity, this braking system is worth trying. 
Here Is A List Of The Top 13 Upright Walkers For Seniors In 2023
The Nitro Euro Style Walker Rollator is designed for taller people with a handle height of 41″. The handle height is easily adjusted with a push button, and the back height adjusts with a thumbscrew. Larger 10-inch front casters allow optimal steering and rolling comfort; the caster fork design enhances the turning radius.
The Nitro folds easily with one hand to ultra-compact size for storage; cross-brace design allows for side-to-side folding and added stability. Handsome and removable zippered storage bag included. Unique bag attachment keeps the bag securely in place when the rollator is open or folded. Comes with a removable carry pouch as well! Available in your choice of three handle height options: Tall, Medium, or Short.
Features:
Easy one-handed folding
Easy handle adjustment up to 41″
Seat to Floor Height: 23.6″
Pros:
Great for tall people with 41″ height handles
Good maneuvering capabilities
Great quality for its price tag
Cons:
The manual is poor, it is better to go to Drive Medical's website for instructions
If you are looking for a stylish, lightweight rollator that is designed to offer comfort and a sleek solution to mobility for tall users, Lumex Allura LX is your answer. This rolling walker is made with a lightweight aluminum material that is both durable and makes mobility easier.
With a height-adjustable ergonomic handle, you can customize the Allura LX to fit your needs. A 26″ seat height and 41.7″ maximum handle height make this rollator ideal for users between 6'2″ and 6'8″ tall and 300 pounds or less.
Features:
large 8″ smooth-rolling casters
The design is attractive and high-end, so it fits right in with the fast-paced lifestyle of today's consumer.
Pros:
Works great for tall persons
Very Sturdy
41.7″ maximum handle height
Cons:
A bit heavy
The cane holder is not strong enough for heavy canes
The Beyour Walker's style differs from the rest as it's super comfortable and has many unique features. It's an innovative walker that's perfect for people who struggle while putting pressure on their wrist joints. 
Features:
Dual braking system 
It comes with a folding mechanism making it easy to store. 
Pros:
Arm supports with adjustable height 
Brake is easy to use
Offers enhanced support and comfort 
Cons:
It might be heavy for a few users 
It can wobble. 
The frame of this Vive folding walker is lightweight as the manufacturers made it out of sturdy vinyl components and aluminum. That makes it highly maneuverable. 
Features:
It comes with an easy-to-use and intuitive folding mechanism. 
High-quality aluminum makes it lightweight. 
It comes with a dual brake system. 
The frame has extra-wide legs. 
Pros:
Supports weight of up to 300 pounds 
Lifetime guarantee
Ergonomic handles 
Cons:
It's not easy to turn. 
Large users find it flimsy
You would have to take it for regular servicing.
When the manufacturer was making the aluminum rollator, the goal in mind was to make medical-grade walkers. The Medline mobility freedom is great for bariatric patients.
Features:
High-quality construction
Lightweight 
You get a free storage container 
It comes with a helpful seat. 
Pros:
Highly durable and long-lasting. 
Made out of medical-grade components. 
Smooth-rolling.
 Cons:
You cannot adjust the height on the handles. 
Narrow rear wheels increase the chances of falling. 
This walker is a stylish and chic version of the famous Nitro walker from the same company. The Nitro DLX has a vintage, retro look, and it comes with eye-catching leather accessories and back support. 
Features:
It easily folds into a small and neat package. 
10-inch casters on the front. 
It comes with a storage bag and quality upholstery. 
Pros:
Attractive finish and design. 
Smooth and stable.
Perfect for transportation. 
Cons:
It isn't a lightweight walker. 
Upholstery and color scheme aren't suitable for everyone. 
There are minor issues with the aluminum frame. 
This upright walker was an attempt at making one of the most portable walkers in the world. Even though the approach was minimalistic, you can still keep medication, notepads, pens, etc.  
Features:
Weight limit of 400 pounds. 
Lightweight construction
Complimentary replacement parts 
Pros:
Simple design. 
Foldable 
Suitable for heavy users 
It comes with a helpful pouch. 
Cons:
No seat
No rear wheels 
It isn't stable enough.
Like other walkers from this brand, they also made this one out of medical-grade components. It's a premium version of the older models. It has an aluminum frame with a spongy seat. 
Features:
Adjustable height 
It comes with a cup holder. 
It can lift a max weight of 300 pounds. 
Pros:
Tougher frame 
Provides support
Replacement parts are available
Lower rolling resistance
Cons:
Heavy for some users
It doesn't fold well. 
The idea behind this walker was to support the elderly and cater to people who already have balance issues. The construction is high-quality, and it's very versatile as it comes in many sizes. 
Features:
It comes with a wheel brake adjuster. 
Handles and adjustable seat. 
Suitable for users of all sizes and heights. 
Pros:
Easy brake maintenance.
It assists people that have balance issues. 
Cons:
It's heavy 
Other products offer better quality construction. 
Narrow wheelbase. 
This Walker is lightweight, and the construction is top-notch. Its sleek design is the most striking feature. It creates feelings of empowerment for the user instead of embarrassment. 
Features:
Customizable back support and handles. 
Zippered storage bag. 
Variety of colors and stylish design. 
A good amount of seat padding. 
Pros:
Easy to store and fold. 
It helps to reduce self-consciousness. 
Increased stability and smoothness. 
Cons:
No replacement parts are available. 
It's heavy. 
This walker is appealing to those people who do not have a lot of strength. It's suitable for bariatric patients and those who may not be able to maneuver.  
Features:
Adjustable handlebars 
Wheel-lockout system 
Lightweight 
Massive 8-inch wheels.
Pros:
It glides easily over uneven surfaces. 
Ergonomic handles 
Attractive and stylish colors available. 
Highly durable construction. 
Cons:
Some users prefer that the back wheels swivel. 
This walker has a unique design than the rest. Instead of using four wheels, this walker relies on only three. It's highly maneuverable in tight spaces and can turn. 
Features:
Three-wheel design is innovative. 
Large 7.5-inch wheels 
Storage bag
Pros:
Lightweight 
Portable 
Superior maneuverability
Enhanced smoothness
Cons:
No recovery seat
No backrest. 
Low stability.
What happens when you're a big person who likes to walk? You need a big rollator walker with a wide seat. Meet the Comodità Spazio Extra Wide Heavy-Duty Rollator Walker, the perfect walker for big people. This rollator walker is built to support up to 440 lb and is made with extra-wide space in between the rear wheels for increased safety.
Features:
18″ Wide Nylon Seat
440 lb Weight Capacity
Extra-large 8″wheels with rubber tires
Pros:
Great for heavy persons
Stable and sturdy
Cons:
Weighs 20.5 lb – heavier than most models in the market
Will not go through doors that are less than 30″ wide
Frequently Asked Questions
Q1. Why do the elderly use upright walkers? 
The primary reason is to enhance their mobility and provide them comfort and safety while walking independently. With the help of walkers, they can cover long distances without any pain. Some patients also use these post foot surgeries to improve balance. 
Q2. Do you have to measure for an upright walker? 
 An upright walker will serve its purpose best when manufacturers build it according to the measurements and needs of the user. People who have fractures need walkers that are well-fitted. 
Q3. How to lock the walker's brakes? 
You wouldn't need to put your hands continuously on the brake grips because wheels usually have a brake lock. Push the lever away from the handlebar. After that, push it downwards until you hear a click.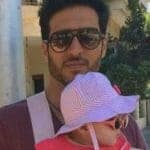 Hi, my name is Eddie, I am a professional trainer specializing in the elderly population and I'm also a website designer. I love training in the gym, going to the beach, traveling, and having good food.

I combined my love for sport and website designing to make "DisabilitEase" whose purpose is to help elderly and disabled people live a more full and active life, have more fun, and enjoy their unique journey despite any disability.