Having a broken arm or wrist limits almost all of your tasks and chores. This can sometimes make routine activities difficult, such as getting dressed.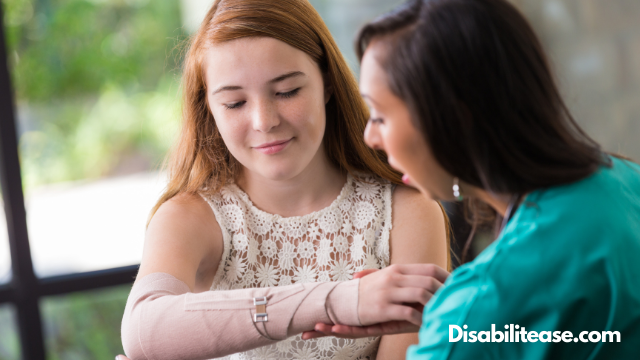 Fortunately, there are some clothes you can wear and actions you can take to simplify getting ready with a broken arm. 
We have a related article for you, you can read Games You Can Play With A Broken Arm.
How To Put On Clothes With A Broken Am? Wearing A Button-up Shirt/Dress:
Shirts, skirts, and other clothing are considerably easier to put on with only one arm if they are open in the front. 
Moreover, choose clothing with a zip or Velcro closure that extends up to the neckline to make dressing as fast and straightforward as possible. 
The Following Steps Can Be Used For Wearing Garments With A Broken Arm:
Ensure that your shirt/dress is unbuttoned before you sit down. Place it with its inside facing up across your lap. 
Hang the sleeve that would cover your injured arm hang between your legs. Put this sleeve across this arm using your other healthy one.
Pull the sleeve slowly up your arm until it reaches your shoulder.
With your healthy arm, hold the remaining portion of the garment. Throw it gently across your back, so the last sleeve lands close to the healthy arm.
With a healthy arm, reach up toward the sleeve hole and push your hand through it after working your arm up through it.
Pull on the clothing in any locations where it is not adequately suited to your body with this arm.
Pull both sides of your clothing together in front of you using a healthy hand.
Pull the zip up, press to close the Velcro, or close the buttons one at a time.
Note: Use your pinky and ring fingers to hold the edge of the shirt without buttons if you are having trouble buttoning it up. 
Hold the other side of the garment with your thumb, middle, pointer, or finger, then insert the buttons into their respective holes.
Wearing a T-shirt/Closed Dress:
Not moving the broken arm, bend forward and pick up your clothing with the hand of your healthy arm.
Collect it from the bottom border to the neck hole.
Using your healthy arm, pull the right sleeve onto the broken arm without moving it. Pull it over that arm till it reaches your shoulder.
Stand up since this usually makes pulling your shirt over your head simpler. Draw the garment through the neck opening with the healthy arm.
Push your healthy arm across the shirt's inner part toward the rest of the sleeve. Then, push it across the sleeve.
Your garment is probably put on correctly at this stage, yet it might be collected and crumbled around your stomach. Using the hand of the healthy arm, hold the bottom border of the clothing and slowly pull it down to remove any bunches.
Wearing Jeans/Trousers/Skirt:
Choosing loose trousers with an elastic waist and skirts that are simple to draw up your legs is recommended.
Using your healthy hand, pull the clothing up your legs. It is preferable to do this while being seated.
You would also need to zip up and close the upper button of any zippered clothing, such as pants or a skirt. For this, put your healthy hand or dominant fingers through the opening, then hold the button and push it through the hole to close it.
Note: This method can be used to button up any other garment with adequately big button holes, such as jackets.
Finally, use your strong hand to pull up the zipper.
Another post that will interest you is about the How To Do Home Chores With A Broken Arm? 
How To Put On A Bra With A Broken Arm 
Looser fit bras, such as Sports bras, or camisoles with a built-in bra, are simpler to wear with a broken arm. However, the following steps can be followed for wearing a regular hooked bra with a broken hand.
Method #1
Hold the bra firmly with your healthy hand by one cup.
Wrap the hook portion around your waist, so it pulls to your front side.
With your arm's crook, raise your breasts to see the hook.
Hold the openings into which the hooks fit (eyes) beneath your arm.
Use your elbow to push the hooks and the eyes together while maintaining the cloth straight, so all hooks are closed. Repeat these steps until you finally succeed.
Then, use your elbow to move the bra, so the cups are now in the front.
Using your healthy hand, pull the straps in place over your shoulders.
Method #2
Close the hooks of your bra with a healthy hand.
Pull the bra over your head using your strong hand and pull the straps up. The bra would go inside if the straps were not at the top.
Push your healthy arm up the bra while sliding your healthy hand inside.
Now pull down the bra over your broken arm using a healthy hand. Pull the broken arm out from the bra by raising it. At this stage, the bra would be around your waist.
Using your healthy hand, adjust the bra as necessary so that the straps are at the top and the cups are correctly over the breasts.
Tips
A dressing stick could be helpful if your range of motion is restricted.
Use sleeveless or short-sleeved shirts or dresses.
Choose clothes with pockets, which is particularly useful if you aren't able to carry a bag or if you need to use crutches to go about.
Use a shawl over your shoulders instead of a winter jacket or coat to remain warm.
Request a friend or family member to assist you in getting dressed.
Inquire your physician or physical therapist about unique aids that enable people wearing casts to put on their shoes and socks with a single hand.
Consider using a high-quality cast protector to keep your cast dry and your limbs safe while they are healing.
Avoid making motions when wearing a dress to avoid any pain or further complications in the injured arm.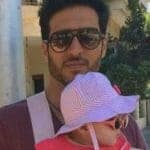 Hi, my name is Eddie, I am a professional trainer specializing in the elderly population and I'm also a website designer. I love training in the gym, going to the beach, traveling, and having good food.

I combined my love for sport and website designing to make "DisabilitEase" whose purpose is to help elderly and disabled people live a more full and active life, have more fun, and enjoy their unique journey despite any disability.