Sadly, cooking can become a nuisance if you have a broken arm. The kitchen instantly becomes a place where you have to cut, strain, and flip food you cannot cook anymore.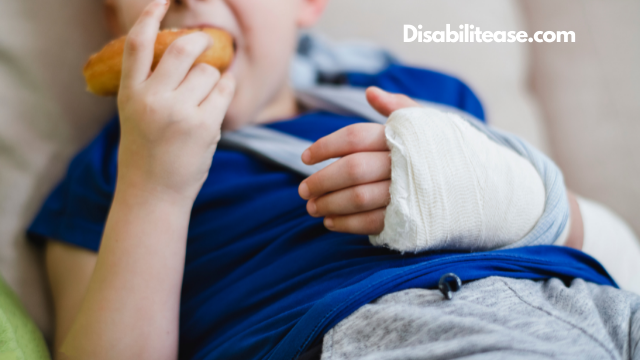 However, you still need to eat while your arm is healing, and you cannot go out every day to eat or get a takeaway. 
Thus, while waiting for your recovery, several dishes can be cooked quickly without needing both your arms and hands.
Here is a related article that might interest you on How To Put On Clothes With A Broken Arm – How To Put On Bra .
A list of some easy, no-stress recipes is provided below, including a wide range of cuisines and flavors like breakfast eggs, easy snacks, main dinners, and even desserts.
Delicious Cuisines To Cook With Broken Arm
1. Shakshuka – Serves 6
Shakshuka, also known as eggs poached in spicy tomato sauce, is a beautiful breakfast or lunch you may enjoy while dipping bread in the flavorful sauce.
Ingredients
2 tbsp. tomato paste
1 tbsp. olive oil
Five medium garlic cloves, finely minced
2 tbsp. Harissa paste
1 tsp. ground cumin
Six large eggs 
400 ml of diced tomatoes 
Two large chopped red bell peppers
1/2 cup thick plain Greek yogurt 
1/2 cup fresh parsley, finely chopped
One loaf of warmed crusty bread
Salt and pepper to taste
Directions
Firstly, it is recommended to preheat the oil on medium heat in a large pan. Add tomato paste, red peppers, cumin, Harissa paste, and garlic to the pan. Add salt and pepper to taste. Peppers should soften after 7 to 10 minutes of cooking with intermittent stirring.
Add the tomatoes to this sauce. Cook for 5 to 7 minutes while periodically stirring.
Make little wells for your eggs in the sauce that has been evenly spread around the pan's surface. Place an egg in each of these wells. After that, poach the eggs for another 7 to 10 minutes, or until the yolks have reached your preferred hardness and the whites have been set. Alternatively, cover your pan to speed up this final stage; the eggs will be cooked in 4 to 5 minutes.
Sprinkle parsley.
Serve with toasted bread and yogurt.
2. Fancy Eggs and Toast Cups – Serves 4 
The particular dish is one of the quickest and most straightforward yet most stunning breakfasts. It's a dish that young cooks may easily prepare, or you can make it in a flash using just one hand.
Ingredients
2 tsp. butter
Four tsp. herbed Boursin
Four slices of sandwich bread, remove crusts
Four large eggs
Salt and black pepper to taste
Four sliced smoked salmon to garnish
1 cup baby salad greens to garnish
1 tsp. Lemon juice, to garnish
Directions
Set the oven to 375°. Grease all walls of a muffin tin with butter. Flatten the bread and fit it inside the muffin tin.
Fill the bottom of each cup with crumbled herbed Boursin. Add an egg. Sprinkle salt and pepper to taste.
Bake until the egg white has been set (almost 15 to 18 minutes).
Remove toast cups from the muffin pan with a butter knife.
To serve, place on a plate and add a folded slice of smoked salmon on the top. Cover baby salad greens with lemon juice and garnish.
3. Steak Sandwich with Parmesan Dressing -Serves 4 
The dish is a complete meal, including all proteins and carbs that you would need for a day. You can even leave the bread and turn this meal into a steak salad. 
Vegetarians can use portobello mushrooms marinated in balsamic vinegar, garlic, and olive oil instead of the meat steak. You can also melt the cheese and spread it over the top of this dish if you prefer.
Ingredients
1½ pounds flank steak
1 tbsp. vegetable oil
½ small red onion, thinly sliced
3 tbsp. fresh lemon juice
¼ cup whole grain mustard 
Kosher salt and pepper to taste
½ cup olive oil
6 cups mature arugula leaves 
1½ ounces grated Parmesan cheese
One halved ciabatta loaf
Directions
Preheat a large dry skillet over medium heat.
Delicately crosshatched the steak on both sides with a sharp knife. Rub it with vegetable oil after liberally seasoning it with salt and pepper.
Cook steak for 8 to 10 minutes, rotating at least once to ensure equal browning, until medium-rare and gently seared.
Rest the steak for over 15 minutes.
Place one onion in cold water. Place aside.
Blend lemon juice and mustard.
Stream in olive oil while the machine runs, gradually adding Parmesan cheese. Add one tablespoon of cold water and mix until the dressing is smooth and thick. Add salt and pepper to taste.
Melt butter in the skillet.
Apply olive oil to the ciabatta's sliced sides. Cook both halves with the cut side down for 5 minutes or until golden brown and crisp, working with one half at a time.
Put the sliced side of the bread up on a dish and top with 1/3rd of the dressing. Place Arugula on the top, then place the onion, drained and dried. Add salt and pepper to taste, then pour 1/2 of the remaining dressing. Lay thinly sliced steak over the sandwich. Slice the bread crosswise, drizzle the remaining the dressing
4. South of the Border Casserole – Serves 4
South of the Border Casserole is quick and flavorful, thanks to its main ingredient, i.e., the lightly flavored corn salsa, ultra-fresh corn tortillas, and pre-shredded cheese. These would be a hit among the whole family while being easy to be made for you.
Ingredients
Eight corn tortillas
1 cups corn salsa, divided 
2 cups cooked, shredded chicken
1 cup finely shredded Mexican-style cheese
Fresh tomato salsa for garnish 
Greek yogurt, for garnish
Chopped cilantro for garnish
Directions
Preheat the oven temperature to 350°.
Place four tortillas in a baking dish. Top with 1/2 cup of salsa and 1 cup of chicken. Add another tortilla to each and a second layer of the leftover salsa and chicken.
Sprinkle cheese all over the tortillas.
Moreover, cover with aluminum foil and bake till the cheese has melted, and the dish has been thoroughly heated.
To help the cheese brown, remove the foil and bake the dish again.
Cut each tortilla into wedges and serve it with the garnish.
5. No Chop Chickpea Curry – Serves 4
Along with being quick and less expensive than ordering food, this quick and straightforward vegan chickpea curry comes up at about the same time as cooking rice.
Ingredients
3 cups cooked chickpeas, rinsed and drained
425g lite coconut milk
425g diced tomatoes, undrained
2 cups frozen spinach
1/3 cup peanut butter
2 tsp. sriracha sauce
3 tbsp. agave syrup
2 tsp vegetable oil
11/2 tsp. ginger powder
1/2 tsp onion powder
11/2 tsp. salt
2 tsp. curry powder
Directions
Heat the oil in a large saucepan over medium heat. 
Add all spices and salt and stir until aromatic, about 30 seconds.
Add tomatoes, chickpeas, and coconut milk, and stir them gradually.
Add the agave, sriracha, and peanut butter.
Add spinach and occasionally stir until it has been cooked thoroughly.
Simmer for almost 10 to 15 minutes over low heat, occasionally stirring.
Serve with boiled rice.
6. Baked Sweet Corn Farro Risotto – Serves 2
Baked sweet corn faro risotto breaks with convention by using whole-grain farro instead of arborio rice and is baked instead of being cooked over the stove. 
Ingredients
One small yellow onion, minced
1 tbsp. olive oil
1 cup farro
2 cups corn kernels
¼ cup white wine
2 cups sweet corn or vegetable broth
1½ cup shredded cheddar cheese
Salt to taste
Half and half, optional
Chili Flakes, for garnish
Parsley, for garnish
Directions
Finely chop the onion. 
Drizzle olive oil in a Dutch oven and then let it heat.
Add the onions and salt and cook until softened (about 10 minutes).
Add the corn kernels and cook for another 5 minutes.
Add farro and simmer for a few more minutes. Stir in the white wine and simmer until most of the wine has evaporated.
Add broth and keep simmering for a few minutes.
Turn off the heat, cover it, and put it in a preheated oven set to 375°. After 35 to 40 minutes of baking, most of the liquid should have evaporated.
Remove from the oven and add cheese. Almost all of the liquid should be absorbed by now.
A few splashes of half-and-half, milk, or additional vegetable broth can be added if no amount of liquid remains or the risotto seems too thick.
Add garnish and serve.
7. Mushroom Quesadilla – Serves 4
Mushroom Quesadilla is filled with proteins, thanks to the sautéed mushrooms and melted cheese sandwiched between freshly cooked tortillas. It will surely be a winner for lunches and dinners among the family.
Ingredients
1 tbsp. unsalted butter
500g sliced button mushrooms
150 g garlic & herb Boursin
2 cups grated mozzarella
2 cups baby spinach, optional
Four flour tortillas
Directions
Melt the butter over medium heat in a large pan.
Add mushrooms and cook for 8 to 10 minutes, stirring periodically, until the edges have been browned. Remove from the pan.
Add a tortilla and cover half it with 1/4 of a Boursin piece. Add mushrooms, mozzarella, and spinach. Fold the tortilla in half to cover the filling.
Cook both sides for about 2 minutes over medium-high heat until golden browned.
Repeat the steps with the remaining tortillas.
To serve, cut the quesadillas in wedges.
8. No-Bake Peanut Butter Oatmeal Granola Bars – Serves 6
These are the finest granola bars, requiring no baking, only six ingredients and a pot, no processed sugar, and are infinitely customizable.
Ingredients
1 1/4 cups rolled oats
1/4 cup raisins
1/2 cup shredded coconut
1/4 cup honey
1/2 cup peanut butter
1/4 cup coconut oil
1 tsp. cinnamon powder
Directions
Melt the coconut oil, honey, and peanut butter together over medium heat in a saucepan. Remove from heat.
Whisk in the rolled oats, raisins, coconut, and cinnamon.
Press the mixture in an ungreased square pan and refrigerate for a minimum of two hours.
To serve, slice into six bars. Keep the remaining refrigerated.
9. Tortellini Pasta Salad – Serves 4
This adaptable tortellini pasta salad can be taken anywhere quickly when packed for lunch and is ideal for a picnic or quick meal.
Ingredients
350g cheese tortellini
1 tbsp. extra-virgin olive oil
2 tbsp. pesto
2 tbsp. chopped basil leaves
1 cup halved grape tomato
Salt and black pepper to taste
Directions
Cook the tortellini in salted boiling salted until it is slightly soft.
Drain and keep rinsing until it gets cold.
Mix in olive oil and pesto. Add salt and pepper to taste.
Mix in basil leaves and grape tomatoes
10. No-Bake Chocolate Peanut Butter Brownies – Serves 20
Making these brownies couldn't be any simpler. They are filled with various flavors and can be made quickly without baking while being gluten-free and vegan. Due to their intense chocolate and peanut butter flavor, no one will be able to tell that they are healthy for you.
Ingredients
1 cup pitted dates
1 cup smooth peanut butter 
1 cup pitted prunes
1/4 cup cocoa powder 
1/4 cup powdered chocolate peanut butter
2 tbsp. maple syrup
1/2 tsp. orange oil
1 tbsp. orange juice, optional
Chopped peanuts, optional
Directions
Combine all ingredients and process them in a food processor until extremely smooth. You might have to pause and scrape the mixture off the sides using a spatula. You can add a teaspoon of maple syrup, orange juice, or even water if the mixture gets too dry.
Spread the mixture evenly in a lined pan.
Sprinkle chopped peanuts (optional).
Keep refrigerated for at least half an hour. You can also put it in the freezer for 10 to 15 minutes.
Bonus Tips:
Use a knife, or your teeth, to open packets
Don't hesitate to ask for help with the basic tasks
Use tools, such as food processors, hand mixers, dicers, etc., to chop or squash foods whenever needed
Boil, bake, or whole roast foods, such as chicken, vegetables, etc.
Use pre-peeled and pre-chopped vegetables 
If you cannot cook every day while you are healing, opt for ordering food, dining out, or takeaway
Eat healthily and take rest to ensure that you recover back to health fast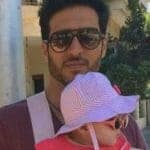 Hi, my name is Eddie, I am a professional trainer specializing in the elderly population and I'm also a website designer. I love training in the gym, going to the beach, traveling, and having good food.

I combined my love for sport and website designing to make "DisabilitEase" whose purpose is to help elderly and disabled people live a more full and active life, have more fun, and enjoy their unique journey despite any disability.