People play golf for fun, to gain stamina, and to improve their flexibility. It is a social sport that unites golfers and their families. You will see golfers enjoying their game while their families are bonding together.
Also, many business deals are finalized on a golf course during a game between two golfers.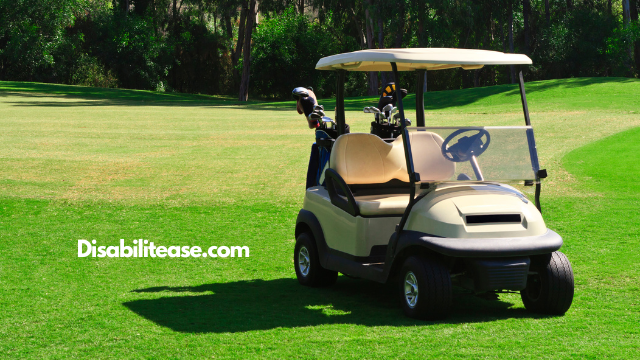 R&A says that people who are disabled and cannot walk their way to the golf course can now also enjoy this sport. Many golf courses have allowed golfers to use golf carts or buggies which are disabled.
These carts allow a golfer to play the game while sitting or standing with the help of these carts. 
However, these golf carts or buggies are allowed in many golf courses. As a result, some golfers are confused about choosing the right cart for them. 
For those of you who are looking for a beach wheelchair – you should check out my post on the Best 8 Wheelchairs for The Beach and Sand in 2023.
Here in this article, you will find the 10 best adaptive golf carts for disabled people.
Top 10 Adaptive Golf Carts for Disabled
To get the right one for you, have a look at this collection of golf carts or buggies. You will find the best one for you in this collection.
1. Paragolfer/Paramobile
This is a mobility device that helps a golfer to play the sport without getting into any trouble. This incredible machine helps the golfer to stand in a semi-standing position and enjoy the game.
This golf cart does not have any steep sides. Instead, it has big and wider tires that let the golfer move around in the golf course easily.
Plus, the golfer does not have to carry the kit bag as this incredible cart can pick your luggage as well. Paragolfer is not only produced to drive in the plain path but it can also be easily driven on the grass. You can get your Paragolfer cart from here. 
2. SoloRider
Here is another electric golf cart that you would love to have. This amazing electric golf cart is designed to help disable golfers play. It helps the golfers in facing a diverse range of challenges that can occur to any disabled player. For example, if you face challenges walking your way to the golf course, this cart can help you.
The body parts of this unique-looking golf cart are strong enough to lift a person and let him/her walk through the golf course. In addition, it gives excellent battery timing so that you can enjoy your game completely. You can get this one from here.
3. Model tee 
If you are disabled and want to learn golf, you need to see the golfers playing the sport. To learn, it is necessary to see how the game goes. To see the game, you need to be on the golf course as you are disabled, so you need to use a golf cart.
Model tee is an amazing golf cart for learners. This accessible golf cart is a ramp-equipped model with hand controls. This wheelchair will help you to move between the shots. You can also play while sitting on this golf cart once you know how to play. 
4. Runabout 
This is a complex cart that is designed as a mini car. It can carry 4 people simultaneously as it is clear from its name that this vehicle is for moving around on the golf course. It is manufactured with aluminum rims and has large and powerful tires. You can get this one from here. You can find some beautiful colors in this one. 
5. The Eagle 724 Single Rider 
If you have walking and balance disabilities, a single eagle rider can help you play golf without getting in any trouble. This is an electric golf cart with a tilt seat that can be adapted for any golf course. With this single rider golf cart, you do not need to get out of the car. It provides hand control and is moveable in any condition. 
This is a multi-purpose golf cart that allows disabled golfers to focus on their game. This amazing golf cart from the eagle series has a strong body made up of strong fiberglass.
With this golf cruiser, you can take your game to another level. It can carry up to 200 kgs of weight. This golf cart enables the golfer to play the game with flexibility.
7. Golf Xpress 
Golf Xpress is a cart for disabled golfers having a similar design, just like the Model tee. Although, the Model tee golf carts are not manufactured now. Still, some old Model tee golf carts are available in many golf courses. The seat of Golf Xpress tilts forward and swivels. This allows the golfer to swing the golf stick without losing out the balance. So, get this one and enjoy your golf game. 
This is a best-selling remote control caddy. This is a stylish caddy for disabled people who cannot carry their golf kits to the golf course. This is a high-tech caddy having a strong frame that can easily carry your kit. This caddy is specially designed for golfers who like to go to the golf course with their equipment. It has a powerful battery that can go along a whole day.
9. ForeCaddy smart caddy 
This amazing caddy has a lightweight design which is very strong. This is another great choice for those who are not able to carry their golf kit. It has four different modes of operation that are controlled with wireless communication technology. The power assist mode helps you in going through the sloppy areas easily.
This is a compact foldable electric caddy that golfers use for carrying the bag while going to the golf course. If you are space conscious then, this caddy is an ideal choice for you. It has a powerful but quiet motor. There are nine types of speed settings that you can set. You can see the readings on its anti-glare screen.
Consider these options when you are looking for adaptive golf carts for a disabled person.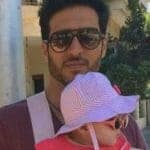 Hi, my name is Eddie, I am a professional trainer specializing in the elderly population and I'm also a website designer. I love training in the gym, going to the beach, traveling, and having good food.

I combined my love for sport and website designing to make "DisabilitEase" whose purpose is to help elderly and disabled people live a more full and active life, have more fun, and enjoy their unique journey despite any disability.