Early summer is upon us and that means the beach, the pool, and fun outdoors. But those who have mobility challenges often avoid this. It's not without good reason as wheelchairs can get stuck in sand and many wheelchairs don't float.
How cool would it be to roll along the beach? How great would it be to not let being in a wheelchair hold you back from enjoying the beach? There are many reasons that people cannot go to the beach, for some is because they are afraid of swimming and others it's simply due to mobility issues.
But what if there was a way for them to enjoy themselves by bringing their wheelchairs along with them?
In case that you like playing Golf – you should read my post on the Best 10 Disabled Adaptive Golf Carts/Buggies In 2023.
Beach wheelchairs are specially-made wheelchairs designed for use on sand, from soft, dry, deep sand to wet or rough sand.
Beach wheelchairs will provide much smoother and easier mobility than regular wheelchairs, allowing for people with disabilities to participate in activities such as swimming at the beach.
Best 8 Wheelchairs for The Beach and Sand That will make Your Summer Great
There are beach wheelchairs and beach wheelchairs. This blog is going to list the 8 best beach wheelchairs that you should consider when looking at the market.
Push VS Powered VS Floating beach Wheelchairs
The main difficulty in the sand is to propel yourself and most wheelchair users will need the assistant of a pusher, if you really want to be independent on the sand and hard terrain you will have to go for the battery-powered wheelchairs which are obviously more expensive.
Powered/motorized wheelchairs offer so much fun and independence, however, Since Powered wheelchairs are quite expensive many people cannot afford them.
But worry not! if you want to enjoy and feel the true freedom that the beach offers and don't want to empty your wallet you can always rent a beach scooter. I will offer a great renting option also in the list below.
Floating Wheelchairs, as their name suggests, are Wheelchairs that can flow in the water, allowing their user not only to enjoy the sun on the beach but actually go in the water.
Below are some of the best push wheelchairs, Floating wheelchairs, and battery-operated wheelchairs in the market.
1. BOX Beach Bomber Wheelchair
The BOX Beach Bomber Wheelchair is the perfect choice for those who want a wheelchair that can tackle all kinds of terrain but don't want to sacrifice style.
Available in many colors, and offering a 10-year warranty and up to 500 lbs weight capacity, the Beach Bomber is sure to provide you with years of fun and adventure.
features beach tires 5″ wide, and massive inflatable creeper front wheels. This chair will get around in almost any environment
The Beach Bomber is the Ultimate Wheelchair for beach, mountain trail, or just around the block. Custom Built to fit you properly and your ability. With a variety of colors and options to choose from, you can match it to your favorite beach towel!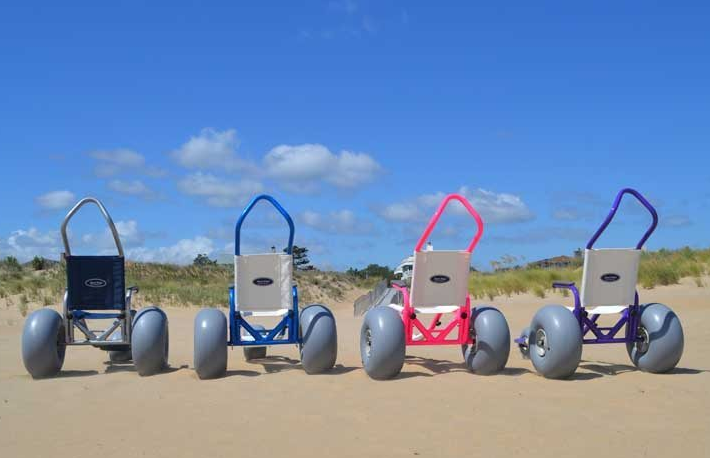 The Sand Rider Beach Wheelchair features oversized wheels for superior sand and off road performance. The ergonomic push handle design & convenient front pull point makes it easy to transport and store.
The Sand Rider can either fit in the trunk of your car, or it can be stored in the closet when not in use. It doesn't even take up much space when flying with it to your next beach vacation!
With three Fabric color options: White, blue & grey, and four frame colors: silver, purple, candy blue, and hot pink, the Sand Rider Beach Wheelchair is a unique wheelchair specifically designed for beach usage.
These wheelchairs are designed for persons needing mobility assistance while outdoors, who may need to get around on beaches, sand dunes, parks, or even light trails.
The Sand rider wheelchair is the ultimate beach wheelchair. The frame has 1.7" diameter, and is powder coated in stunning colors. The Upholstery is made of Sling-quality vinyl coated polyester product that provides antimicrobial protection.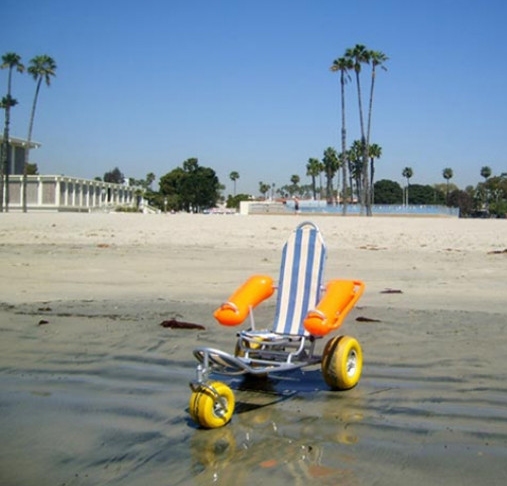 The Mobi-Chair Floating Beach Wheelchair combines the comfort and stability of a traditional wheelchair frame and drivetrain with an inflatable flotation platform. The result is a product that allows an individual to safely enjoy fun in the water.
From recovering from surgery to assisting paraplegics or multiple sclerosis patients, this chair reduces the risk and sense of insecurity associated with entering the waters.
It has a buoyant, high visibility and color coordinated design that allows it to be seen above the water. The Mobi-Chair's extra wide seat and solid back provide maximum comfort, as well as easy access for sitting positioning. This seat is covered in a water repellent vinyl and the tires are rubberized foam filled.
The Mobi-Chair seating area is detachable and all other parts can be separated and stored or transported separately, allowing for more convenient handling and storage of wheelchair parts.
Beach Access chair by Healthline Medical has balloon tires that provide additional flotation for easy access in the sand. The high-quality UV-protected PVC frame is made to withstand saltwater and is more durable than traditional plastic frames.
The Beach Access chair combines a stylish design, a single motion dual parking brake, and a 6 ft. 8-panel umbrella to make the perfect beach companion. In no time at all, you can have a comfy place to sit while barbecuing with friends and family or taking advantage of the calming effect the ocean waves have on your day.
The waterproof seating area is also ideal for removing wet beach shoes or just taking a relaxing break. Anti-tip design with fixed footrest and 5′ diameter umbrella included.
Product dimensions: 41″H x 34.5″W x 41″D
Seat height 25″
250 lb. capacity
Important note: This wheelchair is quite cheap for its category however I will not recommend it if you are planning long walks with it as it requires effort from the pusher and it is quite hard to maneuver with it.

So in case that you want a cheap beach wheelchair for a short distance to the beach and back then this chair will bring lots of fun.
Looking for longer walks with option to maneuver quite easily on hard terrains? go for the first 2 wheelchairs on the list.
Like the previous item on this list, this wheelchair comes at a cheap price(Less than 1000$) and it is a great beach wheelchair for a short stroll to the beach and back.
You can even go inside the water with it.

This wheelchair, too, is quite hard to maneuver and be pushed and it is not meant for long beach walks!
The Beach Wheelchair has 12″ balloon tires on durable casters that will roll quite easily over sand. It folds to fit in a car trunk or SUV and is made from healthcare-grade PVC that won't rust or corrode, even in an ocean environment. Its stainless steel and aluminum hardware means it's built to last.

It has a polyester mesh seat and folding footrest that provide a comfortable ride. Max weight capacity is 250 lbs. Seat dimensions are 20″ wide x 16″ deep x 20″ tall.

It also comes with a One year warranty against any defects; 30-day return policy.
The Sand Helper is a motorized beach wheelchair that enables users with disabilities, to remove themselves from being pushed on the sand by someone else.
The patented design allows the user to move quickly in all directions over the sand, water, and even wet surf, to give the user much greater access to the beach than was previously possible.
Features Include Inflatable Tires – filled with air, they offer better traction and a firmer ride than inflatable tubes.  All-Weather Wheels – large plastic wheels are used on even wet or sandy beach.  Variable Speed Control – ability to control speed up to 4 mph.
Another company that offers a variety of beach wheelchairs for rent or for free is DeBug Mobility products – You can check out their rental locations here.
DeBug is also my next recommendation on this list.
7. DeBug Mobility products
Apart from renting Beach Wheelchairs DeBug also offer a variety of Beach Wheelchairs for sale.
DeBug Mobility products are wheelchair accessories created to bring freedom and mobility to people who use wheelchairs. Mike Deming, the company's founder, has a wife named Karen who was injured in a car accident in 1990. Because of her unique seating requirements, Mike set out to design the best all-terrain wheelchair possible.
From the special fabric used on this durable wheelchair bag to its custom-molded base that is both water-resistant and cushioned, every element of the product has been tested and trusted for over two decades by people like Karen.
DeBug beach wheelchairs offer a variety of features and models, so you can find just the right one for you. These lightweight, portable wheelchairs are waterproof and have large wheels that roll smoothly over sand. DeBug also offers elevating legrests, reclining backrests, and tilt-in-space capabilities in many models.
You can Check out DeBug beach wheelchairs models here. DeBug also offer great floating wheelchairs called EZ roller floating wheelchair.

Here is a video that will show you how cool these Wheelchairs are:
In case that you have the budget(around $8k) to buy a powered beach wheelchair then this one is a great option.
The Beach Cruzr is a beach wheelchair designed for the sand. The width can be set from 28 1/2″ to 40″, so it fits people of almost all sizes. It also has a large seat capacity of 275 lbs and extra-thick, extra-wide rear tires, making it great for beach lovers who want to be able to wheel in and out of the water comfortably!
The Beach Cruzr is designed to handle the sand and small inclines of your favorite destination. With its waterproof batteries, the Beach Cruzr will reach speeds up to 6 MPH, go 15 miles, and will handle inclines up to 21 degrees with ease.
What can the Beach Cruzr really do? Just about everything beach-related. Whether you're at the shore, on the golf course, or in the park, this high-performance electric wheelchair will carry you with ease so you can get to where you want and explore your world.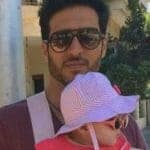 Hi, my name is Eddie, I am a professional trainer specializing in the elderly population and I'm also a website designer. I love training in the gym, going to the beach, traveling, and having good food.

I combined my love for sport and website designing to make "DisabilitEase" whose purpose is to help elderly and disabled people live a more full and active life, have more fun, and enjoy their unique journey despite any disability.