Looking for adaptive equipment for grooming and shaving? In this article I will help you to find some of the best products for a smooth and easy shaving and grooming routine.
People with disabilities may find it hard to meet their hygienic needs due to limited mobility, but there is some grooming equipment that adapts to their disability. For instance, the hair grows nonstop despite your condition; thus, grooming is necessary for everyone.
The traditional blades and shavers have evolved to new electronically powered razors that give people with disabilities and seniors a safe and even grooming option.
Here is a related article that might interest you on Adaptive Equipment For Dressing Lower Body | What's Available?
The elderly sometimes suffer from arthritis or Parkinson's disease; hence grooming becomes a challenge. The gadgets developed in 2023 are safe for shaving, and they help the disabled to practice routine hygienic processes.
All the developed gadgets in 2023 offer a safe option for the disabled or the elderly with unstable hands. Their hands mostly shake or are unstable; hence they cannot grip a razors handle firmly. These cause accidents mostly, but with the advanced technology, shaving has been made easier for them.
With the technology of 2023, there are adaptive tools for brushing teeth and conducting other daily hygiene routines for shaving, bathing, and brushing teeth. The various safe alternatives of grooming the elderly and the disabled are listed below.
Adaptive Equipment For Grooming & Shaving For Disabled And Elderly
1. Razor Extension Handle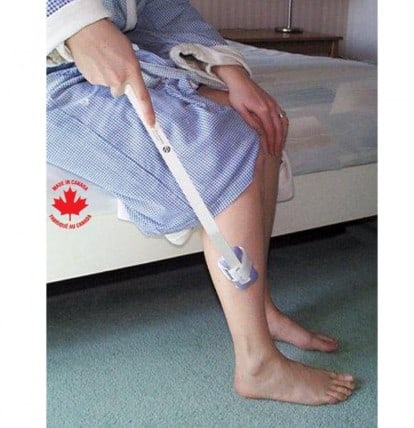 This is a razor that's made using the latest technology of 2022 to aid even shaves for the disabled and the elderly. The razor eliminates sore bending and reaching during shaving.
The tool is affordable; hence you can gift a loved one who has arthritis or Parkinson's disease for comfortable shaves. The price of this adaptive equipment ranges from thirty-nine to forty dollars.
The benefits of this razor are;
It holds usual razors as well as the electronically powered razors
It's helpful for customers who strain to bend
It is easy to secure the strap with a Velcro closing
With these benefits, the razor is convenient for the elderly and the disabled who struggle to shave using the regular blades.  It adapts to the disabilities of the people suffering from joint pains mostly.
The handle of this blade has a nineteen inches long, and it gives users a soft grip due to the strap material. The way this tool is designed gives even pregnant mothers an advantage when they want to shave the lower parts like legs, and they have trouble bending.
It's dualistic equipment that is convenient for both the disabled, elderly and pregnant moms. Generally, this tool is a non-returnable item that meets all the hygiene needs of the disabled people, and it gives them an even shave.
Its weight is almost one and a half pounds; hence it doesn't strain users with weak hands. More details on this adaptive equipment can be accessed through this link.
2. Electric Razor Strap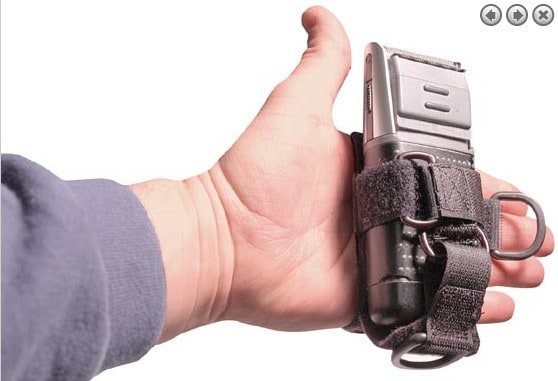 This is equipment that requires no gripping, and it has electric razors. The price of the razor ranges between thirty-two to thirty-five dollars. With its affordability, it works for your budget perfectly. The tool has ease of adjustment on its finger loops, and it gives a firmer shaving grip to people with disabilities.
That's why this tool is fit for older adults with unstable hands too. The way this adaptive equipment is designed gives it ease of use; hence it's an adaptive shaving tool.
The hook and Velcro closure loop of this razor is approximately a half an inch wide; hence it is sizeable for a firm grip. Users of this tool say that it gives an even shave, and it is ranked among the popular electronically powered razors of 2022. To get more information about this adaptive equipment click on this link
3. Weighted Razor Cuff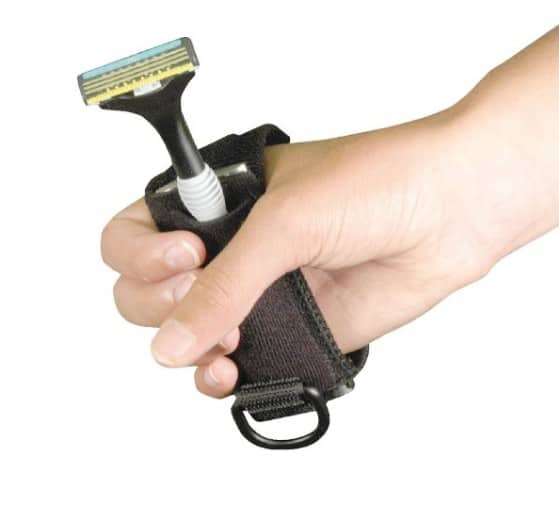 Among the trending razors of 2022, this adaptive equipment adapts to individuals' disabilities by giving them ease of use. The tool has an easily adjustable handle that makes it convenient for use among people with shaky hands. The price of this razor ranges between thirty to thirty-five dollars.
The tool is affordable; hence if you have a loved one suffering from the condition, this is the right gift to buy for them.
The design of the tool gives it ease of securing the cuffs and offers it a better ability to control due to its weight. The tool is convenient for users with shaky hands, especially seniors who have arthritis. The razor has a comfortable grip due to the strap design and adjustability.
The tool has a sizeable width of half an inch, and its loop gives it the adjustability power. The weight of the razor is one and a half pounds; thus, seniors with weak hands can easily use it. The tool has a cuff that aids in giving people with disabilities an independent shave. To get more information about the equipment, click on this link
4. Freedom Shave No-Rinse Shaving Foam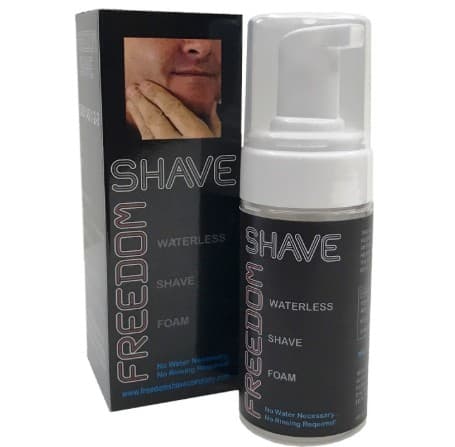 This is adaptive equipment that aids people with disabilities the ability to groom their beards and hair. The foam allows them to shave anytime, and it doesn't require water to rinse. The price of this equipment ranges between four to eight dollars, depending on the store.
The tool is convenient because it does not require water; hence it gives an instant dry shave that protects the skin. The foam has no alcohol components; hence it soothes the skin efficiently. The foam makes shaving easier through the waterless cream, which can be used anywhere and anytime. The foam leaves the skin feeling smooth and soft; hence the disabled can use the lotion for fast grooming.
 The foam is applied using fingers, and then you use a razor to scrape off the hair instantly, easy-peasy!! The lotion doesn't burn or leave bumps on the skin; hence it is convenient for getting an even shave. It's convenient for people with sensitive skin, and its ingredients are mild on the skin.
The ingredients in this foam are;
·         Water
·         SLES components
·         C12-6 constituents
·         All Glycoside
·         CAPB
·         Guar hydroxypropyl trimonium
·         Chloride
·         calcium disodium
·         EDTA
·         MIT
·         fragrance
·         it doesn't have any preservatives, no parabens
·          it has propylene glycol, mineral oil, and petroleum
·         The Capacity of each packet of the foam is 100 ml.
It's convenient for all types of skin, and you can get more information on the product through this link
5. Floss Aid Dental Floss Holder
As a disabled person, flossing teeth can be a challenge. The elderly with unstable hands struggle to groom their teeth due to the shaky hands' condition. That's why this dental floss holder is convenient for all the people suffering from these conditions.
The holder is cheap and affordable, as it goes for a price of approximately six dollars. The price may vary depending on the location of the store. The floss gives the disabled a secure dental performance without hurting the gums. The tool is convenient for giving people manageable oral hygiene levels. It offers comfortable and practical teeth floss. The holder gives disabled people a reach of all the teeth, even the molars that keep the teeth clean.
The holder has a unique design, which gives the floss a firm grip, and it's angled expertly to reach all the teeth. The tool is well sizeable with a length of six inches approximately and has a few colour choices. That's probably the downside of this equipment, its available in limited colour choices. The holder is generally fit for use as it serves the intended purpose despite the few colour options. More details on the tool can be accessed through this link
6. Body Care Long Handle Brushes & Combs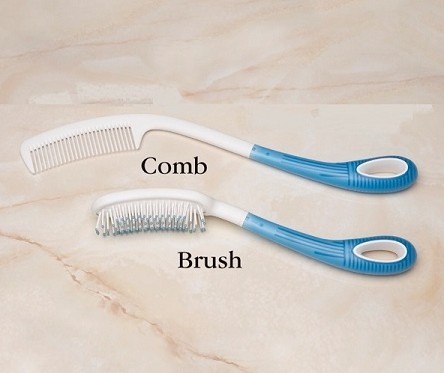 Among all the trending adaptive grooming tools for people with a disability, the combs of 2022 and new hair brushes are practical for use. The cost of these newly designed combs for grooming ranges between twenty-five to thirty dollars.
The tool gives hair an even and neat look. The set is perfect for gifting a loved one suffering from unstable hands condition, especially the elderly. They are affordable and readily available at many online stores.
These combs are convenient for disabled people due to the elongated handle that gives ease of reach. The set is uniquely designed to facilitate ease of self-grooming to the patients of arthritis and joint pains.
With these body care tools of 2022, there is no need to worry if you have limited mobility. The tools give ease of grooming, and caregivers mostly use the tools in retirement homes. The reviews show that this tool works wonders. The handles make the hairbrushes useful for grooming hair despite the condition.
These combs work well for entangled hair too; hence there is no need to worry because they work on all hair types.
The length of these combs ranges between twelve inches to thirteen inches; hence it's suitable for all users. The material used to make these combs is polypropylene; hence they last long. Durability is what customers go for when purchasing items; therefore, this set of tools is highly recommended for people with a disability and the elderly. More details on the tool can be accessed through this link
7. Hands Free Hair Dryer Stand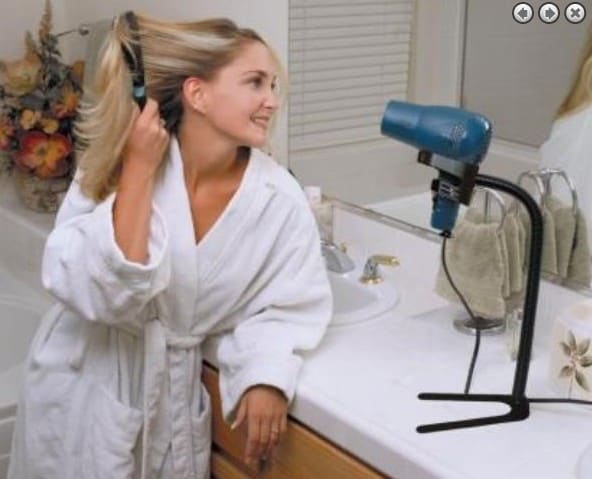 The Hands-Free Hair Dryer Stand is great for those recovering from shoulder surgery, one-handed individuals, or people with arthritic shoulders.

Now you can dry your hair with ease and comfort using this brilliant, cheap product. You can get the hands free hairdryer here.
8. Self Inspection Mirrors
These mirrors make it possible to see hard-to-view areas on the body.

These mirrors are great for people with diabetes who need to check their feet for diabetic neuropathy signs.

These are also great to perform skin spot checks on the back and feet and more.

These adaptable mirrors are unbreakable and with a rotation ability and come in different types. Check for self-inspection mirrors here.
9. Easi-Grip Long Reach Toenail Scissors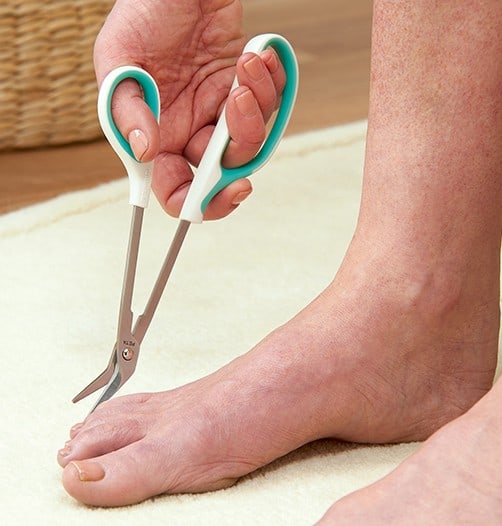 Instead of talking about this scissors, let me just show you a video demonstration.
For more articles regarding adaptive equipment, please visit our adaptive equipment category page.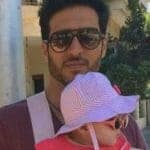 Hi, my name is Eddie, I am a professional trainer specializing in the elderly population and I'm also a website designer. I love training in the gym, going to the beach, traveling, and having good food.

I combined my love for sport and website designing to make "DisabilitEase" whose purpose is to help elderly and disabled people live a more full and active life, have more fun, and enjoy their unique journey despite any disability.