Traveling can be a great experience, but it also has its risks. As a senior with disabilities, you need to take extra precautions to ensure your safety and well-being while on the road.
This article will provide you with tips and advice on how to stay safe during your travels. We'll cover how to research your destination, prepare for transportation challenges, bring necessary supplies, talk to your doctor before any trips, and stay alert and vigilant.
With these simple steps, you can make sure that your trip is enjoyable and worry-free!
Tips for staying safe as a disabled senior traveler
Safety is the first priority when traveling and it must be planned accordingly. especially if you're a disabled senior.
With these simple steps, you can make sure that your trip is enjoyable and worry-free!
Research Your Destination
Researching your destination ahead of time is key to ensuring a safe and enjoyable trip, so be sure to take the time to look into any potential accessibility issues or other safety concerns before you go.
Planning ahead can help you make the most out of your travels and address any obstacles that may arise due to your disabilities. Make sure to check your health insurance policies for coverage abroad, research public transportation options, and read up on local laws regarding access for people with disabilities in the area.
Doing so will help provide peace of mind during your travels and ensure that you're prepared for anything that comes your way.
Prepare for Transportation Challenges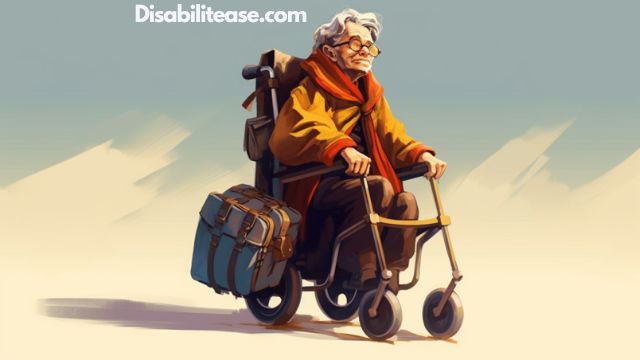 Planning ahead for transportation can help make sure that your travels go smoothly when you're a senior with disabilities. Start by packing extra medication in case of delays.
It's also important to research any transportation options available at your destination that are accessible for those with disabilities, such as wheelchair-friendly taxis or public transit systems.
Additionally, plan for potential travel delays and build in extra time into your schedule so you're not rushed during the trip.
Most importantly, be sure to inform the airline of any special requirements you may have in advance so they can arrange additional assistance if needed.
If possible, ask an attendant or family member to accompany you on board to provide support throughout the journey. By taking these steps before heading off on your travels, you'll ensure that all of your needs are met and that your trip runs as smoothly as possible!
| Action | Benefit |
| --- | --- |
| Pack extra medication | Be prepared for delays |
| Research accessible transportation options at destination | Ensure accessibility needs are met |
| Plan for potential travel delays | Have enough time for each part of journey |
Bring Necessary Supplies
When traveling as a senior with disabilities, it's important to bring the necessary supplies for a comfortable and successful trip. Creating a practical packing checklist is key.
Consider bringing items that can make your travel experience more enjoyable, such as an extra pair of glasses if you wear them, comfortable clothing and shoes, pillows or blankets for added comfort while on long trips, books or magazines to pass the time during transit, snacks in case your journey takes longer than anticipated, and any necessary medications.
Additionally, make sure all of your documents are up-to-date and easily accessible; this includes identification cards, insurance information, doctor's notes or prescriptions that may be required by airlines or other transportation companies.
By taking the time to prepare ahead of time with both necessary supplies and practical tips for staying safe while traveling as a senior with disabilities, you'll be able to ensure your travels go smoothly without any unanticipated surprises.
Talk to Your Doctor
Before embarking on your journey, it's important to talk to your doctor about any health concerns or needs that may arise while traveling. Your doctor can provide you with medical advice and help you prepare for potential access needs.
Here are a few items to consider discussing with your doctor prior to travel:
Medical advice

Medication management

Vaccinations

Overall health concerns

Access needs

Special dietary requirements

Emergency preparedness
Stay Alert and Vigilant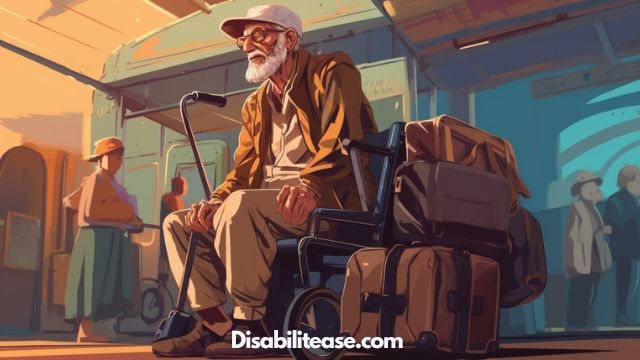 No matter where you go, it's important to stay alert and vigilant in order to make the most of your journey. This means looking out for yourself and paying attention to your surroundings.
Be aware of any suspicious activity or people that may be in the area. Also, keep an eye on your belongings at all times, and be sure to lock up anything valuable that you bring with you.
Additionally, if you're vulnerable due to a disability, consider bringing a friend or family member along with you so they can watch over you during your trip. Lastly, keep contact information for local law enforcement available should anything happen while traveling.
Staying alert and vigilant is key when traveling as a senior with disabilities. It's important to trust your intuition – if something feels wrong or unsafe, remove yourself from the situation immediately – and always look out for yourself first.
You'll also want to take preventive measures like locking up valuable items and having someone accompany you on trips if necessary. In doing all this, not only will you have peace of mind but also enjoy a more secure travel experience!
Conclusion
You've taken the necessary steps to ensure your safety while traveling. Researching your destination, preparing for transportation challenges, and talking to your doctor are all great ways to stay safe. Don't forget to bring the necessary supplies!
Now that you've done the groundwork, it's time to enjoy yourself. Be alert and vigilant as you explore new places. Pack light but intelligent so you can move around quickly without feeling overwhelmed.
Have a great trip and don't forget to take lots of pictures!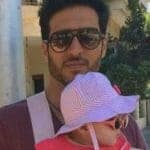 Hi, my name is Eddie, I am a professional trainer specializing in the elderly population and I'm also a website designer. I love training in the gym, going to the beach, traveling, and having good food.

I combined my love for sport and website designing to make "DisabilitEase" whose purpose is to help elderly and disabled people live a more full and active life, have more fun, and enjoy their unique journey despite any disability.