Traveling can be a daunting prospect for seniors with disabilities, but it doesn't have to be. With the right planning and assistance, you can enjoy the many benefits of traveling with a companion.
Whether it's increased safety, improved mobility, companionship and emotional support, stress reduction or mental wellbeing, traveling with a companion offers an array of advantages that can make your trip more enjoyable and less stressful.
So don't let your disability keep you from experiencing all that life has to offer!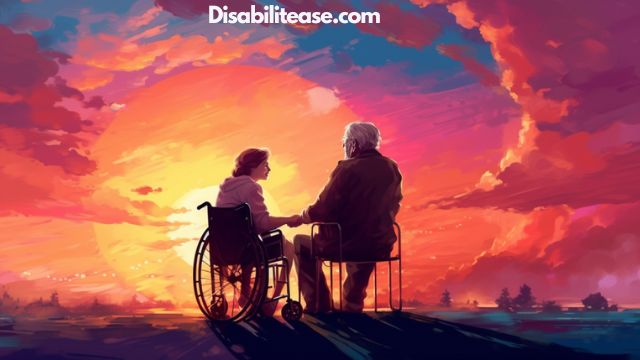 Benefits Of Traveling With A Companion As A Disables Senior
Here are some of the benefits of having a traveling companion for your journeys as a disabled senior who wants to conquer the world
Increased Safety
Traveling with a companion provides an extra layer of safety for seniors with disabilities, ensuring their well-being and peace of mind.
Having someone else to rely on for assistance can help make financial planning easier, and can even provide access to more accessible transportation options.
A companion can act as a support system when navigating unfamiliar places or dealing with last-minute changes in travel plans. They can also be helpful in alerting medical personnel should an emergency arise while traveling.
Knowing that there is another person by their side provides invaluable comfort and security for seniors with disabilities who may otherwise feel overwhelmed or vulnerable when traveling alone.
Improved Mobility
Having a friend along can make getting around much easier for those with disabilities, giving you the freedom to explore and experience life. With a companion by your side, it's easier to access the many accessibility options available.
For example, they can help you plan transportation ahead of time and provide support when using public transit or other services. Having someone who understands your needs makes it easier to get around without any stress or worry.
On top of that, your companion can provide even more assistance getting around town or anywhere else you may need to go.
They can help carry items, assist with directions if needed, offer physical support if necessary, serve as an advocate for you in unfamiliar situations, and be a source of emotional support when things don't go as planned.
All this allows seniors with disabilities to better enjoy their travels without having to worry about mobility issues.
Companionship and Emotional Support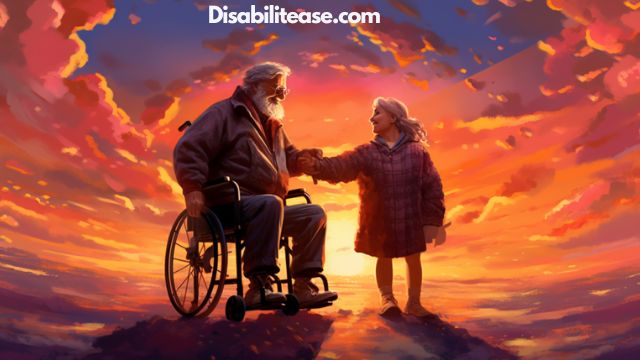 Having a friend along can bring so much joy and comfort, allowing you to savor every moment of your adventures with ease. A companion provides seniors with disabilities the emotional support they need while traveling; they can offer a listening ear when things get stressful or simply be there for an extra hug if needed.
Additionally, having someone knowledgeable about accessible transportation options in the area and able to provide assistance in getting around makes everything easier. Developing strong caregiver relationships is key for providing seniors with disabilities companionship on their trips, as it helps build trust and confidence between them. This allows the seniors to feel safe and secure throughout their entire journey.
With a companion by your side, you don't have to worry about being alone while traveling – instead, you can just sit back and enjoy your adventure!
Stress Reduction
Exploring the world can be a stressful endeavor, but having a companion to rely on can help reduce that stress significantly. For seniors with disabilities, traveling with a companion offers several benefits in terms of reducing stress levels. To name just a few:
A companion provides social connections which can encourage the senior's mental clarity and wellbeing.
Having someone to talk to about the journey helps to ease any anxiety felt during travel.
Companionship allows for more independence when it comes to experiencing new places and cultures, instead of feeling overwhelmed by them.
Finally, companions offer emotional support so that seniors don't have to face challenging situations alone.
Traveling with a companion is an invaluable resource for seniors with disabilities who want to experience all that life has to offer without feeling burdened by their disability or too much stress. Through companionship, they can benefit from improved mental health and comfort while exploring new places and cultures around the world.
Mental Wellbeing
Traveling has a positive impact on seniors with disabilities, as it allows them to interact socially and experience new things. This can lead to improved quality of life, especially when they travel with a companion.
Social interaction is beneficial for mental well-being, providing an opportunity for meaningful conversations and activities that nurture relationships.
Positive Impact of Traveling
Discovering the world with a companion can have an incredibly positive impact on seniors with disabilities. Exploring different destinations and cultures can help broaden their horizons, while financial planning ensures stress-free trips.
Traveling together can also provide companionship and comfort in unfamiliar or challenging environments.
It's important to remember that the journey is just as much about enjoying each other's company as it is about reaching the destination.
Traveling with someone else allows for flexibility and camaraderie, something that seniors may not be able to find elsewhere. With a companion by their side, seniors are able to enjoy life-enriching experiences that they might otherwise feel uncomfortable doing alone.
Whether it's trying new food or dancing in a foreign country, traveling opens up many opportunities for exploration and learning together – even if it's from the comfort of one's own home!
Benefits of Social Interaction
The positive impact of traveling with a companion for seniors with disabilities goes beyond just the physical and mental benefits. Traveling together can also provide social interaction, which has numerous emotional benefits.
By bridging gaps and sharing experiences, seniors with disabilities can form meaningful relationships that may have otherwise been difficult to establish in daily life. Traveling with a companion allows seniors with disabilities to engage in activities that they may not have been able to experience on their own due to mobility issues or other limitations.
Spending time together offers an opportunity for companionship, encourages conversation, and boosts self-esteem by allowing them to socialize more easily. This helps seniors with disabilities feel less isolated and more included in society as they share moments of laughter or simple conversations during their travels.
Improved Quality of Life
Exploring the world with a companion can significantly improve the quality of life for those with disabilities. Traveling with a companion can provide seniors an opportunity to form deeper relationships and build their confidence. It can also be a way to gain new experiences, develop skills, and increase independence.
These activities help create positive memories that last long after the trip is over, which can lead to improved mental well-being and overall satisfaction in life. Having someone else to rely on during travel makes it easier for those with disabilities to navigate through unfamiliar terrain or find assistance when needed. This support system helps reduce stress levels, which leads to better physical health and an improved outlook on life.
With a reliable traveling companion, seniors with disabilities have more freedom to explore new places or revisit old favorites while having someone they trust in tow.
Conclusion
Traveling can be a daunting experience for seniors with disabilities, but it doesn't have to be. Having a companion by your side can make all the difference when it comes to safety, mobility, and emotional support.
Not only that but having someone to share in the experience of travel can help reduce stress and improve mental wellbeing. Taking a trip with a trusted companion is an excellent way for seniors with disabilities to enjoy the world while feeling secure and cared for.
So pack your bags and find yourself a buddy – you won't regret it!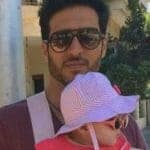 Hi, my name is Eddie, I am a professional trainer specializing in the elderly population and I'm also a website designer. I love training in the gym, going to the beach, traveling, and having good food.

I combined my love for sport and website designing to make "DisabilitEase" whose purpose is to help elderly and disabled people live a more full and active life, have more fun, and enjoy their unique journey despite any disability.