Traveling for disabled and elderly people can often be difficult. However, there is help available to make the experience more enjoyable and stress-free.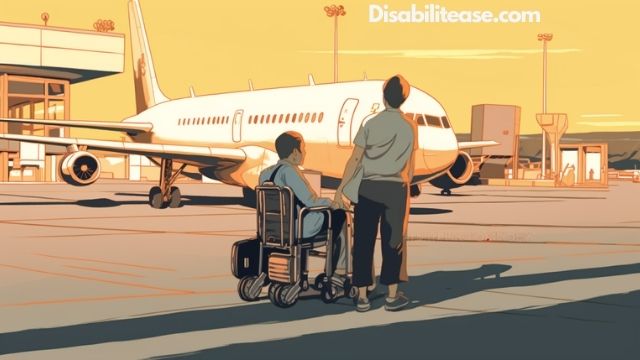 In this article, you'll learn about the types of assistance available, how to access them, as well as organizations that provide assistance to disabled and elderly travelers.
So if you're a disabled or elderly person who's looking to travel, read on to find out what kind of help you can get!
Types of Assistance Available
You can get personalized assistance tailored to your specific needs when travelling as a disabled or elderly person. Depending on which mode of travel you choose, there are various types of assistance available.
Airlines offer services such as wheelchair assistance and pre-boarding for those with mobility issues; they may also allow an extra seat for passengers who need additional space due to their medical condition. Hotels and other forms of accommodation often provide access ramps and adapted bathrooms to make life easier for the elderly or disabled traveler.
In addition, many public transportation systems now feature audible announcements in trains or buses, tactile paving markings for visually impaired travelers, and lowered ticket counters so that wheelchair users can access them easily. Traveling tips designed specifically for disabled people are also widely available online through official transport websites and disability awareness organizations, helping travelers plan their trips more easily.
When traveling abroad it's important to research the accessibility options that the destination offers ahead of time — this will help ensure that an enjoyable journey is had by all! Knowing what kinds of assistance are available in advance will give you peace of mind as you embark on your trip.
Accessing Assistance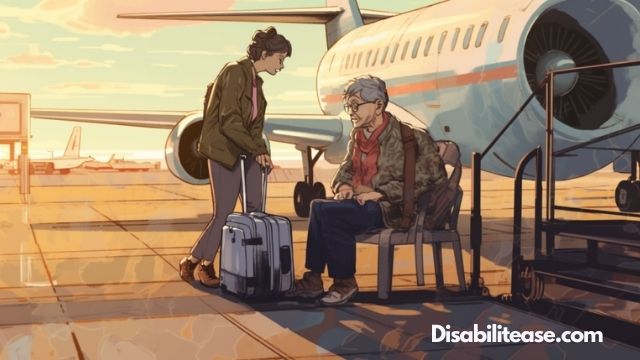 Navigating airports and train stations can be a challenge, especially for those who need a little extra help. Disabled and elderly people should plan ahead if they wish to access the specialized transportation or other services available to make their journey easier.
Some airlines offer accessibility planning that helps passengers make sure their needs will be met throughout their trip, while many train stations provide assistance such as accessible seating and ramps for wheelchairs. When making travel arrangements, disabled and elderly travelers should also check what options are offered by the particular airline or station they plan to use.
For instance, some airlines have wheelchair-accessible planes while others may provide wheelchair-pushing service at the airport. Similarly, some train stations may offer special seats with adjustable armrests and ergonomic cushions for comfort during long rides.
No matter where you're going, it's important to do your research beforehand so that you can get the necessary assistance during your travels. Traveling can be daunting but preparation goes a long way in ensuring an enjoyable experience!
Organizations That Provide Assistance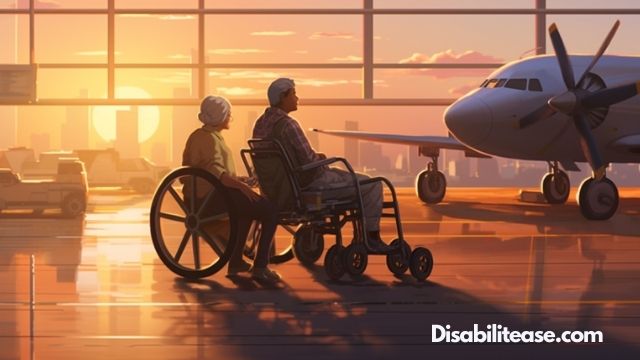 You've got a variety of options when it comes to accessing assistance while travelling. Private organizations, such as charities and non-profit groups, may be able to provide you with the help you need.
Additionally, many government-run organizations offer programs specifically designed for elderly and disabled people that can make travel easier.
Researching your local resources is an excellent way to find what assistance may be available to you.
Private Organizations
Private organizations can provide invaluable support for disabled and elderly people traveling, helping them get the assistance they need quickly and easily. Many of these organizations offer financial aid to those in need, as well as travel discounts that make it easier to access transportation.
Additionally, some private organizations have special programs designed specifically for disabled and elderly travelers. These programs include airport pick-up services and specially adapted vehicles.
Here are a few ways private organizations can help:
Financial aid and travel discounts
Airport pick-up services
Specialized vehicles with adapted features
Government-run Organizations
Government-run organizations provide a great way to make your trips easier and more accessible. For disabled and elderly people, these services include purchasing equipment, finding accessible hotels, and providing travel assistance.
For example, in the United States, the Department of Veteran Affairs has a program that provides mobility equipment such as wheelchairs and walkers to disabled veterans. Additionally, the U.S Access Board has a list of certified hotels where travelers can be sure they will find accommodations suitable for those with disabilities or special needs.
The government of various countries also offer programs that provide financial aid for travel expenses for disabled or elderly citizens. These programs are designed to help offset the costs associated with travelling which can often be quite expensive for certain individuals.
In addition to financial aid, many governments have programs that offer transportation support where travel is made easier through subsidies or reduced fares for those needing assistance while travelling.
| Organization | Type of Aid | Country |
| --- | --- | --- |
| VA Program | Mobility Equipment | US |
| U.S Access Board | Certified Hotels Listing | US |
| Government Programs* | Financial Aid & Transportation Support** | Multiple Countries*** |
Conclusion
It's true that travelling can be difficult for disabled and elderly people. But with the right assistance, it can be a smooth and enjoyable experience!
Organizations like Travel Buddies, Mobility International USA, and Accessible Journeys make sure that disabled and elderly individuals have access to the help they need when travelling. With these organizations providing support, you can travel with confidence knowing that you're in good hands.
So don't let your age or disability hold you back from exploring the world – get out there and enjoy life!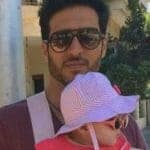 Hi, my name is Eddie, I am a professional trainer specializing in the elderly population and I'm also a website designer. I love training in the gym, going to the beach, traveling, and having good food.

I combined my love for sport and website designing to make "DisabilitEase" whose purpose is to help elderly and disabled people live a more full and active life, have more fun, and enjoy their unique journey despite any disability.