If you're looking for birthday party ideas for elderly parents, here are a few ideas you can include in a birthday party to ensure an exciting and successful event for your beloved mother or father.
We gave you a lot of ideas, you can choose the ones that you like the most.
Birthday Party Ideas For Elderly Parents
Select the meeting location
Before we start with birthday party ideas for elderly parents, let's start by choosing the venue.
To celebrate an elderly parent birthday, it is important to choose a location that is convenient for the groom and his peers.
Before you decide whether to choose an event in nature, it is important to keep in mind that these are older people. Therefore, it is necessary to make sure that there are comfortable seating chairs on the site (for older
people it is very difficult to sit on a mat on the ground), that there will be accessible and clean toilets and that it will be easy to reach the meeting point.
If all of these do not take place, consider doing the event in a suitable restaurant or suitable Event hall.
Invitations that sets the tone
Birthday invitations have the power to set the tone and expectations of invited guests.
Therefore, if you want to let everyone know that this is a special event, make a suitable invitation.
You can combine a smiley photo of the man in the invitation when he is decorated in a humorous way.
Workshop / Activity / Birthday Activity
The idea of inviting a workshop to birthdays is good, provided that there is an active participant of the invitees.
A fascinating lecture or an interesting activity can leave a good memory for the event.
Workshops are appropriate for a birthday when the group is homogeneous rather than heterogeneous. If the guests are just friends or only relatives/family workshop can fit a lot more.
Inviting an artist
Choosing an artist should be done in accordance with the guests' style and the wishes of the groom and the bride. A show is meant to touch the person who arrived.
Standup – What is more appropriate on a birthday but to laugh. There are artists that it is their job. A stand-up show is always surprising and passes a good time.
Sensory artist – from magic to telepathy. The guests are very surprised and there is always something to talk about after.
Drag Queen – When a man masquerades as a woman funny things happen. Active activity in collaboration with the audience.
A storyteller – a nice story by a professional storyteller is a great option.
Applauding – inviting a singer to make the guests sing happy songs.
A photo book – an exciting gift
If you are looking for a unique and original gift, you may be happy to have a book of pictures that will last seven decades.
The book presents a selection of photographs taken during the life of the celebrant.
The book can also include personal letters that each family member and close friends will write on the occasion of the event.
Alongside each personal letter, a photo of the writer will be added and the words will also describe the meaning of the groom and his personal contribution to the writer (eg character traits that the author appreciates, shared memories and personal greetings for the birthday).
As you raise your glass to the owner of the celebration and wish him good luck for his 60th-70th-80th birthday, you can submit a photo book.
No doubt you will get an emotional response when he gets the gift.
Display posters during the event
You can create several large hard posters.
One poster can be the same as the event invitation and can be placed at the entrance of the place.
The rest of the posters can display photos of the celebrant who will briefly tell the story of the past seven or more decades of the celebrant.
Photo slideshow on DVD
You can use the photographs you created in the picture book, and create a presentation of them that shows the photos in sequence accompanied by appropriate background music.
You'll have to take care of a large TV screen to project the presentation.
Music playlist
You can create three strings of musical tracks on your iPod.
These songs will influence wonderfully and create a great mood.
You can start with music from the sixties to be played while serving cocktails, drinks, and appetizers after to switch to music from the fifties to the seventies to be played during the meal itself and from there to dance music for the continuation of the party.
It is important to choose music that includes songs that the owner appreciates and loves.
Making a birthday song
The idea is to take a song familiar or beloved to the bride/groom and just build houses and chorus according to your acquaintance with the owner of the joy.
If you find it hard to do, pass it on to someone who likes to compose songs. Someone who has a sense of humor and then, do it together.
Make a Trivia game
Pass through the Watts or Facebook group a request that each one will write a question with four possible answers according to their acquaintance with the birthday bride/groom.
It could be a situation where they were together, what's annoying, what's funny, what's making them angry and things that not everyone knows about. You also, write piquant questions. Select the best questions. Go to KAHOT, and edit the Trivia.
On the day of the event, you need a large TV or a large screen and you are good.
Shared website
You can collect all the photos and videos from the party and share them with everyone who's at the party using a sharing website on the web.
The guests will be able to relive the experience.
In addition, the event provides an opportunity for a family group picture in which all members of the family will appear.
A framed picture of this photo will remind the joyful celebrant of the beautiful event every day.
If you are struggling with gifts Ideas than I will help you with this too…
Gifts Ideas for the Elderly
Gifts for the elderly come in all shapes, sizes, and costs.
There are many kinds of gifts that you can buy for older people, but the best gift for an adult is a useful and practical gift.
Gifts that older people really need depend on the age of the person.
If you think of a gift to someone who lives in a nursing home, the gift must be practical.
Gifts like warm slippers, warm bathrobes, large radios that also contain a clock with large numbers and magazine subscriptions in an area that the adult is interested in – can be ideal gifts.
This is because recipients can use each of these items to make their lives easier or to spend time reading about topics that interest them.
If you buy a gift for older people who live alone at home, there are some useful gifts and availability that are suitable for them.
From a reminder to taking follow-up drugs in bath accessories, financial, legal and medical organizers to walking sticks or walkers.
These are the kinds of gifts that will make the life of the older person much easier, gifts that will receive the full appreciation of the recipient of the gift.
Whether it's gifts for the holiday or for the birthday celebration of the older person, the best gift is the one you thought about a lot and did not buy it quickly and recklessly.
Anyone can buy a T-shirt with a funny statement about old age and their retirement.
But gifts for older people should be more useful than a funny joke.
Bring them something that will make them more mobile, that will help them remember better, to keep their bodies warm, or to keep the smile on their faces.
And if it's not a special event but just for a smile.
You can also buy a beautiful, nostalgic and heart-warming technological gift like a box of electronic pictures in which the pictures change.
You can combine pictures of the older parents when they were young, of their children when they were still young children, and of course all the grandchildren.
These alternating images will evoke pleasant memories and will be a pleasant reminder of the family.
Of course, you can also purchase a special beautiful picture frame and put inside a photo that the adult will be happy to see in front of his eyes every day.
For people who like to do crafts, you can buy knitting needles and wool, threads of embroidery and cloth, parts of airplanes or ships to catch up with, and other gifts that will allow an adult to indulge in the occupation he loves. Before purchasing, however, it is important to check whether the adult can still engage in these hobbies.
I hope that I helped you with birthday party ideas for elderly parents.
If you have an additional birthday party ideas for elderly parents or any comments and suggestions, please leave them in the comment below.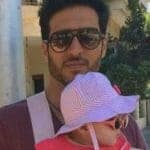 Hi, my name is Eddie, I am a professional trainer specializing in the elderly population and I'm also a website designer. I love training in the gym, going to the beach, traveling, and having good food.

I combined my love for sport and website designing to make "DisabilitEase" whose purpose is to help elderly and disabled people live a more full and active life, have more fun, and enjoy their unique journey despite any disability.