In this article, I will try to help you find the best-handicapped equipment for walking.
After researching this subject and checking the leading websites, I can quite comfortably say that the best place to find great handicapped equipment for walking is on Amazon.
Every disabled person struggles with different walking issues thus required a different walking equipment assistant.
I have found that Amazon provides a good variety of handicapped equipment for walking in the best prices available.
I included in my list the best mobility aids for different types of disabilities.
We have a related article for you, you can read 15 Exercise Equipment For Handicapped & Disabled Adults.
Handicapped Equipment For Walking
The walking aids as additional auxiliary products are designed to provide handicapped and elderly the possibility that their limited bodies prevent them.
Whether it is mobility, the ability to perform daily activities independently, regardless of external factors, or auxiliary equipment that allows the disabled person to perform the desired action safely, without losing his balance, and consequently the self-confidence regarding the ability to perform the action properly.
As the body ages, the body weakens, the muscular system weakens, the bones and joints become old and sometimes there are diseases that affect the physical fitness and stability of the person.
In order to help the elderly and disabled to walk and ensure maximum safety and prevent falls, there are many aids and among them is the walker.
The walker is built as a lightweight metal frame with 4 touch points on the floor and handles. The use of the walker enables great stability in walking and standing, weight reduction on the lower extremities (the hands carry some of the weight).
There are different types of walkers, with 4 fixed points, with 2 front wheels or 4 wheels, with or without a chair and more. It is important to consult your doctor and physiotherapist about the appropriate walker for you.
Advantages Of Using A Walker
The most obvious advantage, of course, is the prevention of falls, in that the walker provides high stability and reduces weight bearing on the legs. With the help of a walker, at an older age, it is possible to restore the independence that was lost due to the inability to stand and walk without it.

The walker will allow you to operate on a daily basis optimally both at home and outdoor. Walking and standing are important not only for your independence but also for your health. Body systems, muscles, digestive system, respiratory system, heart, etc. – all are positively affected by walking and standing (as opposed to the inability to stand and walk).
After surgery, in a hospital, one of the main goals, especially for older people, is to return to standing and walking as quickly as possible to avoid complications caused by immobility and too much bed rest.
If you do not feel safe or stable and are afraid of falling, think that just avoiding standing and walking can lead to a worsening of your health, further muscle weakness, etc.
If you are able to walk with a walker than it is important to use it. Of course, there can be situations where you are not allowed to stand or walk and therefore it is always important to consult a doctor on this subject.
It turns out that these accessories have a great impact on the lives of those who are forced to use them. Without the desired product, the disabled person may find himself painful, helpless and therefore sad and depressed.
In order to prevent such cases, we must provide every disabled person or elderly with the right tool for him, which will allow him to move and perform the actions that are necessary for him easily.
Tips For Preventing Falls For Elderly And Disabled
Good stamina and good stability are the best guarantees for preventing falls. Proper nutrition also contributes to the maintenance of physical fitness and good health.
Check that your sight and hearing are as good as possible, use comfortable closed walking shoes with non-skid soles and use walking aids.
At Home – Adapt The House To Make It Safer:
Be aware of carpets and any objects on the floor where you may come across while walking.
Bathing: Use a shower stall instead of a bath, glue stickers or use a rubber mat to avoid slipping in the bath or shower floor.
If possible, use a chair or bench in a shower stall so that it is comfortable, stable and safe during bathing.
If your flooring is old, it is best to replace it with rough, non-slip flooring.
Install handrails where you can slip or fall (hallways, showers, bathrooms, toilets, etc.)
Stay away from a wet floor.
Reseat furniture so that they do not interfere with the passage.
Make sure that any furniture you use is sturdy and durable.
Use adequate lighting and night lighting at dark passages and near the toilets.
Avoid rapid posture changes, take the time to sit down, get up, etc. – You may experience dizziness in rapid posture changes.
Do not use chairs and bunks to stand up when you stand – they may turn over.
Ask for help getting objects that are not within reach.
Stairs: If there are stairs inside the house, make sure they are complete and stable, free of things and well lit. It is also recommended to install stable railings.
You can also paint the edges of the stairs in a bold color so that they are easier to see.
Do not rush up or downstairs, do it at your own pace and safely.
It is advisable to remove reading glasses down the stairs so you can see the stairs better.
Please note, my posts may contain affiliate links!, if you buy using one of them, you will pay nothing more, but I'll get a small commission, which keeps the lights on. Thanks!
Outdoors:
Avoid walking on unstable surfaces, sidewalk pits, etc.
Avoid walking on smooth surfaces, especially wet ones.
Do not wear reading glasses that can blur your vision before your feet so you may notice pits, stairs, etc.
Go at your own pace, do not rush, try to plan your route ahead of time depending on your terrain conditions and your ability.
Beware of crossing points and avoid walking on bicycle paths.
Ask for help in any situation where you feel you might fall.
Be aware of your surroundings, look and listen.
Use walking aids as needed.
I have divided the walking aids into 4 kinds, and I have chosen the best products for each kind. The first kind is Rollators(a walking device with 4 wheels). The second is a simple U-shaped walker with 2 wheels. The third is a simple walking assistant folding stick for those who just need a little support. And the fourth is for people with below the knee injuries.
1. Drive Medical Four Wheel Rollator with Fold Up Removable Back Support
a rollator is a great walking aid equipment if you are having problems with balancing yourself or if you suffer from arthritis. Having four large wheels and a Built-in padded seat with backrest a rollator is very helpful for people with a busy lifestyle that wants great support while walking in different terrains including uneven outdoor terrain.
This specific rollator is even better than the others since it is built from lightweight steel which makes it a bit heavier but much more reliable and strong. Besides being strong it has a 7.5″ non-marring casters, a padded seat and a basket where you can store your belongings making it our favorite choice when looking for a reliable walking aid.
The Drive Medical 4 wheel rollator is easily folded and can fit almost any trunk and is extremely easy to install(the basket might be a bit tricky).
The unit dimensions are  23.5″ (Width) x 25.5″ (Length),weights 18.6 lbs and it can support up to 300lbs.
And the last thing that I love in this rollator is its great price, the red version is priced at 55.58$ and the blue version is 57.08$.

2. Medline Heavy Duty Bariatric Mobility Rollator with 8" Deluxe Wheels, 500 lbs Capacity
The Medline rollator is the big brother of the drive medical. If you weigh more and looking for a strong and safety rollator than you should go on this one. It comes with large 8″ wheels and with a weight capacity of 500lb.
It is bigger than the standards rollator, measuring 29″ W x 44.5″ H x 29″ D, weighs 25lb, so please check before if it feet your door frames as 29″ wide might be wider than standards door frames width.
The padded seat is wide and comfortable, it is foldable and easy to assemble and weight 25 pounds.
With a price tag of 109.99$, it cost almost double than our previous contender but if you are looking for a heavy-duty rollator than this one worth the price.

3. Deluxe Two Button Folding Walker with 5-Inch Wheels
In case you need a small, cheap, strong and reliable walking aid device than you should consider this walker. The U-shaped aluminum frame is very strong reliable, it is equipped with a 5″ wheels that allow you to move comfortably.
The unit dimensions are Length: 17.5″, Width : 24″, Height : 32″. It weighs 7.5lb and has a weight capacity of 350lb and it is foldable. It comes with a price tag of just 28.99$.

4. Folding Cane by Vive
If you need just a bit of support and a walking stick is enough for you then this folding cane is my favorite one. It is made of premium anodized aluminum which makes it very light and strong, it can support up to 250 pounds. This great cane is foldable and can easily be stored in a small storage pouch(which is included).
The ergonomic handgrip is very comfortable and designed to release pressure from the wrist. The price is 16.99$ and Vive gives you an Unconditional lifetime guarantee. Want to Know more about walking canes? check out this related article here on my website about the different types of walking canes.

5. iWALK2.0 Hands-Free Knee Crutch
The next Item is great for people with lower legs injuries and it can be applied for almost all the below the knee injuries. The iWALK2.0 will not fit anyone and it requires basic physical abilities such as the ability to balance on one foot for at least 30 seconds.
The second requirement is regarding your abilities before the injury. If you were able to walk up and down stairs without using the rail then you passed the second test too. Like I have said it won't fit anyone but if you pass the 2 physical tests than this is the best and the greatest option for you.
It is really a game-changer and it is a much better option than the standard crutches and knee scooters. If you passed the physical test then please check it here for more details and to see if you fit the other requirements.
If you do not meet the criteria and still looking for a below the knee injury support device, don't worry and go to the next item on the list.

6. All Terrain KneeRover Steerable Knee Scooter
A knee scooter is suitable for people with below the knee injuries and below the knee amputees. While there are lots of knee scooters but this one stands above them all. The KneeRover comes with a 12″ wheels and it can be used in all terrains. This heavy-duty knee scooter offers a 350lb capacity and great stability.
If you are able to walk on one leg using crutches than these are great and simple walking aid devices.
Crutches come in a variety of options, and it is really a question of personal preference.
Crutches are available in many prices and options and it is up to you whether you want a folded ones or crutches with forearm support or both and whether you need them for a short period of time or no.
The price range of crutches is between 20$ and up to 200$.
Conclusion
I did a lot of research and these are my favorites handicapped equipment for walking, of course, there are plenty of other devices that might be more suitable for your needs.
If you have any additional suggestions and ideas I will be happy to see them in the comments below and maybe I will update my list accordingly.
I have a related article that might be interesting for you about handicapped equipment for cars, check it out here.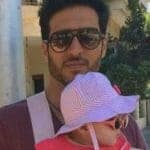 Hi, my name is Eddie, I am a professional trainer specializing in the elderly population and I'm also a website designer. I love training in the gym, going to the beach, traveling, and having good food.

I combined my love for sport and website designing to make "DisabilitEase" whose purpose is to help elderly and disabled people live a more full and active life, have more fun, and enjoy their unique journey despite any disability.