I wanted to write about gift ideas for a blind person, so I used the assistance of two friends one of whom is visually impaired and we came up with really cool ideas.
Our eyesight is one of the most important senses we have as beings, allowing us to see the world, discover, and learn as much as possible.
Most of us would hardly manage without seeing, but there are people out there that managed to find a way to live in complete darkness. For us, they should be an example of will and determination.
It is not impossible to have a normal life as a blind or visually impaired person, but this doesn't mean that it is easy either. Still, these people deserve all our admiration, so if you have a blind or visually impaired person around, bear in mind that these people should be celebrated.
If you don't know what kind of gifts is suitable for a blind person, we wanted to lend a helping hand and come up with a list of the best gift ideas for blind people.
Gift Ideas For A Blind Person
English Talking Watch with Alarm Stainless Steel Band
A hand watch is one of the most useful and adequate types of accessories, but, as you can tell, a blind person wouldn't have the possibility to use one as the rest of us do.
This is why you should direct your attention toward a talking watch, which can be worn just like a normal watch, on the wrist, without the need to look at it to know what the time is.
The watch is more than capable of speaking and letting its owner know what the time of the day around the clock is. This particular watch speaks in English and it is made out of stainless steel, which means that it is capable of withstanding wear and tear for very many years to come.
When its owner wishes to know the time, all he or she has to do is press one single button and the watch will talk. Also, the watch offers an alarm feature as well, with five different alarm sounds to choose from.
Talking Time, Month and Date Alarm Clock
Who doesn't want to know what day it is? But, while most of us will simply look at the clock and at the calendar to find out what day of the week and month it is, and at the clock to find out the hour of the day, these ordinary habits are rather hard to achieve by blind or visually impaired people.
So, seriously consider offering them this particular alarm clock as a gift, as it is capable of speaking and letting them know not just about the hour of the day or night, but also give them details about the day of the month. The clock has a loud sound, which makes it suitable for elderly people as well and it is extremely easy to use.
Logitech Harmony Hub for Control of 8 Home Entertainment Devices, works with Alexa
This is the ideal gift for those that already have Alexa installed on their mobile devices. The Harmony Hub from Logitech was specially created to help you control a series of devices, for increased comfort and entertainment.
You can enjoy a wide range of activities with this amazing Hub and while it can be controlled by simply using your smartphone, the fact that it was made to be integrated with Alexa is extremely important for blind people.
This way, they can use vocal commands to control the device and select their desired activities each time. Thus, for a tech enthusiast that also has problems with the eyesight, this particular product can represent the best gift out there.
ALXDR Hardwood Walking Sticks With Derby Handle Exquisite Dragon Style Non-Slip Walker Assisting Unisex Rosewood Cane Affordable Noble Gift
When the vision is impaired, blind people will always have to develop another sense better in order to compensate for the lacks.
Thus, in the majority of the cases, the sense of touch replaces the poor eyesight or its absence. In order to notice any potential obstacles when walking outside the house, blind people will require a walking stick, which they can use to reach the areas lying in front of them.
Thus, they won't trip over stairs or bump into various items on their way. If you want to make sure you offer a useful but elegant gift at the same time, this particular walking stick can be an amazing choice.
Made entirely out of rosewood and beautifully carved, this walking stick is more than just an arm extension, as it is also a veritable work of art. It was made to be practical, comfortable, and reliable, so the tip of the stick will present a rubber tip that won't slip no matter how the outdoor conditions are.
The receiver of this gift will definitely be impressed, as the stick features beautifully crafted details on it entire surface, which can be easily felt with the fingertips.
Stainless steel tactile watch for blind people-battery operated (leather strap, blue)
This is the ideal gift for blind people, as the watch is made to be read with the sense of touch. Each number has tridimensional dots and the cap that protects the watch can be raised in order to read the hour.
The watch has a simple and elegant design, featuring a leather strap, so it is suitable to be offered both to men and women. It is the kind of gift that can be used on a daily basis, being a beautiful and practical accessory.
Kindle E-reader – Black, 6″ Glare-Free Touchscreen Display, Wi-Fi, Built-In Audible
Do you know a blind person that enjoys a good audiobook? Then do offer as a gift the ideal device for audio books. While it can be used as a regular Kindle e-reader, this particular product as a built-in audible feature as well, which means that it will easily redeem audio books, making reading possible even for those that cannot see.
Also, due to the fact that it has a Wi-Fi option, the device can access online audio books libraries and give the user the chance to select his or her preferred audio books. It is a very sturdy device that can work for weeks without the need to constantly charge it.
Naipo Shiatsu Back and Neck Massager Foot Massager with Heat Deep Kneading Massage for Neck, Back, Shoulder, Use at Home, Car, Office
Lots of quality gifts for any occasion and for any purpose are available, but a quality gift that will serve you over time effectively and efficiently is not found every day.
A massage device that will relieve the muscles pain, while stimulating the circulation and releasing the muscle. When choosing a gift, always choose quality gifts.
This advanced massage device is an international hit that drives the world crazy when it comes to massages.
The ease of operation, proven efficiency, and impressive design make it a gift for a man or a gift for a woman, a gift for the home or a very successful birthday present that any blind person will be happy to get.
The Naipo Shiatsu is a shiatsu pad designed for every part of the body, a massage device with an emphasis on neck, shoulders, and back. A pair of convenient grips for body massage. Deep massage to release muscles. Massage speeds for personal selection of massage intensity.
Two-way message – Choosing a touch-sensitive massage mimics A professional massage therapist.
It has 8 deep-kneading Shiatsu massage nodes and a build in heat function to warm and relax the muscles.
Slipper Genie Microfiber Men's Slippers for Floor (Mop Slippers)
If the blind person is a lazy one, this the way that a lazy blind person cleans the room in 20 minutes!
On each floor of the apartment dust gathers, and we have no desire or patience to clean or sweep – the slippers in front of you will be an original cleaning solution for that!
A pair of slippers that can sweep the floor as you walk – from your room to the refrigerator for example.
Comfortable and luxurious (for real) slippers come with Micro Fiber straps that are known for their magnetism ability to dust and dirt on their way.
They are washable and will clean any surface, all you need to do is just walk with them in the house, how cool is that!!
They are available both for men and women.
We hope that we helped you find cool Gift Ideas For A Blind Person. If you have any additional ideas please share them with us in the comments below, we will highly appreciate it!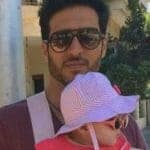 Hi, my name is Eddie, I am a professional trainer specializing in the elderly population and I'm also a website designer. I love training in the gym, going to the beach, traveling, and having good food.

I combined my love for sport and website designing to make "DisabilitEase" whose purpose is to help elderly and disabled people live a more full and active life, have more fun, and enjoy their unique journey despite any disability.