I have researched it for you and came up with this list of the best automatic/remote door and window openers for the disabled/ that you can buy on Amazon.
Technology evolved a great deal and it now offers amazing solutions to those who have their movement limited by various issues.
In other words, people with disabilities can now live independent lives, as they have all sorts of solutions that can ease their daily tasks.
For instance, opening the door or window can now be done with the help of technology and special systems. Which are the best automatic or remote door and window openers?
We did the hard work in your place and located some of the best and most useful systems that can be utilized for such purposes.
Just take a look at the list below and see what can you use for much-improved life quality.
Best 6 automatic/remote door and window openers for disabled
I have found that Olide Auto has a high quality products and I was happy to see that they are selling on Amazon, so 5 of the products on this list belongs to Olide Auto.
Links to the Amazon pages were added to your convenience.
1. Push Button Swing Door Opener, Remote Control Swing Door Closer, Automatic Swing Door
Door closing and opening will never be an issue with this system any longer. Operated entirely with the help of a remote control, this automatic door closer will take care of this task in your place. The system is also very quiet and discreet, so its presence will barely be felt in your home.
The remote control is slightly larger than a car remote control, so you can attach it to your keys, keeping it in handy at all times. The system comes along with everything needed to install and make the door opener work properly.
Also, it is worth knowing that, in case of malfunction, you have the possibility to operate it manually. Concerning the opening and closing speeds, you can easily adjust them according to your preferences.
2.Handicap Door Opener, for Disabled People, Low Energy ADA Swing Door Operator
This is a door opening and closing system that works well with remote control and manual handling as well. When operated by hand, the door will require very little pressure in order to open. The system also has safety features, which makes the door re-open if it notices that something is in its way and it can close with ease. So, you should never worry that the door will close on you, as this won't happen.
Even if you don't manage to get through the door until it begins closing, as soon as the door will sense that you are still in the way, it will re-open, giving you all the time you need to be on your way. Doors can be operated either with the help of a remote control or with special switches.
You can also set the working parameters of the doors according to your preferences, by using the hand programmer.
3. Olide Wireless Push Open Commercial Hospital/Home/Office/Shopping Mall Swing Door Opener
This is probably one of the most advanced door opening and closing systems available on the market. The technology used for this system is stunning, as the system is capable of learning on its own, with the help of microcomputer technology. Even the design is intelligent, allowing an easy set-up and adjustment according to your needs.
So, yes, you can adjust the parameters of the system as you like and in a remote manner, for the best degree of comfort and convenience. The system even has safety beams that will keep your guests from bumping accidentally into the door.
4. Homesupplier Electric Automatic Window Opener, Window Opening Control with Wall Switch 24V DC
You can easily open the windows you prefer with a system like this, which is so convenient to use and won't cost you a small fortune. The system is simple and affordable, but it does have some limitations. For instance, it won't be able to open windows that are heavier than 55 lbs. Also, the maximum opening distance is of 15.75 inches. Still, this is wide enough to allow a good dose of fresh air to enter your room.
The opening system is based on stainless steel chains, which are of the highest quality and heavy-duty grade. You will be able to use them for a very long time, without a doubt. Another aspect that is worth mentioning is the fact that the motor of the system is protected in case of overload.
For example, if something blocks the window from getting closed, the system will stop automatically, instead of forcing the action and risking irreversible damages. The system is very versatile and will work with almost any kind of windows, whether we are talking about standard windows, sash windows, vents, or any other types of windows.
5. Olide Automatic Electric Sliding Window Openers Motors Actuators
If you want a system that can open two windows at once without any problems, this is the kind of system you need to check out. The only thing you need to have in mind is the fact that each window leaf should not exceed the width of 17 inches.
Apart from this, the system will work just fine and its installation is meant to be made extremely easy. In case the system fails to work, out of various windows, you still have the possibility to operate your windows manually. But this rarely occurs, as the used materials are of high quality. Also, after installation, the system will be discreet, not affecting the way your windows look.
I hpoe that I helped you with finding the best automatic/remote door and window openers for disabled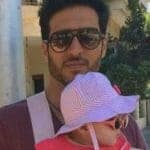 Hi, my name is Eddie, I am a professional trainer specializing in the elderly population and I'm also a website designer. I love training in the gym, going to the beach, traveling, and having good food.

I combined my love for sport and website designing to make "DisabilitEase" whose purpose is to help elderly and disabled people live a more full and active life, have more fun, and enjoy their unique journey despite any disability.