Traveling with a wheelchair can be daunting. You want to experience all the sights and sounds of a new city, but you also need to know if restaurants and cafes are accessible. Fortunately, there are ways to make sure your travels are enjoyable and stress-free.
In this article, we'll show you how to find wheelchair-friendly restaurants and cafes while traveling so you can focus on having the time of your life.
Tips For Finding Wheelchair-Friendly Restaurants And Cafes
We'll cover researching accessibility options before you go, utilizing accessible travel apps and websites, asking for recommendations from locals or disability advocates, considering accessible transportation options, and taking accessibility into your own hands.
So let's get started!
1. Research Accessibility Options Before You Go
Before you go on your next trip, make sure to research the accessibility options available at restaurants and cafes so that you can enjoy your time away! Check reviews from other travelers who may have gone before you to get an idea of the availability of wheelchair-friendly establishments in the area. You can also contact venues directly to ensure they meet your needs.
Doing this will allow you to plan ahead, ensuring a smooth and enjoyable experience when it comes time for dining out. In addition, consider factoring in extra time when visiting any restaurant or cafe as it may take longer than usual for someone with a disability.
Researching ahead of time allows you to be prepared for any challenges that could arise during your travels and will help make sure everything goes smoothly. It's also important to remember that even if something doesn't work out as planned, there are other options available so don't let it ruin the rest of your trip!
Searching for accessible dining spots can be a breeze when you use specialized travel apps and websites! Thanks to advances in technology, there are now several resources available that make it easy to find wheelchair-friendly restaurants and cafes while traveling. Tourist experiences can vary greatly depending on the destination, so having access to information regarding an establishment's accessibility policies can be a huge help. Below is a list of some of the most popular accessible travel apps and websites:
| App/Website | Description | Rating |
| --- | --- | --- |
| WheelMap | Map with crowdsourced info about wheelchair accessibility | 4/5 Stars |
| Access Earth | Global database of accessible attractions & destinations | 5/5 Stars |
| Accessible Travel Online (ATO) | Extensive listings & reviews of accessible hotels & restaurants | 4.7/5 Stars |
3. Ask for Recommendations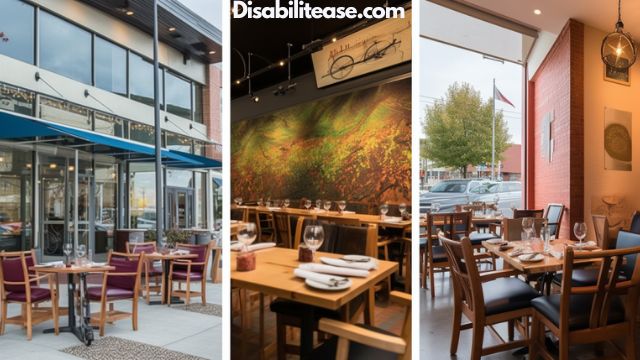 Don't be afraid to reach out for advice when you're traveling! Locals are often the best source of knowledge and can provide you with great tips on where to find wheelchair-friendly restaurants and cafes.
If you don't know anyone in the area, try posting a question on social media. It's likely one of your friends will have some valuable insight for you. Make sure to use hashtags so your post is seen by people who might not otherwise see it.
Locals
Reach out to locals – they're the perfect source for finding wheelchair-friendly restaurants and cafes!
Not only can they provide you with accurate information on the best places to dine, but they may also be able to offer advice on dining etiquette in their culture or even help you with wheelchair maintenance.
Plus, locals will have an intimate knowledge of their area, so they can recommend hidden gems that tourists might not know about.
Don't feel bad if you don't speak the same language as them either – most people are happy to use body language and gestures to get the message across.
Make sure you thank them for their time – after all, it's locals who give a place its unique character and charm!
Social Media
Social media is a great way to get the scoop on wheelchair-friendly restaurants and cafes while traveling – just ask around online and you'll find plenty of helpful advice! It's always important to remember proper social media etiquette when asking for information, such as not overwhelming people with too many requests or messages. Plus, you can also look up online reviews from other people who have visited these places before you. By doing so, you can get an idea of what kind of experience they had at the restaurant or cafe and whether it was wheelchair friendly or not.
| Pros | Cons |
| --- | --- |
| Easy access to information & reviews | Proper social media etiquette must be followed |
| Access to locals' opinion & experiences | Not all locations may have reviews available |
| Variety of sources & opinions available | Can be time consuming finding reliable sources & info |
4. Consider Accessible Transportation Options
When traveling, it's important to research accessible transportation options to make sure you're able to get around comfortably. Before your trip, plan out the accessibility ratings of public transit and whether wheelchair hire is available in the area.
Here are four tips for researching accessible transportation options:
Check out online reviews from other travelers who have used wheelchairs while visiting the destination.
Research available wheelchair hire services in the area that can provide you with a safe and comfortable ride when needed.
Call local tourist information centers or disability organizations for more information on accessible transport options available in the area.
Use travel apps specifically designed for people with disabilities to gain insight into which transportation options best meet your needs and budget restrictions.
By taking some time before your trip to research accessible transportation options, you can ensure that you will be able to get around easily and safely while exploring your new destination!
5. Take Accessibility into Your Own Hands
Take control of your next vacation and make sure it's accessible by researching restaurants, cafes, and other locations that suit your needs.
Investing in the right equipment can help you find wheelchair-friendly options during your travels. For example, purchasing a foldable cane or a lightweight wheelchair can allow for easier access to places that may not have otherwise been available to you.
You should also trust ratings from people who have used these services before to get an accurate review of the accessibility of the restaurant or cafe.
Additionally, websites such as AccessibleGO provide detailed information about specific venues and their accessibility features. This can be a great resource when looking for a place to eat while on vacation!
Conclusion
You don't have to let your wheelchair keep you from exploring the world. With a little research and preparation, you can find wheelchair-friendly restaurants and cafes no matter where you travel.
Start by researching accessibility options before you go. Utilize accessible travel apps and websites. Ask for recommendations. Consider accessible transportation options. Take accessibility into your own hands.
With these steps in place, you'll be able to enjoy delicious food while fully embracing the culture of wherever life takes you!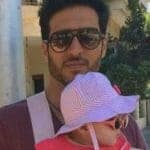 Hi, my name is Eddie, I am a professional trainer specializing in the elderly population and I'm also a website designer. I love training in the gym, going to the beach, traveling, and having good food.

I combined my love for sport and website designing to make "DisabilitEase" whose purpose is to help elderly and disabled people live a more full and active life, have more fun, and enjoy their unique journey despite any disability.