Different people have different sleeping styles, and this requires the use of varying sleeping materials in terms of pillows, mattresses, etc. It is quite unfortunate that people buy pillows without considering their sleeping poses and positions.
That can affect your mental and physical health. It starts with pain on the neck when you wake up due to strain, spinal discomforts, or even shoulder pains. Choosing the correct pillow is the alternative solution for your sleeping needs and gives you peaceful sleeping all night.
It also relieves you any false pressure exerted on body joints and helps maintain a healthy sleeping style. In a case where you have the best orthopedic and cooling pillow as a stomach sleeper, your nights start to feel well-rested.
Here is a related article that might interest you on Best Desks and Office Chairs for Fibromyalgia in 2023.
Stomach sleepers can put a significant risk to their neck, spine, and shoulders quite easily with the pillow they use.
In this article, we take a primary focus on the topmost orthopedic and cooling pillows required for stomach sleepers. We have taken into consideration this sleeping posture as a highlight, and we are ready to help you pick the best pillows.
Best Orthopedic And Cooling Pillows For Stomach Sleepers
What are some of the critical things to look out for when choosing your sleeping pillow as a stomach sleeper?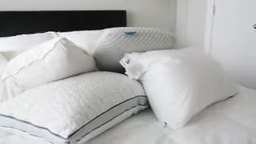 Loftiness. For the stomach sleepers, the pillows should have minimum elevation on the neck and head for the necessary assistance.

The nature of these pillows should be thin to offer the essential support and relief of any pains. That is the first thing to consider when purchasing an orthopedic and cooling pillow for stomach sleepers.

The fabric. Different stomach sleeping people need different materials for their sleeping pillows to give them ultimate support and comfort.

A variety of these fabrics/cloths are used to make the stomach sleeper pillows, for instance, shredded foam, cotton fabricated, and polyester fibers. These vary according to every stomach sleeper; for example, some may be allergic to polyester clothing and may need cotton ones.

The expense of the orthopedic pillow. That depends entirely on the client. You are offered all the stomach sleepers' pillows according to your affordability and the much you have.

They are all available from the cheapest to the most sophisticated ones.it is essential to do a window shopping before you go and purchase your orthopedic and cooling pillow.

If buying them online, it is always advisable that you look into other customers' reviews on the same item. Note that not all expensive things give the best comfort; it depends on the material and the loft.

Sturdiness/durability. How long is the orthopedic pillow going to serve you as a stomach sleeper? No one buys something only to throw it or get over its use the next day.

We all want good quality stuff, and so is the case to cooling pillows. Check the durability of the o orthopedic pillow and, to some extent, obtain a warranty from the shop you are purchasing from.

The national sleep foundation endorses that cushions should last a maximum of 1-2 years, although some may wear down before that. Be aware of how long the mattress you buy will last.
We have several types of pillows that help you like a stomach sleeper to have that joyous night. These pillows come in different shapes, sizes, and forms.
They should give room for maximum comfort and giving your neck and shoulder muscles the best alignment as you sleep. Do not get tired of looking for the perfect pillow that suits your sleeping needs. The pad should match perfectness and firmness with your mattress. These types are;
Memory foams have some warmth that can get hot at some point, which is why this pillow is fused with cooling gel to regulate the heat .it is made as soft as possible to ensure total relief as you lay your head and also stable enough for your neck comfort. These belly sleep gel-filled memory foam is easy to clean due to their detachable covers. Are you a stomach sleeper looking for an orthopedic and cooling pillow? Look no further as we got you covered. Do you need any special medical checkups to purchase these cooling pillows?
Why should you purchase an elite ultra-thin memory foam?
Its unique designs are not quite common, and therefore getting one will be such a favor to yourself. That is because most people go for the pillow's fluffiness and never considered how comfortable a slim pillow can be. For a stomach sleeper, the thinner the pillow, the better for your health.
This elite ultra-thin pillow is 2.5 inches in loftiness and is the best option for stomach sleepers. This type of memory foam is extra comfortable, especially for stomach sleepers who catnaps on their tummies due to its hypoallergenic, microbial-free, anti-dust mite, and resistant to bed bugs. These are great reasons to make any stomach sleeper purchase an elite ultra-thin memory foam. They can also be placed under your hips as you sleep as advised for stomach sleepers.
It gives the pregnant stomach sleeper the comfort she needs while sleeping on the side and prevents flips on the stomach. That aids in ensuring that the baby is not put into any risks, especially during the last trimester. It is also ideal even for men and other stomach sleepers who are not pregnant as it helps the body maintain a new sleeping position other than sleeping on your belly.
To conclude, any stomach sleeper needs to get the right orthopedic and cooling pillow for the best sleeping results. That will also help keep off from other sleeping problems such as insomnia, loud snores, allergies, or migraines.
Your neck, spine, and shoulder strains are taken away with the right sleeping pillow. If you are a stomach sleeper, this is the right time to pay attention to the kind of pillow you use and buy one to comfort you in your sleep.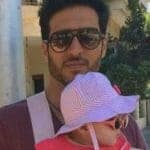 Hi, my name is Eddie, I am a professional trainer specializing in the elderly population and I'm also a website designer. I love training in the gym, going to the beach, traveling, and having good food.

I combined my love for sport and website designing to make "DisabilitEase" whose purpose is to help elderly and disabled people live a more full and active life, have more fun, and enjoy their unique journey despite any disability.