Mobility problems are a common aspect, and anyone can suffer from the condition. Ageing mostly comes with such disorders hence the need for mobility gear like the wheelchair. When a loved one has a mobility issue, they need care and affection.
Wheelchairs are the best aid for mobility to people with the disorder. The wheelchair carriers come in handy when you need some freedom of private transport.
When using the cars, it's vital to have a wheelchair carrier for ease of transportation at the back of the vehicle.
Here is a related article that might interest you on 22 Best Stair Climbing Wheelchair Types In 2023.
Wheelchair carriers give people utility when handling heavy-duty gears as well as wheelchairs and other mobility gears.
 These Aspects Need To Be Considered When Buying A Wheelchair Carrier
When buying a wheelchair carrier, there are some features to put into consideration. The features need to be considered to ensure the compatibility of the carrier and the vehicle do not differ.
Here are the factors to consider;
·        The weight capacity of the wheelchair carrier
When buying a wheelchair carrier, ensure that it fits the task by checking its weight capacity. This factor helps people to get value for their money too.
·        The type of vehicle  
All vehicles have been fitted differently; hence the capacity of supporting heavy duty equipment differs. That's why it's essential to consider the type of vehicle you will use the wheelchair carrier on. Hitch type of your vehicle should be considered if it's a manual wheelchair you are buying a carrier for.
·        The hauling capacity
Much equipment carried on the vehicle usually has an impact on how your car performs. The heavy vehicles do not portray significant issues, but some heavy carriers may affect small vehicles.
Here Are The Top 10 Wheelchairs Carriers For The Back Of Your Vehicle In 2022
1.  The titan ramps hitch mounted wheelchair carriers MC500 SC500
It is a product that has a substantial mobility capacity, and it gives the best comfort to the users. It is an excellent wheelchair carrier for your vehicles back due to the vertical design that enables users to fold it and save on space. The space on the vehicle can be used to hold many things with the wheelchair carrier being in the vehicle.
This wheelchair carrier weights 86lbs; hence the vehicle doesn't depict any hauling issues. The compatibility of this wheelchair carrier with vehicles is limited. Therefore, when buying the carrier, you need to consider how compatible it will be with your vehicle.  The wheelchair carrier has a design that makes it compatible with any mobility gears like scooters, among others.
Advantages
It's heavy-duty and can support loads of weight
The durability of the carrier is incredibly exciting.
The ability to save on space due to its unique design is an astonishing aspect.
It is fit for much mobility equipment. 
Disadvantages
The compatibility is limited to heavy-duty vehicles.
2.  The TMS Folding Strong Electric Wheelchair Hitch Carrier
Among all the trending wheelchair carriers in 2022, this has been ranked among the top ten. The carrier has a folding capacity, and its ramp is designed with anti-wobble aspects that can be used to enhance its stability. The stability feature enables users to enjoy a comfortable journey, and they are not limited to any means of transport.
The carrier hauls mobility with other equipment like the scooters and others. The carrier has a suitability aspect that makes it perfect for use in various means of transport.
The model of this carrier has heavy-duty steel, and this makes it suitable for heavy vehicles. The total weight of the wheelchair carrier makes it compatible with a variety of vehicles. More details on the product can be accessed through this Amazon link.
Advantages
Its anti-wobble aspects make it offer comfortable travels to users
Its weight makes it suitable to transport
The models are designed to enable other mobility tools to carry it
it's foldable; hence it offers convenience advantages
Disadvantages
the straps of the wheelchair carrier need to be bought separately
3.  The Go plus wheelchair hitch carriers
These wheelchair carriers have advanced features and better quality in comparison to other trending carriers of 2022. The wheelchair carrier has a high capacity for carriage, and it is durable. The convenience of this wheelchair carrier is magnificent, and it has a foldable ramp. 
The ramp has options for closing, opening, and shaping them depending on the user requirements. It's a lightweight carrier; hence it's compatible with various vehicles. From the reviews and testimonials of its users, it's a top-ranked wheelchair carrier.
More details on the product can be accessed through this Amazon link.
Advantages
It's highly durable and can be used to the extent of passing it to other generations
It offers convenience for transportation
Using this wheelchair carrier is easy-peasy hence it's convenient for first-time users
It has an increased usage life when compared to many wheelchair carriers
4.  The EGO BIKE Wheelchair Carrier  
This wheelchair carrier appears quite healthy, and also its texture is great even at a glance. The reason for this is because it is built with heavy-duty steel. Its pull locks are made of springs and are also heavy-duty, which makes the wheelchair carrier fast and quite informal during offloading and loading of the wheelchair during conveyance.
The ego bike wheelchair carrier provides one with the comfort you need in these three stances, i.e., open flat, open l-shaped, and the closed flat. The open flat position gives consent for the ramp to be upright after the wheelchair is on the carrier.
The L-shaped carrier permits room for flexibility, and the closed flat makes it possible to have proper and safe loading when you bend flat the wheelchair carrier. These three stances/positions are swapped during use and are usually utilized in different situations that fit them. The ramp on this carrier can carry up to 400lb correctly, and it extends to a length of  42 inches.
More details on the product can be accessed through this Amazon link.
Advantages
It offers three different positions that one can choose from and switch depending on the situation.
It is lockable, i.e., when it is not in use, it can be safe through locking.
The ramp length is elastic, therefore ideal for extensions.
It is sturdy and durable since it is made from heavy-duty steel.
Disadvantages
The driving speed on your vehicle, while you have this carrier, should be as low as 40mph. It makes travelling for longer distances challenging or fast travels.
One requires a tightener for any hitches encountered to need a hitch tightener to avoid the rack from trembling while moving/travelling.
5. Silver Spring SC500-V3 Mobility Hitch Carrier Rack
This type of wheelchair carrier is made for more comfort and luxury, and therefore it is quite expensive. It has a bulk weight of 96pounds, which makes it the most substantial wheelchair carrier according to this list.
The V3 exclusive consists of 500lbs carrying capacity. It can stretch up to 4.25″ with its side rails, which are used in safe storage of the load in ten (10) diverse points.
That makes the V3 very safe for travelling. Other features include a ramp that is well protected with a spring pull lock and a securely enclosed with an elastic mesh-like surface, which makes the tool higher loyalty.
The silver spring V3 hitch carrier is easy to bring together and has five handles, which make it even easier to put on the vehicle.
More details on the product can be accessed through this Amazon link.
Advantages
It has accessible and easy to use spring pull locks.
The ten diverse points to load your freight/cargo makes it very convenient for use when travelling.
It is manageable with five handles that are stress-free during assembling.
The elastic mesh-like surface is such an additional for their use.
Disadvantages
They are expensive.
User reviews and ratings show mixed reactions towards them.
6. MaxxHaul 70275 Aluminum Cargo Carrier
The MaxxHaul Aluminum wheelchair carrier is very commendable and gives a good impression at first glance. It is made of aluminium which makes it strong enough not to destroy quickly. It can also withstand travelling on any type of vehicle that can pull it.
Due to its resistance to corrosion, it can be used in almost all environments without fail. However, you should protect this wheelchair carrier from rust and harsh environmental conditions.
This wheelchair carrier has reflectors that allow for better vision while on the road, making it safer during travels.
It is invented with raised sides, which give good tie-down points and provide a lot of stability for all wheelchairs.
Advantages
It is resistant to corrosion, which makes it quite durable.
Has lightweight hence easy to carry around or transport.
The reflectors make it safe for use during the night.
Its ramp angle is slim, which makes it very suitable for use.
Disadvantages
It wobbles a lot since there is no feature to prevent that.
7. Prohoists Heavy Duty Wheelchair Carrier
Prohoists Heavy Duty wheelchair carrier is specially made with a 5 inches ramp, which is separable hence easy storage and offloading. This wheelchair carrier also has an anti-wobble feature, which makes the wheelchair more stable while on the vehicle. This feature helps to avoid damage to the trailer hitch of your wheelchair.
It is foldable and very convenient for storage and also conveyance on any vehicle. It is essential to know that this wheelchair carrier needs a Class III 2-inch hitch.
Advantages
It is heavy-duty hence can carry up to 500lbs.
The 5-inch extendable ramp brings ease when driving the wheelchair.
Consists of an anti-wobble feature that provides maximum stability.
It is highly ranked and reviewed by customers.
Disadvantages
It can only be connected to the Class III 2-inch hitch, making it fussy.
8. MAXXHAUL 80779 Aluminum Hitch Mount Cargo Carrier
For this wheelchair carrier, its ramp is invented such that it gives you an excellent room for cargo when it is hitched. The Maxxhaul 80779 aluminium cargo carrier can be attached to all types of vehicles, i.e., SUVs, saloon cars, lorries, trucks, pickups, etc.
One key thing that makes this wheelchair carrier very interesting is that it has a small hitch noise and also does not quiver. That is due to the anti-wobble tool found on it.
Its ramp is made steady by two pins and also has reflectors to increase wheelchair visibility while on the road. Oncoming vehicles can see the wheelchair carrier clearly, and this prevents accidents from happening. It is resistant to rust and also easy to clean. It is lightweight, therefore makes it convenient to offload and load on a vehicle.
It is strong enough, which makes it possible to carry other wheeled tools, e.g., snow blowers, pressure washers, and compressors, etc. It has a wide variation of utilization and is not only for wheelchairs. Its ramp extends to up to 47 inches in length.
Advantages
Its unique design makes it possible to carry other tools equipment as well as wheelchairs.
Manageable and fast to load and offload.
Its hitch is well-matched with a wide variety of vehicles hence not picky.
Has reduced rattling and swaying noises.
It is very steady and safe for use.
Disadvantages
It requires skills to assemble and mount the wheelchair carrier's ramp when dismantled since the manual guide might be challenging to follow correctly.
9. ECOTEC Hitch-Mounted Cargo Carrier.
This type of wheelchair carrier consists of 11 tie-down points and is used for carrying quite a several other types of equipment, including wheelchairs. For instance, you can pack a lawnmower, a compressor, etc. However, you should ensure that they do not exceed 500lbs.
It also has three carrier stances, which are the open flat, the closed flat, and the l-shaped flat position. It should be locked up when not being used with the closed flat position. During use, or while loading your wheelchair, put it in l-shape position. This l-shape position helps in raising the ramp.
It is very secure as it comes with a 3-inch safety rail to make sure that your wheelchair is safely mounted on the ramp. This wheelchair carrier is easy to install and does not require a professional to assemble and dissemble.
Advantages
The 11 tie-down points provide total safety.
The ramp is easy to fold up and disassemble fast enough hence easy to use.
It can be adjusted to the position of your choice, depending on the situation since it has three different positions.
It is strong enough to carry a weight of up to 500pounds.
Disadvantages
Sometimes it is difficult to mount the wheelchair carrier, especially when following the manual guide.
 10. The direct aftermarket electric wheelchair hitch carrier
This type of wheelchair carrier is an excellent option for users and is made of stainless steel. It stretches to up to 44 by 29inches.it is well built to carry up to 500lb capacity. This electric wheelchair carrier is easy to assemble and mount.
However, the metal that makes it feels a bit fragile.it has high rails of about 7," which offer safety during travelling and prevents swaying of the wheelchair.it also consists of a 42" long ramp which is suitable for loading and offloading.
Advantages
·        Its price is pocket friendly.
·        It is easy to assemble.
Disadvantages
·        Feels fragile and weak.
·        The ramp is not high enough for some type of vehicle, e.g., trucks.
Conclusion
To sum up, the wheelchair carriers that you can mount at the back of your vehicle or any vehicle, it is a pleasure to know that we have enlightened you on what to look for in a product. Do not just go for any wheelchair carrier; go for the ultimate choice.
Carrying a wheelchair on your vehicle can be a strain, but we got you covered. All the wheelchairs mentioned above carriers are robust, durable, and steady enough to give maximum reliability. These hitch-mounted carriers will provide you with better accessibility, luxury, and the suitability you need while traveling. They make every travel easy and very safe.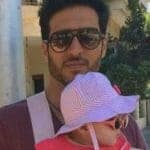 Hi, my name is Eddie, I am a professional trainer specializing in the elderly population and I'm also a website designer. I love training in the gym, going to the beach, traveling, and having good food.

I combined my love for sport and website designing to make "DisabilitEase" whose purpose is to help elderly and disabled people live a more full and active life, have more fun, and enjoy their unique journey despite any disability.