What are the Best Gifts for Blind? The history of gifting a present has remained the same since the beginning of time. A gift shows a sign of respect and appreciation between two people and improves the bond between them. 
Blind people deserve gifts for the same reason we all do. There are many ways to encourage a blind person to help him successfully live life to the fullest. However, the best way to do that is by presenting them with gifts. 
Here is a related article that might interest you on Can A Blind Person Play Video Games?
Blind people are often mistreated and shown discontent. If you gift something to a blind person, it will not only make you feel good but also make the blind person realise that he's loved and is an equal in our society. It will ensure that the blind person is recognized and heard when he can't see. 
List Of 8 Best Gifts for Blind 
Selecting a gift idea for a visually impaired person is really a difficult task. And to help you in your search for presents, we've created this list of the ten best presents for blind people that's full of ideas to bridge the gap between you and your loved ones.
Manufactured by a Well known company called five senses. This watch doesn't just show time but tells time to the person wearing it. It has a loud sound which is best for seniors or blind. 
The best thing about this watch is that it sets its time accurately by itself without the help of anyone. Many watches in the market for visually impaired people require other people to set the time for them. However, this watch is unique. Just press the small button with a pen on the right-hand side, and you'll hear your time zone. Yes, it's that easy. 
The feature which is distinctive from the other watches in the market is that this watch doesn't just tell time but also tells date, day, month, year, alarm status & signal reception status. This is extremely important as your blind loved one will not have to worry about buying calendars and alarm clocks. 
Pros:
Looks great on both men and women 
Sets time itself
A calendar and alarm clock within the watch
Cons:
The volume can be loud. 
Why to Choose? 
This watch is the best present for a blind person as it speaks to them when you're not around. 
This 3D Relief Effect Braille puzzle might be the exact thing your blind loved one is looking for.
Speed Cube is just like a Rubix cube but is designed especially for people that are blind. The Braille appropriately written on each block is of great quality. It will help the blind player to read the content quickly and accurately.
The Cube is manufactured with eco-friendly raw materials and it gives no harm to children or the environment. Also, it is very lightweight, which is great for blind people, both young and seniors.
The good news is that this puzzle helps in assisting young blind people in learning Braille. 
Pros:
Made with eco-friendly material
Lightweight  
Strong Braille writing
Cons:
The Learning phase can be a little tough. 
Why to Choose? 
The cube is ideal for blind people. It helps in decreasing stress. Puzzle also enhance reminiscence and work towards hands-on dexterity abilities. 
This one is not an ordinary clock. Instead the clock has a button and when you press it, it speaks like a genie, and tells you the time.
The clock has a large button at the center that can easily be navigated and pressed. When it's pressed, it tells the time. Simple but efficient. 
Not only does it tell the time, but the second press on the button announces the date. It's really easy to set the alarm on this clock too
The clock is best for people that are blind as it's effective and not very difficult to use as compared to other clocks on the market. 
Pros:
Easy to use 
Announces dates along with time
Cons:
Why to Choose 
This product is overall a great success and a huge hit among blind people.  
This extra-wide talking scale should not be mistaken for some average digital scale because this scale can talk. Yes, that's right. This can surely be the best present for a blind person.
The weight scale is unlike others in the market as this scale speaks the information directly to you. Just step on the scale, and it will tell the weight and also display it on a large, easy-to-read LCD.
Some digital scales are not wide enough. They often result in your toes sticking out of the vicinity and touching the ground giving inaccurate information. However, this large digital scale with dimensions of  14x14x2 inches is more than enough for getting to know your weight.
It has a low-height platform, which is best for blind people. Also, the weight scale has a very strong limit that is up to 395 lbs. However, this product announces the weight so loud everyone can hear it in the room. 
Pros:
Loud and clear. 
Very strong limit up to 395 lbs. 
Low height device that is easy to use. 
Cons:
Doesn't include batteries 
Why to Choose? 
This product is great for blind introverts. Suppose your friend is tired of asking doctors their weight; this is the best product for him to gain confidence.
Papillion massager is the greatest ever. This massager with heat and deep tissue massage removes the discomfort easily. 
Papillion massager has  a comforting design. The back neck massager has 8 different massage modes that Imitate real masseur's hands and makes neck shoulder massage feel like you're really in a spa.
Its U-shape design with 2 straps makes the neck rub-down pillow more effective and convenient.
Also, the massager is suitable for human body temperature.. 
Pros:
Versatile design with 3 speeds. 
Portable and easy to use. 
Cons:
Why to Choose? 
Blind people put more effort into work as compared to normal people. This results in fatigue and aches all around the body. Gifting this will make sure the person remembers your efforts too. This one is indeed the best present for a blind person. 
The Victor massage pillow is one of the best relaxation gifts you can give to a blind person. 
The massage pillow comes with a dust cloth. The optional heating function can really be impressive to release stress. Also, the heating function can improve blood circulation and soothe tired muscles. 
Victor massager is equipped with a safety option. It turns itself off without any assistance when it reaches a certain limit. This stops the device from overheating and harming the user. 
Pros:
Cons:
It can stop working if not used properly.
Why to Choose?
Victor is ideal to soothe the muscles and release stress. It's an awesome product to gift blinds. 
We are human and tend to fall for nature's tricks. The thermometer in such a scenario is always ideal.
Goodbaby is the one that lives up to its name. It is made of an eco-friendly material that is designed to protect the environment and your blind friend.
Taking a temperature with this digital forehead thermometer is very simple: just point it and press the button. It uses infrared technology and shows the readings in Celsius or Fahrenheit.
Pros:
Very precise 
Shows readings in both Celsius and Fahrenheit 
Cons:
Might need to try two times 
Why to Choose? 
It's a lovely gift for blind people because of the ease of use.  
Orcam my eye pro is one the most captivating wearable devices for a blind person.
Orcam my eye pro will allow your blind friend to actually regain his missing sense. This wearable device allows a person to read newspapers, books, and so much more. The wearable device has a camera and mic that sees and reads the text out aloud.
The device also interprets facial expressions from the pictures.
Pros:
Cons:
Why to Choose?
The device is easy to use and very handy. 
Frequently Asked Questions [FAQs]
What Happens If You Don't Gift A Blind Person?
Always remember that a blind person has feelings and if he will not receive any gift he will feel bad and awkward. Always take the time out to gift your blind loved ones.
How Will I Know The Blind Person Like That Thing I Gifted?
Blind people are very sensitive and they also express themselves very easily. The blind person will feel grateful and this is how you will know that he likes the gift. 
Is Giving A Walking Cane Disrespectful?
Now it is not disrespectful at all. 
Final Words:
We understand the circumstances of purchasing a gift for a blind person and how difficult the selection will be. The best way to give someone a present is by knowing what the person wants. 
Another post that will interest you is about Can An Eclipse Blind You?
For example, if your loved one hits their knees very often, the best present for a blind person would be a folding cane. We hope that you like our selection and give your blind loved ones the best gift they want.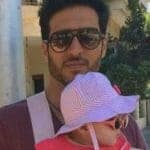 Hi, my name is Eddie, I am a professional trainer specializing in the elderly population and I'm also a website designer. I love training in the gym, going to the beach, traveling, and having good food.

I combined my love for sport and website designing to make "DisabilitEase" whose purpose is to help elderly and disabled people live a more full and active life, have more fun, and enjoy their unique journey despite any disability.