It is never an easy task to find an awesome gift, It is even harder to find gift ideas for special needs teenager and disabled girl or a boy, this is exactly why I have made this article for you.
It is never easy to see a young person seriously affected by the negative sides of life.
But, at the same time, we have so much to learn from teenagers with special needs. Most of them are very strong and will not allow themselves to be torn down by the problems they are facing.
We have a related article for you, you can read Gift Ideas For A Blind Person, 7 Cool Ideas To Make A blind Person Happy.
So, if you have the chance to celebrate such a teenager, don't hesitate to do so. They can be true examples of strength, motivation, and will to live for so many of us, who complain about nonsense.
You're not sure what to offer as a gift for a special-needs teenager? Here are some gift ideas for special needs teenagers that can help you out.
I did a lot of research in order to find you great gifts ideas. I have found all the gifts on Amazon and I added links for you so it will be easy for you to go to the product's page. Its important for me to let you know that I will earn commission if you use them, these commissions are helping to support Disabilitease.com, no added cost for you to do so, thanks for that!
Gift ideas for special needs teenager and disabled girl or boy
1. Holy Stone HS190 Foldable Mini Nano RC Drone for Kids Gift Portable Pocket Quadcopter with Altitude Hold 3D Flips and Headless Mode Easy to Fly for Beginners
There is probably no teenager that doesn't like controlling a drone.
This is not a very sophisticated drone, as it is made for beginners.

Thus, it can be the ideal gift for teenagers with younger ages, as it will introduce them to the world of drones in an easy and comfortable manner.

They will have the chance to learn everything they need about what it takes to control a drone.
Lifting it off the ground, keeping it in the air, maneuvering it, and landing it safely on the ground, these are all skills can be easily acquired with this particular gift.

Once they the hang of this, they will be able to pass to more complicated drones.
The drone can be easily folded and carried around with no problems.

Even if the teenager will have some issues getting the drone back, with the press of one button, the Return button, this small device will come right back.

So, due to its ease and fun nature, we really believe that it can turn out to be a great gift.
2. Simbans PicassoTab 10 Inch Drawing Tablet and Stylus Pen
Many teenagers love to be creative and love technology at the same time.
So, it would be a great idea to offer a gift that entwines both of these.

If you know a special-needs teenager that loves drawing or loves art, then a special drawing tablet may be an exceptional idea.

This particular tablet was created to allow its users to draw like pros and help them develop their creative skills with ease.

Of course, the tablet can also take notes, like a journal or interesting ideas, as it comes equipped with a stylus pen, more than needed for drawing and writing as well.

The screen is generous and the colors it provides are simply amazing.
It will easily connect to any Wi-Fi network in its proximity, can be connected to a TV via an HDMI port, features a GPS function, and has increased connectivity due to a USB output.
3. Kids Watch Sport Multi Function 30M Waterproof LED Alarm Stopwatch Digital Child Wristwatch for Boy Girl
It is well-known that sports, especially water sports, are good for teenagers with special needs.
Practicing a sport keeps the body strong as much as possible and have a benefic effect on the brain and mood at the same time.

So, swimming is probably one of the most appreciated water sports, among teenagers of all ages.
If you know a special-needs teenager that loves swimming or has water-related activities rather often, then a digital watch that is waterproof can represent the best gift.

It has a battery that will last for a very long time and besides being waterproof, this watch will also feature an alarm, a backlight, and a chronograph.

It is also noctilucent, which means that it will be easy to read even in complete darkness.
It has a sporty design and it is very easy to use, so it will be a cool addition to a teenager's set of accessories.
4. Fujifilm Instax Mini 9 Instant Camera ICE BLUE w/ Film and Accessories – Polaroid Camera Kit
The world seen through the innocent eyes of a young person is always much better, in spite of the fact that this young person may have gone through a large set of challenges.
So, why don't you offer a camera as a gift? But, this camera from Fujifilm is more than just a regular camera.

It comes in a nice color and arrives with a kit that has everything one needs to make amazing photos.

Practically, with this kit, a teenager will be able to take photos and choose to print his or her preferred pictures right away.

The kit contains 2 packs with 10 special sheets each, which means 20 sheets, 20 sticker frames, 10 hanging frames, 5 desk frames, a photo album, color lens, and many more.

It will definitely be a kit a teenager will love, especially if the young one shows interest in photography and appreciates everything that is beautiful.
5. Reflector Astronomy Telescope (AZ76700), Gift for Beginners and Teenagers to Observe Moon and Planet with Tripod and 10mm Eyepiece Smartphone Adapter
Do you know a special-needs teenager that loves astronomy? Usually, teenagers are fascinated by the world and outer world as well, as their brain is in the stage where it is curious and asks a lot of questions.

Also, teenagers that have motor-related issues, meaning that they are stuck living in a wheelchair choose to develop their brain, by directing their attention, focus, and effort into sciences.
Astronomy is one of the most fascinating sciences out there.

Who doesn't enjoy getting a closer look at the moon and stars? Even if a teenager didn't manifest a clear attraction toward astronomy, having a clearer view of the moon and nearby planets on a clear night sky can be more than interesting.

This is why offering a telescope like this one can be an outstanding idea.
It can be folded and packed with ease so that even if the teenager will be on the move, the starry sky will never be too far away.

And this gift is even better as the telescope comes with a special Smartphone Eyepiece adapter, which enables the teenager to take photos of what he or she sees with a mobile device.

How cool is that? Plus the lenses of the telescope are properly screened, so even in the case of prolonged use, it will not produce any damages to the eyes.
6. A variety of web games by HelpKidzLearn
Another great gift for a special need child is a membership for an adaptive online games platform.
The accessible games of "Help Kids Learn"
Dozens of games
HKL is the Internet gaming division of the British assisted technology giant "Inclusive Technology".
The HKL website has over 90 online games at different levels of play and offers teachers and therapists a comfortable operating environment for working with children with special needs.
Games, activities, and tools that are fun to play with any means of accessibility.
Variety of fields and levels of play
The games are suitable for children with a wide variety of disabilities and are built at different levels of use:
– early age
-Advanced games
– Stories
-Activities
-Discovery Games
Maximum accessibility
The HelpKidzLearn web games are accessible for children with disabilities and different capabilities and offer easy operation with a keyboard, mouse, joystick, switches, touch screen, and eye focus mode.
In each game, you can easily choose the appropriate means of accessibility for the child.
purchase
The games can be purchased in a private or institutional membership for a period of one year and can be accessed play anywhere and anytime as long as there is an internet connection.
The game environment is very suitable for educational institutions and kindergartens and offers each child to work and play at the appropriate level with appropriate accessibility.
You can check it out on the Help Kids Learn website in this URL:
7. Amazon Echo (2nd Generation)
Teenagers love music and that's a fact.
Music makes life so much better, so a teenager will definitely love any kind of gift that is related to music.

But, considering the disability, we recommend choosing something that can be controlled with ease, like this voice-operated speaker.
But, this particular speaker doesn't just play music if you ask it to, as it is also capable of making phone calls and sending messages.
It is capable of connecting to one's favorite music streaming service, like Amazon Music, Pandora, Spotify, and others.
And the best part is that you can easily control it with your voice only.
This is probably one of the best gifts you can make to a disabled teenager, having in mind all the great features this products presents.
It is voice-controlled even from across the room, offers a 360 degree sound with the help of its design, can be easily paired with other Echo products, reads the news, orders pizza, control the tv, answers questions, and more than this with the help of Alexa Voice Service of Amazon.
8. iHome iBTW38 Bluetooth Stereo Dual Alarm Clock 
Everybody likes to know what the time is, but when this can be offered in a cool manner, it's even better.
This top-notch dual alarm clock doesn't need any cable in order to be operated.
It features a wireless charging system and Bluetooth, so it can be easily paired with a smartphone or tablet.
While it may be true that teenagers are not too fond of alarm clocks, there are some of them that like to have a myriad of activities and enjoy life to the fullest, so most certainly they will like to have a device that will tell them that the day is ready to start.
It is worth knowing that, in spite of the fact that it is a small device, it is also a speakerphone with a rather pregnant bass, so listening to music with its help will be indeed a pleasant experience.
9. Steampunk Wireless Next Gen Bluetooth Speaker – ANSCO Shur Shot Special Camera – Music Lover Gift
You can also entwine good looks with incredible functionality if you decide to opt for this particular speaker.
Don't be fooled by its vintage aspect, as it is only the design is this way.
The speaker itself is packed with the latest technology that makes it a great addition to the collection of every music enthusiast.
This is a very surprising piece of equipment, as it is more than just a Bluetooth speaker.
It can also be used as a camera. So, the receiver of this gift will be the happy possessor of a very versatile piece of equipment.
The Bluetooth speaker is easy to carry around and has a battery that can last up to 20 hours and provides high-definition sound.
Compared with other speakers of the kind, this offers, by far, the best sound quality in its category.
It has an incredible connection range as well, as it is possible to operate it even from 33 feet.
It has an incorporated microphone that works as a two-way microphone so that when you are recording images or sounds, their quality will be great as well.
Thus, if you know a teenager that is fascinated by music, technology, and interesting-looking items, this one may be the ideal gift for him or her.
10. Echo Spot – Black
This small little item can easily become one of the best companions one has around the house.
It works with ease with the help of vocal commands, being able to recognize a voice even from a distance.
What can the Echo Spot be used for? You can easily find out the latest news, see how the weather is, compose grocery lists, listen to an audiobook, listen to music and read the lyrics at the same time if you want, and many more.
Just like other Echo products made by Amazon, Spot also connects with Alexa, which explains why it has similar technology.
This, don't underestimate its size because Echo Spot can turn into a reliable assistant.
Through Alexa's voice, you can ask Spot to read the news for you, control the entire house if you're having a smart house, get answers to your questions, and so on.
Are you in the mood for some music? Just say the name of the song and the Echo Spot will play it for you immediately.
And this is not all; you can adjust the way a song sounds, like the bass and treble, with your voice alone.
Just let Echo Spot know what your desire is and it will make it happen.
Of course, you can use Echo Spot to call anyone you want without even touching your phone.
Now it may be easy to see why this kind of device is so suitable to be offered as a gift to a disabled teenager.
With its help, days will definitely become brighter and the young adult will feel like being able to do anything he or she wants.
Echo Spot is a device very fun to use, so you will not be wrong by choosing it.
11. Shiatsu Back Neck and Shoulder Massager with Heat – Deep Tissue 3D Kneading Pillow Massager for Neck, Back, Shoulders, Foot, Legs – Electric Full Body Massage, Relieve Muscle pain – Office, Home & Car  
The last electronic gadget on my list is this awesome one! This cool massager comes with 8 roller balls and infrared heat to provide a great shiatsu massage that is not only very enjoyable but will also help to relieve pain, increase blood circulation and will uplift the mood of anyone who uses it.
It is very adjustable and easy to use all over your body muscles.
This massager pillow is portable and comes with a small bag so you can carry it anywhere.
You can use the massager pillow on your car, wheelchair or at home.
12. Adaptive Clothing
While all the gadgets above are very cool they also required talking and listening abilities which might be missing for our disabled teenager, if this is the case than adaptive clothing might be an awesome gift idea.
Standard clothing might not fit a disabled teenager in a wheelchair than adaptive clothing for a wheelchair might be very useful.
I would recommend adaptive wheelchair jeans and trousers or the poncho's which are looking cool and also are very practical for cold weather trips in the wheelchair.
You can find cool adaptive clothing on Amazon but the variety is not so great, however, I have found a beautiful website that offers lots of cool adaptive clothing for many kinds of needs.
I hope that I helped you to find gift ideas for special needs and disabled teenager and that I helped to bring a smile to the face of the lucky teenager.

If you have any additional ideas or any suggestions or comments, please leave them in the comments section below.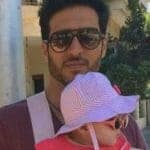 Hi, my name is Eddie, I am a professional trainer specializing in the elderly population and I'm also a website designer. I love training in the gym, going to the beach, traveling, and having good food.

I combined my love for sport and website designing to make "DisabilitEase" whose purpose is to help elderly and disabled people live a more full and active life, have more fun, and enjoy their unique journey despite any disability.