In this article, I will help you to find the best wheelchair-accessible camping tents.
I just love camping and I really want to help wheelchair users to enjoy it too, so I researched it and I was happy to find a suitable tent from my favorite brand, Coleman. I managed to come up with a list of 11 great tents for camping with wheelchairs.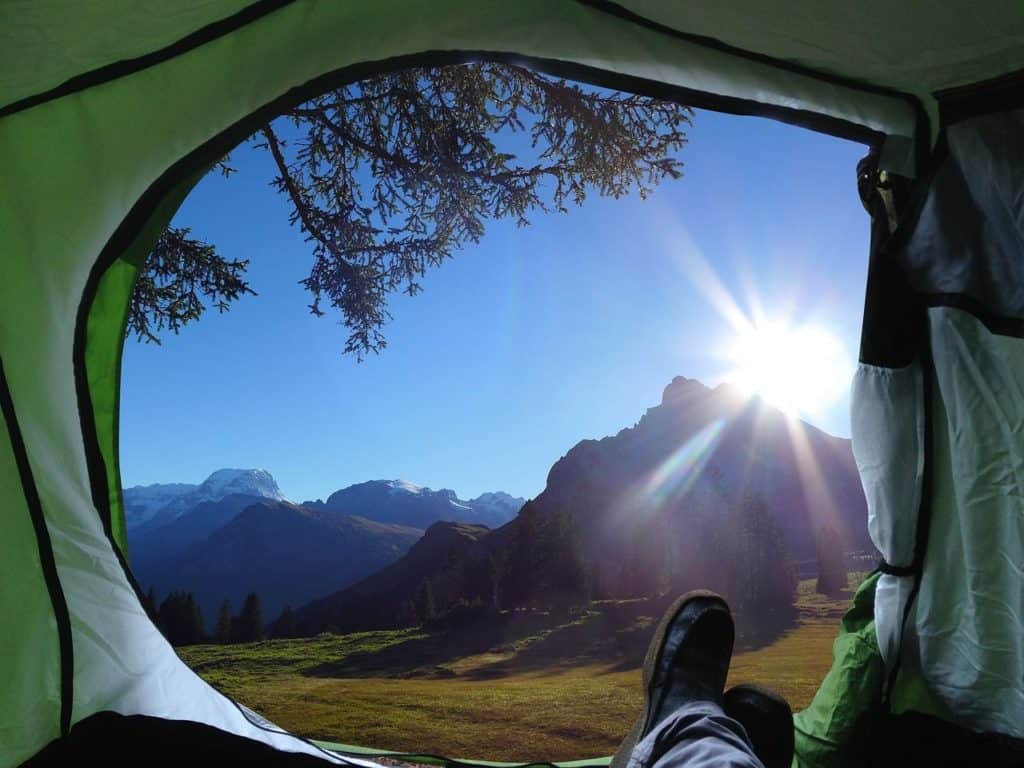 One of the most important things we can learn from people with disabilities is their incredible desire to live and make the most of every opportunity that comes their way.
If all of us would have the same attitude, we could achieve so many, considering that we have no physical impairment to stand in our way.
Here is a related article that might interest you on 10 Best Wheelchair Carriers For The Back Of A Vehicle
So, talking about lifting boundaries, even those that use a wheelchair can go camping. All they need is a tent that will allow them to access the interior with their wheelchair. Thus, we came up with a list containing wheelchair-accessible camping tents. You just need to find the one that is most suitable in your case.
My List Of The Top 11 Wheelchair Accessible Camping Tents
1. Kusport ZP05, Camping, 2-3 Person Rainproof Automatic Hydraulic Backpack Tent for Outdoor Beach Hiking Travel, Blue
This tent is a very spacious one, being able to accommodate up to 3 adults inside. It is also more than ready to withstand bad weather, if it occurs, like heavy rainfall. The best part about this tent is that it has an entry area, which can be accessed by a wheelchair. This entry area is also covered and can be closed and protected with a zipper.
In this area, you can leave the wheelchair, knowing that nothing will happen to it while you rest in the tent. Also, due to the hydraulic technology the tent is using, it is very easy and fast to set it up. The effort from your side will be minimal and you will have a fully functional tent in no time.
2. Coleman Rocky Mountain 5+ Tunnel Tent – 5 Person, Green, with Blackout Windows
A very beautiful and easily accessible tent, this particular model will offer convenient wheelchair access. Capable of housing up to 5 people, this tent features a generous living area and two bedrooms. You can access the living area with your wheelchair and you can even go close to the bedroom area with the wheelchair.
Practically, the entire living area is accessible by wheelchair, as it offers 11 square meters of exploring. The tent is also ready to meet the weather, regardless if we are talking about wind, rain, or sunlight. You will be very safe inside the tent and will enjoy a lot of space at the same time.
3. Wenzel 8 Person Klondike Tent
There are high chances that you will love this generous tent that is capable of housing up to 8 people. The tent is ideal for camping adventures regardless of the weather, as it has a generous living area that offers protection against the sun, weather, and bugs. This area is fully accessible with a wheelchair, plus the main entrance toward the bedroom area is quite large as well.
It is very easy to have fun with your family and friends with the help of this tent. The camping porch is large enough to accommodate a picnic table, just in case you need some shade during a sunny day.
The tent is light and easy to install and it was made to be practical, offering all the space and shelter you need to feel safe and comfortable when spending time in the outdoors.
4. Coleman WeatherMaster 6-Person Tent with Screen Room
Coleman is a brand known for the high-quality tents it provides. This one will definitely not disappoint you either, whether we are talking about bad weather or having sufficient space on the inside. Most certainly you will love the porch located on one side of the tent, which can be covered when the sun shines too bright and is screened with meshes all around, to keep you safe from any bug bites.
In comparison to most tents, the door of this particular model is hinged, which will enable you to exit and enter the tent much easier. And no matter how bad the weather becomes, you will always stay perfectly dry inside this tent. The floor has welded corners and the seams of the tent are fully protected against the weather and water.
You will also find a multitude of pockets on the inside, so you will keep your belongings organized at all times.
5. Homgrace Waterproof Camping Outdoor Tent Family Large Tent Backpacking Tent Hiking Tent, 8-10 Person One Bedroom Two Living Room Double Layer Tunnel Camping Tent
This particular is a rather large tent that will allow everyone to stand up without an issue. When it comes to accessing the tent with a wheelchair, it will be something very easy and comfortable to achieve. The shape of the tent, in the form of a tunnel, will grant wheelchair access without any kind of impediments. In fact, the entire area located inside the tent can be accessed with a wheelchair.
So yes, even the bedroom can be easily accessed by those that are using a wheelchair. This generous tent can accommodate up to 10 people, so it is very easy to invite the entire family and friends on a camping adventure.
It is also suitable to be placed in the garden or backyard, as it offers shade and protection during hot summer days.
6. Camping Tent Waterproof – Camping Tent Tunnel – XD-ET4 Camping Tent 8-10 People Waterproof Double Layer Large Family Tent Sunshade (Large Tunnel Tent)
Considering the fact that people will disabilities require a large number of supplies and more space, a large tunnel tent like this one is more than recommended. Besides allowing the entire family to enjoy all the storage and sleeping space needed for a comfortable vacation, the tent is also very suitable for wheelchair access.
Half of the tent is accessible by wheelchair, so it will be easy to enjoy the outdoor space with this tent. The bedroom section is the only one protected by a door, which will make wheelchair accessing rather difficult.
But, apart from this, the tent is ideal for people with disabilities, offering sufficient space on the inside for a wheelchair and its maneuvering. So, whether you need to take cover from the rain or sun, this tent will offer all the protection you need.
7. Outwell Airville 6SA
Outwell Airville 6SA is arguably one of the best Wheelchair Accessible Camping Tents you can get in 2021. The best thing about this tent is that it's very spacious and you can easily go in with your Wheelchair without any problem.
Also, the tent comes with tons of promising features, which make it an ideal choice. For starters, it comes with an Aerodynamic Design that makes sure that your tent survives the strong winds and even storms. On top of that, it also uses quality materials and taped seams to ensure that water doesn't get into the tent.
Outwell Airville 6SA also meets all the regulation for tent materials, and it uses the materials which reduce the intensity of the fire. Also, the tent comes with pretty good Air ventilation as well so that you keep getting fresh air.
Overall, Outwell Airville 6SA is a really good option for folks with Wheelchair. It's also big enough to house up to 6 people so you can also bring your friends with you.
Highlights
The perfect tent for 6 People
Ideal option for People with Wheelchair.
Spacious enough to store Wheelchair.
Waterproof
Aerodynamic design to resist Storm & Strong Winds
Trolley Carry bag
8. Decathlon Aprenaz 4.1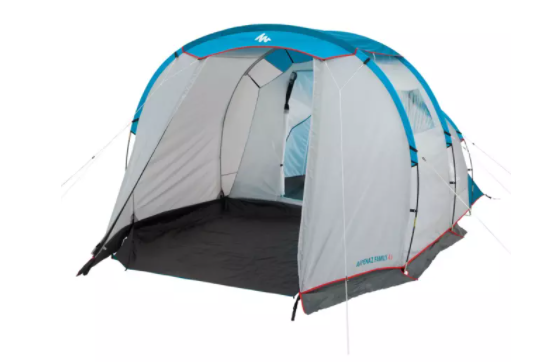 If you are looking for a small tent but with enough space to store your Wheelchair, you can consider Aprenaz 4.1. The tent comes with an excellent and spacious design which can easily house up to 3 People and your Wheelchair.
Decathlon Aprenaz 4.1 comes with a length of 455 cm and a width of 240 cm, which is more than enough to easily accommodate 3 people. On top of that, it also comes with a 235 cm long shaded area on the front where you can easily park your Wheelchair. As this area is shaded, your Wheelchair will also be protected.
The tent also comes with all the bells and whistles you can expect from a good tent. Decathlon Aprenaz 4.1 is a waterproof tent, and it can easily withstand 200 Liters of water per hour per square meter.
On top of that, it also comes with an aerodynamic design that can withstand Force 6 Winds which are up to 50 Km/h. Overall, if you are looking for a portable tent of good size, Decathlon Aprenaz 4.1 is a solid option for you.
Highlights
Can Accommodate 3 People easily.
Dedicated space where you can park your Wheelchair.
Waterproof Design
Can handle winds up to 50 Km/h.
Comes with UPF 30 Fabric which filters UV Rays and daylight.
Easy to assemble and dismantle.
9. Wakeman Pop-Up Tent
Wakeman Pop-Up Tent is one of the best Wheelchair Accessible Camping Tents in 2021. The good thing about this tent is that it's very portable and you can easily carry it in your Wheelchair.
It's designed for two people, which means that it's spacious enough to accommodate you and your Wheelchair as well. Unlike other tents on this list, Wakeman Pop-Up Tent doesn't come with a separate area to park your Wheelchair, so you will have to park the Wheelchair in the tent.
However, the tent is very spacious, and you can easily park your Wheelchair in one corner, and it won't bother you.
When it comes to features, Wakeman Pop-Up Tent has tons of them. For starters, you get the complete water-resistant design, and it comes with 190T Polyester, which makes sure that the water doesn't get into the tent.
It also comes with an electric access port, which you can use to charge your phones and other accessories. The tent also comes with a ventilation window which will supply the fresh air right into your tent. Overall, Wakeman Pop-Up Tent is a great tent, especially if you are on a budget.
Highlights
Portable
Compact Design
Can easily Handle 1 person with Wheelchair
Affordable
10. Vango Beta 350XL
Vango Beta 350XL is arguably one of the best Wheelchair Accessible Camping Tents for a perfect trip. The thing which I like the most about Vango 350 XL is its tunnel design which gives it a very spacious look, and it also allows you to easily park your Wheelchair on one side of the tent while you can use the other side for sleeping.
Also, the tent has good height, and you can easily get into the tent without bending, which is a plus.
The tent is also spacious enough to easily handle up to 3 people without any problem. Also, the shaded area in front of the tent can be used for storing luggage, or you can simply use it for eating food.
Vango Beta 350XL is also completely windproof, and its tunnel design provides great protection against strong winds. When it comes to rain, Vango Beta 350XL is also pretty good. It comes with waterproof materials which make sure that the water doesn't ingress into the tent.
Overall, if you are looking for a spacious tent for three people, which also has a space for parking wheelchair, and other stuff, you can consider Vango Beta 350XL.
Highlights
Ideal for 3 People
Dedicated Space for Parking a wheelchair and store other items.
Unique Tunnel design which protects against strong winds.
Comes with ProTex 70D Polyester, which makes the tent waterproof.
Tested on European Standard EN5912.
11. Outwell Lindale 3PA
Outwell Lindale 3PA is another very promising wheelchair Accessible Tent. This tent comes with a very spacious design which can easily accommodate up to 3 people.
It also comes with a dedicated area where you can easily park your Wheelchair. The tent comes with a height of 160 cm, which means that you can easily get into the tent with your Wheelchair without bending your head.
Outwell Lindale 3PA also checks all the boxes of a great tent. For starters, you get the Aerodynamic design which has been tested in the laboratory, and it comes with Storm protection 9.
It also comes with waterproof material on the top, which makes sure that no water gets into the tent. Another nifty feature of Outwell Lindale 3PA is that it allows you to use the curtains, and you can easily control the light in the tent by using curtains.  Overall, if you are looking for a high-quality tent with a spacious design, you can consider Outwell Lindale 3PA.
Highlights
Comfortably house 2 people.
Comes with a dedicated space for parking a wheelchair.
The tent is easily accessible with Wheelchair.
Comes with a waterproof design
Aerodynamic design allows it to handle strong winds pretty well.
Frequently Asked Questions [FAQs]
What makes a tent Accessible for Wheelchair?       
One of the main factors which makes a tent accessible for a Wheelchair is its design. Now when it comes to designs, there are tons of them available, but in my opinion, the tunnel design is the best design for people with Wheelchair. Tunnel Tents are often more accessible to people with Wheelchair, and you can easily move around in the tent. Also, they often come with storage spaces where you can easily park your Wheelchair when you are sleeping.
What is the Entry Sizes required for people with Wheelchair?
Tents come in every size, but if you want a tent that is accessible to you with your Wheelchair, you would want to consider at least a 2-person tent. However, I would recommend you to go for a 3-person tent because it will be more spacious and you will be able to easily access it. If you are camping with friends, you can go for tents with more capacity to accommodate them.
What are the Sizes of an Average Wheelchair?
Most wheelchairs come in a standard size, but there's a possibility that the size of your change might not be the same, especially if it's custom made. An Average wheelchair comes with the following dimensions.
91.4 cm Height
106.7 cm on Length
63.5 cm Width
28 cm when Folded
I hope you will have a wonderful trip!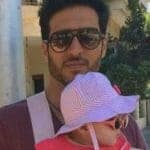 Hi, my name is Eddie, I am a professional trainer specializing in the elderly population and I'm also a website designer. I love training in the gym, going to the beach, traveling, and having good food.

I combined my love for sport and website designing to make "DisabilitEase" whose purpose is to help elderly and disabled people live a more full and active life, have more fun, and enjoy their unique journey despite any disability.