Mobility is a major issue, particularly getting in and out from bed, and this trouble is not confined to age. Pregnant women, people with physical disabilities, or suffering from some injury can face this issue.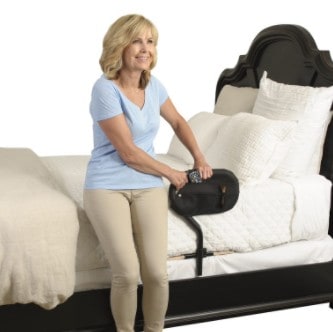 So it is necessary to use some adaptive equipment for getting in and getting out of the bed.
Height adjustable Hand Bed Rail can be really helpful. Old people are usually patients of insomnia, and they can fall off the bed in this case. A safety bed rail will be very useful.
Here are a few benefits of bed rails.
Benefits of Adjustable Hand Bed Rail:
Help in turning and repositioning in the bed.
Provide easy access to personal care items and bed controls.
Prevent falls by helping the person to get up without the help of a nightstand.
Comfortable getting in and out of bed.
Safe and secure attachment with a bed.
All these features make adjustable hand bed rail a safe and secure addition to the user beds.
A great place to find bed transfer handles, grab bars, and many more solutions for getting in and out of bed is here on thewrightstuff.com BED TRANSFER HANDLES AND SAFETY RAILS page.
Many types of adjustable hand railing are available in the market, and it is really confusing to select the best from them.
Here is the list of 10 best adjustable hand bed rails with their brief details that will help the selection process. All of them are available on Amazon.
10 Adaptive Equipment For Getting In And Getting Out Of The Bed
1. Chrome-plated Drive Medical RTL 15063-ADJ Adjustable Home Bed Assist Handle:
A simple yet unique type of adjustable bed hand railing is made of chrome-plated steel by drive medical. It is available in classic drive colors. The Item is smart, simple, and lighter in weight. Easily adjustable with bed and can bear weight around 250 pounds
Pros:
Chrome-plated steel Bed Hand Rail is convenient to use and handles slide under the mattress for safety and extra security.
The easy nonslip grip that means secure assistance for getting in and getting out of bed.
The handrail comes in three pieces that are easy to assemble. No tools are required for assembling.
A smart and portable device with easy to fold features.
· Nonslipping grip increases the stability of the product
Cons:
Height is not more than 15-20 inches, so it helps avoid falling but not much beneficial for getting out of bed.
2. Steel material essential medical supply height Adjustable Hand Bed Rail
It is an excellent product of essential medical supply for people with need of hand bed rail. An adjustable hand bed rail is made of chrome-plated steel. The made and material ensures its durability. The hand bed rail supports around 300lbs weight and comes with a 20-inch width.
Pros:
Nonslip handgrip that ensures sustainability.
Designed specifically to prevent falls and get up from bed without using assistance.
Height is adjustable to all types of beds and fits with any size with an extendable bar that might slip between the box spring and mattress.
Adjustable hand bed rail includes a strap that provides extra security and prevents unusual movement of the rail
Cons:
Good for patients who need extra support but those who don't need extra help at an extreme level.
3. Medline Bed Assist bar With Storage Pocket, Height Adjustable Bed Rails for Elderly Adults, Assistance for Getting In & Out of Bed At Home
Everyone loves extra, and what if you get extra with adjustable bed rails for your adults Medline bed assist bar is all you are looking for in an adjustable hand bed rail. It is made of steel and available in black color
Pros:
Safe assistance to get in and out of bed.
Straps allow extra security.
Easy to assemble and can be placed on either side of the bed
Available with storage pocket and height-adjustable features
Easy to assemble and quick to adjust.
Grip straps are padded with the no-slip feature.
Cons:
Compatible with most beds but not all of them and can be adjustment problems.
Storage pocket gives a suffocating feeling to the user.
4. Medical Adjustable Bed Assist Rail Handle and Hand Guard Grab Bar, Bedside Safety and Stability
A sleek designed medical adjustable bed assist rail handle comes with a foam padding for extra resistance. Available in black//white color and made of chrome-plated steel.
Pros:
Medically adjustable bed assist rail is safe and durable and can resist approx 300 lbs
Work best for all users, elderly, pregnant, or person with physical limitations.
Horizontal stabilizer bars with better fall prevention.
Cons:
Suitable for low height beds only.
5. Stander EZ Adjust Bed Rail, Adjustable Senior Bed Rail and Bed Assist Grab Bar for Elderly Adults with Organizer Pouch
Stander's adjustable bed rail is made of powder-coated steel and available with storage pockets.
Pros:
It can be easily adjustable from 26 inches to 42 inches.
Prevent falling from bed and support 300lbs weight.
Hand bed rail is easy to fold out and portable from one place to another.
Safety straps keep Bed rail tight and ensure more security.
Cons:
Black storage pocket can give a suffocating feeling to elders.
6.  Medical Adjustable Bed Assist Rail Handle and Hand Guard Grab Bar, Bedside Safety and Stability
A modern design universal bed rail made of heavy-duty powder-coated steel, which makes it strong and holds up to 300lbs weight.
Pros:
Padded foams are slip-resistant, and floor standing bars provide extra stability.
A safe and soft grip prevents from falling and makes movement around the bed easy.
Easy to clean, and quick to assemble without the need for any tools.
Cons:
Only suitable for small or medium size beds.
7.  Vive Bed Rail with all in one feature
Vive Bed Rail is all in one type of adjustable hand bed rails. It is made of chrome-plated steel and available in black color.
Pros:
It is suitable for all types of users, and it is preferable for people who went under surgery or suffering from back pain.
With no-slip features, a more sustainable, secure grip makes it more convenient and prevents it from falling.
Secure and adjustable with all types of bed frames.
VIVA provides a lifetime guarantee.
Cons:
It does not contain straps, and there are chances of shaking in a short time.
8.  Able Life Bedside Extend-A-Rail, Adjustable Senior Bed Safety Rail, and Bedside Standing Assist Grab Bar
Able's adjustable safety rail is strong and durable and safely support approx 300lbs. It is available in black color and stylish modern design.
Pros:
Bed rail adjusts easily in length to 30 inches with a push-button and safe from late-night falls.
It provides a comfortable feel, and modern design gives the room a perfect look.
High quality with easy to assemble features. It can be adjusted to any side of the bed.
Cons:
Not suitable for all types of beds usable best with a max 16-inch tall bed.
9. Carex Health Brands Easy-Up Bed Rails for Elderly – Adult Bed Hand Rails – Bed Safety Rails for Seniors, Black (FGP56900)
Carex adult bed adjustable bed handrail is available in black color with powder-coated steel material. The maximum weight bearable is 300lbs.
Pros:
It is 2 in 1 easy up bed rail. It is a combined design as a safety rail with padded bed support.
Bed rails are adjustable and easy to grip with the no-slip feature.
Perfect for all types of users to provide no chance of night falls and help get in and out of bed.
Easily adjustable and single-step release conveniently provides the option to lower & raise the rails.
It comes with safety straps to hold them in one place.
Cons:
Take too much space, and the user might feel congested and suffocated.
Only adjustable with standard size beddings.
10.  RMS Dual Bed Rail – Adjustable Height Bed Assist Rail, Bed Side Hand Rail – Fits Full & Twin Beds (Dual Hand Rail)
Are you looking for extra safety from both sides of the beds? RMS Dual Bed Rail provides safety from both sides. It is made of high-quality steel and available in white color.
Pros:
Three bars/handle designs help to get up and down easy.
Dual Bed rail adjusts easily and fits properly.
It is convenient to assemble and require no tool.
The anti-slip feature provides extra safety, and the steel body ensures durability and easy cleaning.
Cons:
Not suitable for all types of beds.
Conclusion:
To conclude it, we can say that Adjustable bed hand railing is advantageous for those who have difficulty in getting in and out of bed. A bed handrail can prove to be a little gesture of care for your loved ones that will touch their hearts.
So, all you need to do is select the best according to your needs and requirements and purchase accordingly.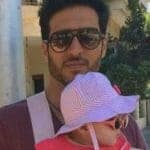 Hi, my name is Eddie, I am a professional trainer specializing in the elderly population and I'm also a website designer. I love training in the gym, going to the beach, traveling, and having good food.

I combined my love for sport and website designing to make "DisabilitEase" whose purpose is to help elderly and disabled people live a more full and active life, have more fun, and enjoy their unique journey despite any disability.