Are you an elderly or disabled traveler looking for the best cruise line to use? Look no further; this article has got you covered!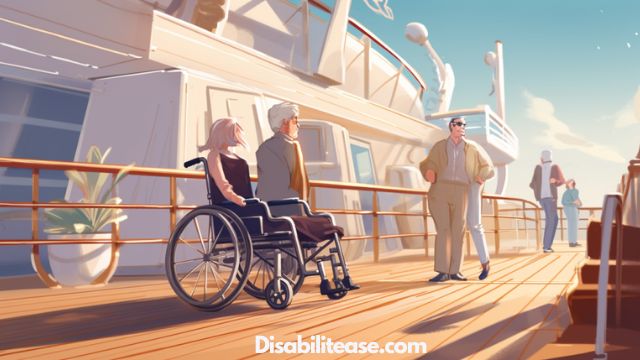 We'll break down the top five cruise lines that are known for offering excellent services and accommodations to their disabled and elderly passengers.
Our Top Picks Cruise Lines For Disabled And Elderly Travelers
From Norwegian Cruise Line to Disney Cruise Line, we've got all the details on which cruise line is perfect for your needs.
So let's get started – grab a cup of coffee and read on for everything you need to know about these fantastic cruise lines!
1. Norwegian Cruise Line
Norwegian Cruise Line is a great choice for elderly and disabled travelers, as it offers accessible amenities and activities that ensure everyone feels included. All ships have wheelchair accessibility, with elevators, ramps, and wide corridors to make movement comfortable. Adaptive equipment such as wheelchairs are also available on the ship for those in need.
Norwegian Cruise Line also goes beyond the basics by providing special services like onboard medical personnel and trained staff to help those with mobility issues during their stay. The cruise line has developed an array of programs formatted specifically for elderly and disabled passengers, such as exercise classes designed to keep seniors active while cruising.
In addition to this, Norwegian Cruise Line offers a variety of entertainment options so everyone can enjoy the experience regardless of physical limitations.
2. Royal Caribbean
If you're looking for a cruise line that offers accessible cabins, a variety of activities, and special assistance programs, then Royal Caribbean is the perfect choice for you.
With accessible cabins designed to meet your needs, as well as activities such as shows and musicals, there's something for everyone.
Plus, they offer special assistance programs to help make sure you get the most out of your cruise experience.
Accessible Cabins
Cruising can be a great way for disabled and elderly travelers to access the world, and many cruise lines offer accessible cabins to make their journey comfortable. Royal Caribbean is no exception; they provide adaptive equipment, wheelchair ramps, and other accommodations in all of their ships.
The cabins are specifically designed with mobility impairments in mind, featuring wide doorways that accommodate wheelchairs as well as grab bars for extra support when getting around the space. The bathrooms come equipped with roll-in showers or bathtubs and raised toilet seats that are both secure and user-friendly. In addition, additional amenities such as electric beds are available upon request for those who require them.
Royal Caribbean also offers an array of services to ensure the comfort of their passengers with disabilities or age-related needs. All crew members are trained in disability awareness and sensitivity so that they can prioritize safety first while providing personalized assistance to each passenger. Furthermore, all ships have medical professionals on board in case there is an emergency or medical concern during the voyage.
With these measures taken into account, disabled and elderly travelers can rest assured knowing that they will have a safe and enjoyable experience onboard any Royal Caribbean ship!
Variety of Activities
On board a Royal Caribbean ship, you can take part in a variety of activities that cater to both young and old. There's something for everyone, from adaptive sports such as wheelchair basketball or hand-cycling to on-shore excursions that are accessible for all ages.
Young travelers can enjoy mini-golf, ice skating, and rock climbing. Meanwhile, older travelers can participate in bingo tournaments, trivia nights, and dancing lessons.
Special Assistance Programs
Royal Caribbean offers special assistance programs to ensure that all passengers can enjoy their cruise, regardless of their age or physical ability. The cruise line provides adaptive equipment and accessible routes for those with limited mobility, allowing them to participate in fun activities with everyone else.
They also have a team of experienced professionals who offer specialized help and guidance as needed. This includes providing extra support during embarkation/disembarkation processes, as well as onboard activities and shore excursions.
With these services, disabled and elderly travelers can rest assured that they're in good hands while on board the ship.
3. Carnival Cruise Line
Carnival Cruise Line is an excellent choice for disabled and elderly travelers looking for a stress-free cruise experience. Carnival provides several special assistance programs to make the on-board and shore experiences that much more enjoyable. These include:
Adaptive dining, which allows passengers to pre-order meals tailored to their specific needs or dietary restrictions;

Accessible shore excursions, designed so that everyone can explore all of the ports of call;

Onboard medical staff is available at any time during the cruise should a passenger need assistance;

Wheelchair rentals and complimentary use of scooters in order to ensure accessibility throughout the ship.
Moreover, Carnival also provides specially trained staff members who are dedicated to assisting disabled and elderly passengers with whatever they require, from wheelchair access to helping navigate around the ship. With this level of service and commitment to making sure all guests have a great vacation experience, it's no wonder Carnival Cruise Line is such a popular option for those with disabilities or special needs!
4. Holland America Line
Holland America Line is a great cruise line for disabled and elderly travelers. All of their cabins and suites are wheelchair accessible, so you can move around with ease.
Plus, there's a wonderful variety of dining options to choose from as well as onboard activities that everyone can enjoy. So whether you're looking for a relaxing getaway or an action-packed adventure, Holland America Line has something for you!
Accessible Cabins and Suites
Cruise lines offer accessible cabins and suites that make it easy for disabled and elderly travelers to enjoy a worry-free voyage.
Holland America Line provides passengers with personalized care and on board accessibility, ensuring every aspect of their journey is enjoyable.
The cruise line offers specially designed accessible cabins with features such as wider entryways, handrails, roll-in showers, lever handles, Braille signage and more – tailored to meet the unique needs of each guest.
Additionally, all public areas are wheelchair friendly allowing elderly or disabled guests to take part in activities like shopping, dining or visiting the spa.
Every cabin also comes with a personal butler service who can provide extra assistance if needed during their stay.
With Holland America Line's accessible cabins and suites, you can rest assured that your travel needs will be taken into account at every turn.
Variety of Dining Options
Now that you know which cruise lines offer accessible cabins and suites, it's important to consider what dining options are available onboard.
Most major cruise lines have a wide variety of options so that all passengers, including those with disabilities or special dietary needs, can find something delicious to eat. Onboard chefs prepare meals inspired by international flavors as well as classic favorites.
Here is a helpful summary of some popular cruise line's dining experiences:
Cruise Line
Dining Options
Dietary Restrictions
Carnival
Buffets & Dining Rooms
Specialty Restaurants
Room Service
Cater to special diets
Kosher food available on request
Low-sodium dishes available upon request
Royal Caribbean
Main Dining Room
Windjammer Marketplace Buffet
Specialty Restaurants
Accommodate gluten free/allergy sensitive diets
Kosher food available on request
Low-sodium dishes offered at every meal
As you can see, the majority of cruise lines provide a variety of delectable dining options for disabled and elderly travelers with dietary restrictions.
Whether you're in search of an exotic culinary experience or comfort foods made from scratch, there are plenty of onboard restaurants and buffets sure to satisfy your taste buds!
Onboard Activities
Experience a wide array of onboard activities and entertainment no matter which cruise line you choose! Adaptive sports, accessible excursions, and even live performances are available on the best cruise lines for disabled and elderly travelers.
Cruise ships offer an incredible variety of entertainment, including something for everyone's taste. Enjoy a game night with your friends or family in one of the many lounges available throughout the ship. Take part in trivia nights or watch one of the featured shows and concerts offered by some of today's top artists.
Cruise lines also provide adaptive sports such as golfing, bowling, tennis, swimming, basketball and more! Excursions are offered to explore the destinations you'll be visiting; these can be adapted to fit any special needs that may arise while onboard.
There are plenty of opportunities to have fun during your next cruise!
5. Disney Cruise Line
Are you considering taking a cruise? Disney Cruise Line could be the perfect choice for you if you're looking for a vacation that caters to disabled and elderly travelers.
Disney Cruise Line offers Assisted Listening Devices, accommodations for wheelchair users, and specialized services that make it an ideal option.
With its attention to detail and dedication to ensuring every guest has a great experience, Disney Cruise Line should be on your shortlist of cruise lines.
Assisted Listening Devices
Cruise lines are providing assistive listening devices to ensure that elderly and disabled passengers can experience the show or activities on board without any difficulty.
Disney Cruise Line is leading the way in accessible technology for all types of travelers. They offer extended coverage throughout their ships, with access to amplified sound at every performance venue, theater, movie room, and pool deck.
Furthermore, they provide equipment such as:
Hearing loops that allow direct connection from a microphone to a hearing aid user's hearing device;
Assisted listening systems that provide audio-amplified signals directly into headphones;
Portable telecommunication devices for those who require sign language interpreters; and
Handheld closed captioning systems for movies and performances which display text on receivers so deaf or hard-of-hearing guests can follow along easily.
Disney Cruise Line invests in these technologies so everyone can enjoy their sailing experiences, no matter what disability they may have.
Accommodations for Wheelchair Users
Now that you know about the assisted listening devices available on cruise lines, it's time to focus on the accommodations for wheelchair users.
Cruise lines have become increasingly adaptive with their equipment and accessible routes in recent years, making them a great option for elderly travelers in wheelchairs. Here is a table outlining some of the best cruise lines for disabled and elderly travelers:
| Company | Adaptive Equipment | Accessible Routes |
| --- | --- | --- |
| Carnival Cruises | Elevators & Wheelchair Lifts | Braille Labels & Ramps |
| Royal Caribbean International | Wheelchair-Accessible Cabins & Lounges | Accessible Pools & Sun Decks |
| Norwegian Cruise Line Holdings Ltd. | Specialty Dining Menus & Handicap Restrooms | Wide Doors to Allow Easy Entry/Exit from Ship Areas & Pathways Around Ship Areas With Clear Signage |
Cruise lines such as Carnival Cruises, Royal Caribbean International, and Norwegian Cruise Lines are all well equipped with adaptive equipment including elevators and wheelchair lifts as well as handicap restrooms.
They also provide accessible routes with braille labels, ramps, wide doors to allow easy entry/exit from ship areas, pathways around ship areas with clear signage, and accessible pools or sun decks. These features make these cruise lines perfect for anyone looking to safely travel while using a wheelchair!
Specialized Services
You deserve a smooth, stress-free journey and cruise lines are offering specialized services to make that happen.
Many popular cruise lines now offer wheelchair rentals for disabled and elderly travelers, allowing them to move about the ship with ease. Additionally, medical staff is available on board should any health issues arise during the voyage.
Cruise lines are also providing greater access to activities and entertainment options such as special classes tailored for disabled or elderly passengers. A number of cruise ships have even equipped their vessels with lifts in order to make it easier for those in wheelchairs to enjoy all of the available amenities.
This helps ensure that everyone can participate in the same experiences during their time onboard.
Conclusion
Overall, cruising is a great way for disabled and elderly travelers to experience the world. Cruise lines like Norwegian Cruise Line, Royal Caribbean, Carnival Cruise Line, Holland America Line, and Disney Cruise Line are all great options.
These cruise lines offer special accessibility features and amazing customer service. Don't let your physical limitations stop you from experiencing all that life has to offer!
There's a cruise line perfect for you no matter what type of disability or age you have. So don't wait any longer—book your next adventure today!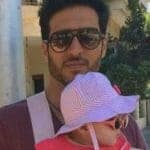 Hi, my name is Eddie, I am a professional trainer specializing in the elderly population and I'm also a website designer. I love training in the gym, going to the beach, traveling, and having good food.

I combined my love for sport and website designing to make "DisabilitEase" whose purpose is to help elderly and disabled people live a more full and active life, have more fun, and enjoy their unique journey despite any disability.