Cruising has become an increasingly popular vacation option for people of all ages. But can disabled and elderly people enjoy the same cruising experience as able-bodied passengers? The answer is yes!
Cruise ships offer a range of accommodations to make sure everyone, regardless of age or physical ability, can have a great time aboard.
From onboard activities and entertainment to shore excursions and tours, there are plenty of options available so that all passengers can have a wonderful cruise experience.
Tips For A Successful Cruise Travelling As A Disabled Or Elderly Individual
Read on to learn more about accessibility on cruise ships and what types of activities are available for disabled and elderly travelers.
Accessibility on Cruise Ships
You'll be amazed by how accessible cruise ships are for disabled and elderly people! Cruise ships have implemented many features to make the experience enjoyable for all travelers, regardless of physical ability.
From wheelchair ramps and lifts to hearing loops, these vessels are equipped with all the necessary travel tips for those with disabilities. Cruise lines even provide access to special services such as sign language interpreters and private medical care if needed.
Cruise lines have made significant improvements in recent years to ensure that everyone can enjoy their vacation without worry or hassle. Disabled rights are a priority on these vessels, with dedicated personnel available around the clock to assist passengers with any needs they may have.
Many cabins are also specifically designed for those who require extra space due to mobility issues or other requirements. The possibilities for disabled and elderly people looking to take a cruise holiday are endless!
With so many options available, you're sure to find one that fits your needs perfectly – allowing you the freedom and independence you need while still enjoying an unforgettable experience.
Onboard Activities and Entertainment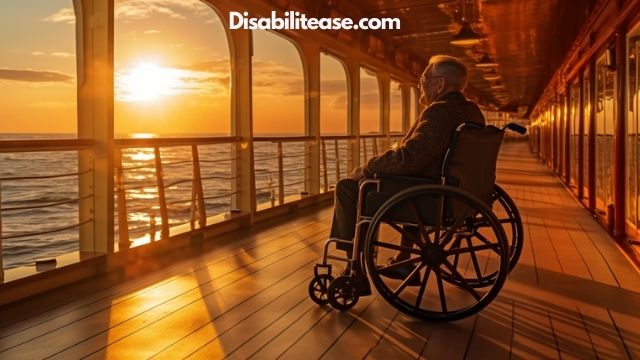 Experience on-board activities and entertainment that cater to all ages and abilities! Cruise staff are trained to accommodate disabled or elderly passengers, offering support where needed.
Whether you're looking for a quiet game of chess in the library or a lively aerobics class on deck, there are plenty of activities for everyone to enjoy.
For those who require medical care, cruise ships have medical centers with qualified personnel to provide assistance. Cruise staff can also help guide people through ports of call, making sure they don't miss any of the sights and attractions available at each destination.
From cultural shows and local shopping opportunities to swimming lessons and art classes, you can rest assured that there is something for everyone aboard your ship. And if you prefer more solitary pursuits, you can find quiet places like libraries or observation decks for some peaceful relaxation time.
So whether it's family bonding time or an opportunity for personal growth, cruising offers a unique experience with something special for everyone! Enjoy the comfort of your own ship as you explore new destinations and make lasting memories along the way.
Shore Excursions and Tours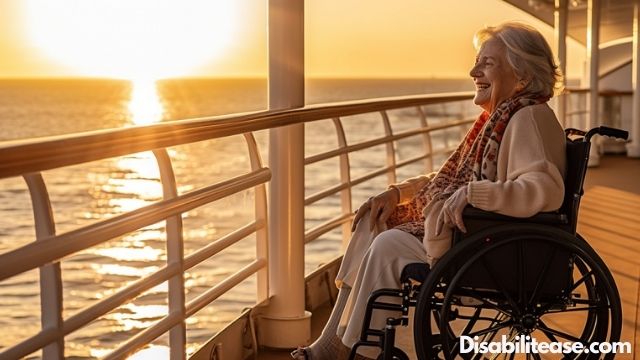 When it comes to shore excursions and tours, disabled and elderly cruisers have access to plenty of options. Adaptive equipment can be provided for those needing additional assistance during their tour, while special assistance is available for those who need further help.
With so many accessible tours and shore excursions available, disabled and elderly cruisers will find a trip that fits their needs perfectly.
Accessible Shore Excursions
No matter your age or ability, you can enjoy shore excursions on a cruise! Cruise staff understand that passengers with disabilities or special needs may require additional support during their journey.
As such, many cruises provide accessible shore excursions that take into account the medical assistance and individual requirements of disabled and elderly passengers. For example, wheelchair accessible transportation to and from the port is often provided for those in need.
In addition, cruise staff are available to help with any specific requests related to accessibility needs while ashore.
Special Assistance During Tours
Your cruise staff can provide special assistance to make sure you have a comfortable and safe time during your shore excursions. Cruise lines offer various services to help passengers with disabilities get the most out of their vacation. Some services include:
Medical:

Specialized medical equipment onboard

On-call medical support from an experienced doctor

Accessible cabins or suites for passengers with special needs or disabilities

Travel Insurance:

Comprehensive coverage for unexpected emergencies while on board and ashore, like lost luggage, trip cancellation, etc.

Additional benefits such as access to emergency evacuation services in case of an accident or illness during the trip

Special Requests:

Arrange for special meals, transportation, wheelchairs, and other assistive devices if needed.

Provide qualified interpreters when required.
Cruise lines offer these services to ensure that all passengers can enjoy their cruises regardless of age or disability.
Adaptive Equipment for Tours
Cruising allows everyone to explore the world with ease, thanks to adaptive equipment like electric wheelchairs and scooters available for loan.
Cruise lines offer wheelchair rentals that can be reserved in advance, as well as a variety of other assistive devices that are available on board. The staff also understands the staffing needs of passengers with mobility challenges and is ready to provide assistance whenever needed.
The cruise experience can be tailored to meet unique needs through special equipment like ramps, lifts, modified restrooms and wider doorways. Special seating is also available on some ships that can accommodate wheelchair users or those who may need extra support during their journey. This makes it easy for disabled and elderly travelers to enjoy all the amenities a cruise has to offer without any worry or stress.
Advantages
Disadvantages
Adaptive Equipment Available
Costly Rentals
Personal Assistance from Staff
Limited Availability of Adaptive Equipment Onboard
Tailored Experience To Unique Needs
Mobility Challenges In Certain Areas Of The Ship (i.e., Elevators)
 
Limited Accessibility To Certain Areas Of The Ship
Conclusion
Cruising is a great way for disabled and elderly people to enjoy the world around them. Most cruise lines provide accommodations for those with disabilities, so accessibility issues are not a concern.
Onboard activities and entertainment make it easy to find something that appeals to everyone.
Shore excursions give you the chance to explore without worrying about transportation.
So go ahead and book your cruise today—you won't regret it! Cruising is an amazing experience that anyone can enjoy, no matter their age or disability.
With so many options available, you're sure to find something perfect for you and your travel companions.
So what are you waiting for? Start planning your dream cruise today!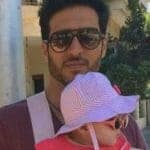 Hi, my name is Eddie, I am a professional trainer specializing in the elderly population and I'm also a website designer. I love training in the gym, going to the beach, traveling, and having good food.

I combined my love for sport and website designing to make "DisabilitEase" whose purpose is to help elderly and disabled people live a more full and active life, have more fun, and enjoy their unique journey despite any disability.