In this article, I will give you some of the best fitness trackers and Smartwatches for the elderly, blind, and visually impaired available in 2023.
I will also introduce you to a great new navigation app that will make the movement of the visually impaired much easier.
As the age of the person increases, they become more and more vulnerable to different diseases if they don't take care of themselves properly.
One of the best ways to avoid different diseases at an old age is by regular exercise and walking.
This is why an activity tracker for an elderly person is of utmost importance.
An activity tracker will make sure that they are taking proper care of their body and doing all the necessary exercises.
It will also show some of the most important vital signs that must be kept under constant check especially in old age.
These signs include heart rate, calorie count, movement information, steps taken, distance covered, etc.
Another benefit of activity trackers is that they can really motivate elderly people to exercise more regularly because they will be constantly reminded about the importance of an active lifestyle.
Best Activity Tracker for the Elderly
One of the things that make it difficult to select an activity tracker for aged people is the fact that very few devices are manufactured by keeping them in mind.
Some of the key features of these devices should belong to battery life and ease of operation.
You don't want something that is so complicated that your parents or grandparents or any other elder get frustrated and simply refuse to use it anymore.
Similarly, anything that needs constant recharging or replacing batteries is also not a good design if we keep in mind the people that we are getting these for.
We have mentioned below activity trackers and Smartwatches that are perfect for elderly people. But before that, let's talk about the best fitness trackers for visually impaired and blind people.
Best Fitness Trackers And Navigation App For Visually Impaired and Blind People
A person who is visually impaired will need a small fitness band with a very small screen or without one at all. Since this person will not be able to view anything on his fitness tracker there is no reason for him to buy a fitness tracker smartwatch with a large screen which is more expensive and less comfortable.
Another thing that is important is that the fitness tracker will have a dedicated app/website which works great on IOS.
That way he will be able to sync the data collected by the fitness tracker with the app on the computer and view it on the website's dashboard on the computer's big screen.
For these reasons, I recommend fitness bands like the Fitbit Charge3 or Flex 2 as they are light, cheap, and comfortable and can sync easily with Fitbit's app which is my favorite one.

If you are searching for a more dedicated wearable device that can help with navigation and prevents accidents caused by blindness and vision problems then you must know the Suno band.
Suno band – the wearable that any blind and visually impaired should know about
I did a bit of research in order to find the best fitness tracker for the blind and I came across a very cool gadget named Sunu band. The Sunu band is more like a wearable guiding device that uses sonar and echolocation technology to help you with navigating.

Let me show you a short video about it.
The Sunu device is available on Suno's website.
And it is also available on Amazon.
Another amazing navigation app comes from the Israeli startup – RightHere.
RightHere is a sensor app that enables blind people to navigate inside public places with comfort and ease, you can read more about it here.
After we have covered that let's start with the list of the best fitness trackers and Smartwatches for the elderly and seniors.
If you are not tight on the budget than there is no doubt that the best activity tracker for the elderly is this amazing smartwatch.
With features like ECG, Fall detection, big display (44 mm version) and lots of great dedicated apps for the elderly, this watch is considered as the most friendly watch/activity tracker for the elderly.
If you are looking for cheaper devices or you just not a big fan of Apple than move on to the next popular devices on this list.
It is the 4th generation of one of the most sturdy and low maintenance activity trackers that are being sold in the market today which is why it is perfect for elderly ladies and gentlemen.
The Vivofit 4 is a much cheaper bracelet than Gear Fit, but it does not mean that it doesn't look great.
The screen is surrounded by a black silicone band (which can be replaced in many other colors) and comes in two different lengths.
It feels light on the hand, the silicone strap is comfortable, and the buckle in this model is more reliable(fastens like a watch)which is a big improvement from previous models that reducing the chance of it falling from your wrist.
It has a battery that will not need replacing and can last up to a year so you don't have to worry about that.
So what does Vivofit 4 do? It doesn't do a lot, but what it does, he does well.

It keeps track of the number of steps you've taken, the number of steps left to complete your daily goal, and the distance you've taken (according to the number of steps you've taken) throughout the day.
In addition, it has a calorie-burning meter, a sleep monitor, and of course a clock.
It also offers a very useful "move bar" that will alert you to move while you've been inactive for too long.
It does not have a built-in heart rate monitor, but it can synchronize with a chest strap and show heart rate data.
It is also waterproof you don't have to worry about removing it when you are washing your hands or even taking a shower.
One of the best features of this activity tracker is that it keeps an eye on the activity of the user and after analyzing that, it assigns a goal or several exercising goals that are simple to follow for the elderly.
And with the cool "Garmin Move IQ feature" it is able to track and monitor different activities without any sync from you.
The tracker also acts just like a traditional watch showing the time for the user along with some very important stats such as the number of steps taken, calorie count, quality of sleep and the distance covered.
This watch is built with sturdy material and it can be worn 24 x 7 whereas some of the other brands available in the market will not withstand the weariness of such prolonged use.
All of these qualities combine to give you a basic yet superior tracker for your parents or other elderly people in your family.
Main Pros of the Vivofit 4 fitness band
Long battery life of 1+ year
Waterproof
Great price
The new band is fastened like a watch which is very helpful for people with arthritis that have found the older versions' band as hard to apply on.
Main Cons of the Vivofit 4 fitness band
I find the new screen as a bit hard to read due to a small font size which can be a problem for older users.
While writing this, the Vivofit 4 is quite new and has some bugs(happens sometimes with new versions), but I believe that Garmin will fix those soon.
This is one of the most simple and easy to use activity trackers in the market which makes it an idle choice for the elderly because they don't want to get into complicated things.
The three main things covered by this tracker are the steps taken, distance covered and calories burned.
The battery of this activity tracker is also very reliable and long-lasting. it doesn't need any replacement or recharging for 6 months straight.
The tracker is packed with some interesting features such as goal setting, progress viewing and you can also earn badges on achieving different goals.

The device itself gives you different goals that you can achieve.
These goals are personalized according to your health and physical condition and will keep the user motivated.
The Fitbit Zip is very simple to use and easy to learn about which is a huge plus especially when it comes to the elderly.
This is a clip-on tracker and can be clipped on any article of clothing that they are wearing and the best part is that it will only take a second to clip it and turn it on.
There are no complicated function keys or anything that can frustrate the user.
This simple design is what truly makes it one of the best trackers available in the market for the elderly.
Main pros of the Fitbit Zip
Long battery life, Fitbit claims that it can last for 6 months, from my experience it lasts less(approximately 5 months) which is still long enough.
Simple to use
Can be conveniently clipped on
Great price for a Fitbit device
Main cons of the Fitbit Zip
Not completely waterproof, Fitbit describes it as rain, splash, and sweat-proof but I wouldn't push it too much.
Apple Watch Series 6 is the latest smartwatch that is equipped with all the latest features to handle modern problems. When it comes to design, Apple hasn't changed the design, and in my opinion, there is also no need to change the design because the design of the Apple Watch is already perfect.

So, in terms of designs, you won't see many changes on Series 6, but on the inside, you get some major changes.
For starters, you get the Blood Oxygen Sensor, which provides the oxygen saturation in the blood. It's a great feature for elders because they can easily use this feature to detect lung issues.
When the lungs experience any infection, it affects the working of the lungs, and as a result, oxygen saturation in the blood gets lower. So, if the user has the Apple Watch Series 6, he/she can easily detect the anomaly in the blood oxygen levels and get medical help.
Apart from Blood Oxygen Sensor, Apple Watch Series 6 is also equipped with Fall Detection feature, which is, in my opinion, arguably the best in any smartwatch out there.
It's also a great feature for elders because the watch monitors the user, and if it detects any fall, it shows the notification on the screen. If the user doesn't respond within the specific time frame, the watch will alert the emergency contacts and the emergency responders.
Apple Watch Series 6 also comes with ECG Capability, which means that you can conduct the ECG test directly from your smartwatch. With the help of the app, you can easily detect any anomaly in your Heart Rhythm and get medical help.
Overall, Apple Watch Series 6 is a great watch, and the combination of great health features makes it the best fitness tracker for Elderly and Visually Impaired People.
Pros of Apple Watch Series 6
Modern Design
Lightweight
Equipped with features like ECG, Fall Detection, and Blood Oxygen Sensor
A great option for you if you are already part of the Apple Ecosystem
Regular Updates
Access to hundreds of dedicated Apps
Cons of Apple Watch Series 6
Comes with a hefty price tag
Not great for you if you are not in the Apple Ecosystem
If you don't want to spend a lot of money on a smartwatch and willing to compromise on some advanced features, then Apple Watch SE is a great option for you.
Apple Watch SE doesn't come with advanced features like ECG, Fall Detection, or Blood Oxygen Sensor, but it comes with the regular features, which make it a decent option for Elders.
When it comes to features, Apple Watch SE is equipped Fall Detection feature just like its expensive sibling. The Fall Detection feature is also pretty accurate in SE Model, and it immediately notifies the relevant folks and emergency services if it detects any hard fall.
If the person wearing the Apple Watch SE falls, the watch will show the notification for some time and then the message with location coordinates and other relevant information to the listed person and emergency responders.
Apart from fall detection, Apple Watch SE is equipped with many other useful features such as GPS Tracking, Activity monitoring, heart-rate sensor, and many more. Overall, Apple Watch SE is a great budget activity tracker for elders.
Pros of Apple Watch SE
Affordable Price Tag
Great Design
Equipped with many useful features like Fall Detection, Activity Tracking, and Heart-rate sensor.
A great option for iPhone users
Cons of Apple Watch SE
Lack the advanced features like ECG and Blood Oxygen Sensor.
6. Omron HeartGuide
Omron HeartGuide is one of the best Fitness Trackers for Elderly Folks. This smartwatch is clinically validated, and it's designed for people who have health issues.
Using HeartGuide, you can easily share important data such as blood pressure rating, sleep pattern, and other useful data with your doctor.
The smartwatch is equipped with state of the art blood pressure sensors which help you take the blood pressure readings.
Overall, HeartGuide is a solid option for you if you are looking for a clinically validated smartwatch. However, HeartGuide is an expensive smartwatch, so I would recommend you to go for it if you really want it. Otherwise, there are much better options available on this list.
Pros of HeartGuide
Clinically Validated Smartwatch
Track Blood Pressure
Sleep Tracking
Heart-rate monitoring
Great Design
Cons of Heart Guide
Galaxy Watch 3 is arguably one of the most advanced smartwatches out there, and it's equipped with tons of great features, making it an ideal smartwatch for Elders and Visually Impaired people.
One of the main highlights of Galaxy Watch 3 is its design, which is very robust and modern at the same time. The watch comes with a physical rotating bezel, which helps you navigate and also provides protection to the AMOLED display.
In my Opinion, Galaxy Watch 3's design is the best design for elderly people because it allows them to use the watch roughly, and it can withstand some rough usage.
When it comes to features, Galaxy Watch 3 is equipped with some pretty advanced features which you don't get in many smartwatches out there. For starters, you get the Blood Pressure monitoring system.
The watch effectively monitors and track your blood pressure with the pulse wave analysis. In this way, you keep track of your blood pressure.
On top of that, Galaxy Watch 3 is also capable of conducting ECG tests directly from the watch. The watch uses the state-of-the-art electrode sensor to measure your heart rhythm and provide the complete results on your smartwatch. So, if your folks have heart-issues, Galaxy watch 3 can help them track the health of their heart.
Galaxy Watch 3 also comes with a Blood Oxygen sensor, which basically monitors the oxygen saturation in your blood. It's a very useful sensor because it can help you detect your lung issues, and you can get medical help in time, saving you from serious issues.
Another great feature of Galaxy Watch 3 is the fall detection feature. So, if the watch detects any hard fall, it will send the SOS message to your emergency contacts so that you could get timely help.
Overall, Galaxy Watch 3 is a pretty awesome smartwatch. If you are an Android user and looking for a robust smartwatch, then Galaxy Watch 3 is a solid option for you.
Pros of Galaxy Watch 3
Robust Design
Physical Rotating Bezel
Features like ECG, Blood Pressure Monitoring, ECG, and Blood Oxygen Sensor
Access to thousands of watch faces and apps on Galaxy Store
Cons of Galaxy Watch 3
Fitbit Charge 4 is a very popular fitness tracker that comes with a smaller display and tons of great features. It's a solid option for visually impaired folks because they don't need a colorful display, but they surely need a capable tracker to track their activities.
Fitbit Charge 4 is equipped with GPS, which allows it to track your activities more accurately. It also comes with a battery life of up to 7 days, so you also won't have to worry about charging it every second day.
When it comes to other features, Fitbit charge is waterproof, which means you can use it without a problem around water. On top of that, it also comes with Fitbit Pay, which means that you can pay for your shopping using the charge 4. Overall, Fitbit Charge 4 is a solid option for anyone who wants a decent fitness tracker at an affordable price.
Pros of Fitbit Charge 4
Great Build Quality
Compact Design
Built-in GPS
Waterproof
Good Battery Life
Fitbit Pay
Cons of Fitbit Charge 4
If you want a fitness tracker with robust build quality, then Garmin Forerunner 245 is a solid option for you. This smartwatch is mainly designed for runners, and that's why it comes with very lightweight materials.
The watch uses a combination of polymer and silicone for its body, which are very durable and lightweight materials. On the top, you get the Corning Gorilla Glass 3, which offers protection against scratches. In Short, Forerunner 245 can handle rough treatment, making it a great option for the Elderly and Visually Impaired.
When it comes to Features, Forerunner 245 comes with the features like a Blood Oxygen sensor, heart-rate monitoring, women's health tracking, stress tracking, and other useful features.
On top of that, it also comes with fall detection features, which allow the smartwatch to send the SOS message to your emergency contacts if it detects a hard fall.
Overall, Forerunner 245 is a solid smartwatch with tons of pretty useful features. I would recommend this smartwatch only if you want a durable smartwatch with decent features. Otherwise, you can go for options like Galaxy Watch 3, which offers many advanced features at the same price tag.
Pros of Garmin Forerunner 245
Solid Build Quality
Corning Gorilla Glass 3 on the top
Equipped with features like Fall Detection, Blood Oxygen Sensor, and Stress Tracking.
Variety of Workout Tracking
Cons
I hope that I helped you with choosing the best activity tracker for the elderly, visually impaired, and blind people.

If you have any comments, please leave them below, I will be happy to hear your thoughts about this subject.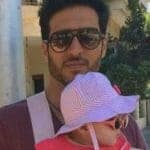 Hi, my name is Eddie, I am a professional trainer specializing in the elderly population and I'm also a website designer. I love training in the gym, going to the beach, traveling, and having good food.

I combined my love for sport and website designing to make "DisabilitEase" whose purpose is to help elderly and disabled people live a more full and active life, have more fun, and enjoy their unique journey despite any disability.